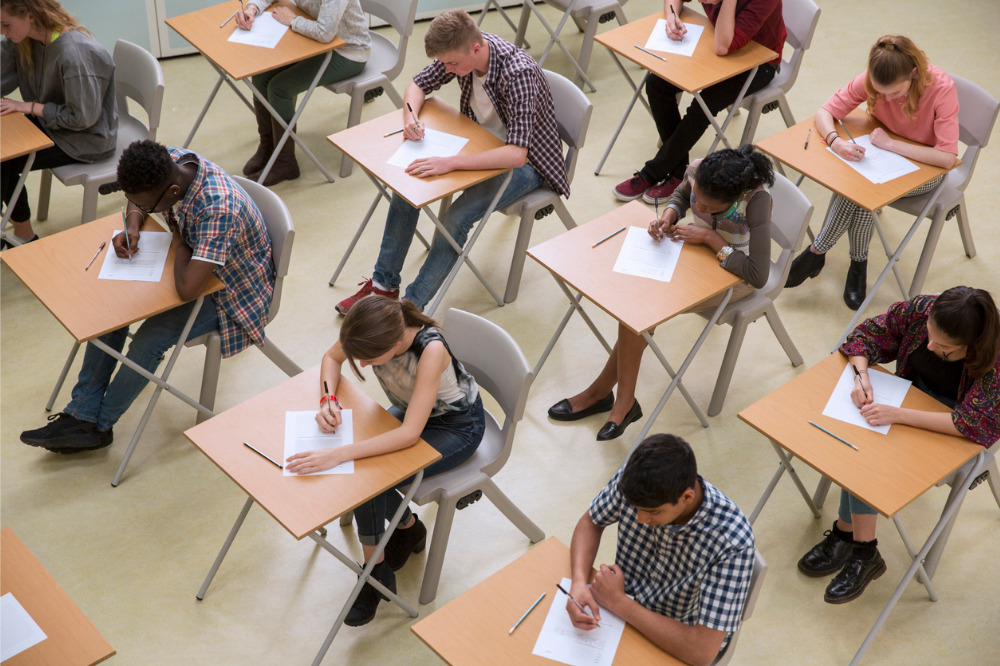 On Thursday, more than 65,000 NSW students will receive their much-anticipated HSC results, but already, many have cause to celebrate.
Today, 126 students across the state obtained first place in a 2022 HSC course, with boys acing maths and science subjects while girls came out ahead in the creative arts, history and languages.
In a NSW first, students who have achieved despite adversity have also been recognised.
"It is also so important that we celebrate students who have achieved outstanding outcomes in the face of adversity, which is why this year, we've introduced a new award to recognise the resilience of schools impacted by flooding across the state," NSW Education Minister, Sarah Mitchell, said.
The result of agility, passion and commitment
The recipients of the First if Course (FIC) awards were acknowledged by the NSW Education Standards Authority (NESA) at a ceremony today at the University of New South Wales, which was attended by Minister Mitchell, Department of Education Secretary Georgina Harrisson, and NSW Education Standards Authority chief executive Paul Martin.
Standing out among the esteemed list of high-performing schools was Baulkham Hills High School, which took top spot in five subjects as NSW students were honoured for their academic achievement in 114 courses.
NSW Premier Dominic Perrottet congratulated the 126 FIC winners and the 14 schools in the flood-affected Northern Rivers and Hawkesbury regions who received special commendation awards for their resilience in the face of adversity.
"These young people have shown what can be achieved when you combine ability and passion with commitment – qualities that will prove invaluable throughout their careers and lives," he said.
Baulkham Hills High School principal Wayne Humphreys said his students had gone "above and beyond" and the school expected strong results tomorrow when HSC results were released.
"The results by these students in achieving first place in these five courses is a credit to them and their teachers," Humphreys said.
"All students at Baulkham Hills High dedicate themselves to doing their very best in their studies."
Mitchell said it "really is a team effort to get through the HSC".
"Today we also thank the schools, the teachers and school communities who supported these students throughout their education journey, as well as their parents and carers."
'A great recognition of tireless effort in a difficult year'
Thirty-five students from the state's 26 Catholic schools received their FIC honours, marking an increase of over 30% from 2021. Three students received two FIC awards and four FIC awards were in mathematics: two for Mathematics Standard 1 Examination (equal top score), one for Mathematics Standard 2 and one for Mathematics Advanced.
Fourteen schools in flood-affected regions of NSW were recognised for their resilience during the 2022 school year, including Trinity Catholic College, Lismore, Saint John's College, Woodlawn, Bede Polding College, South Windsor, and Xavier Catholic College, Skennars Head.
Of particular note was Lucia Pilgrim from Xavier Catholic College who achieved a FIC in French Continuers. Earlier this year, and with only 30 minutes' notice, students from Xavier Catholic College at Skennars Head helped convert their classrooms into makeshift hospital wards after flood waters forced evacuations at Ballina District Hospital.
Year 12 students would help move medical equipment and transfer 55 patients to the new makeshift hospital before learning that their school would also become an evacuation centre.
"To the schools that received the Minister's commendation award, it is a great recognition of your tireless efforts in a difficult year," Catholic Schools NSW CEO, Mr Dallas McInerney, said.
"A special mention must be given to Lucia Pilgrim for her First in Course for French Continuers in what must have been a very trying time for herself, Xavier College and the wider community."
McInerney said Lucia's achievement "is one of many woven into the larger tapestry of Catholic school students achieving excellent HSC results in 2022".
"It is also pleasing to see 26 Catholic schools represented and from a wide geographic range, including Mount Druitt, Port Macquarie, Hamilton, Forbes and Skennars Head."
'These lessons are as important as the lessons learnt in the classroom'
Dozens of the state's independent schools were also honoured at the ceremony.
According to NESA data, 54 students from 38 Independent schools topped the state in 59 of the HSC First in Course results for 2022.
Commending all recipients, Association of Independent Schools of NSW (AISNSW) Chief Executive Dr Geoff Newcombe said this represented more than half of all students (58%) who achieved a First in Course for a subject studied at their enrolled school.
"This is an outstanding result especially as Independent school students make up just 24 per cent of all NSW secondary school students," he said, adding it was pleasing to see the diversity of Independent schools and students represented among the First in Course recipients.
"The leading Independent school students in NSW this year have come from across the diverse spectrum of this sector. Anglican, Christian, Roman Catholic, Jewish, Islamic, Maronite, Armenian, Brethren and non-faith based Independent schools are all represented in 2022."
Dr Newcombe said all students who studied the HSC deserved credit for overcoming the challenges of the past few years.
"Dealing with the pandemic, as well as natural disasters in some cases, has taught many students that they are a lot stronger and more capable than they might have realised," he said.
"In many ways, these lessons are as important as the lessons learnt in the classroom and will give them greater belief as they pursue post-school work and/or study."