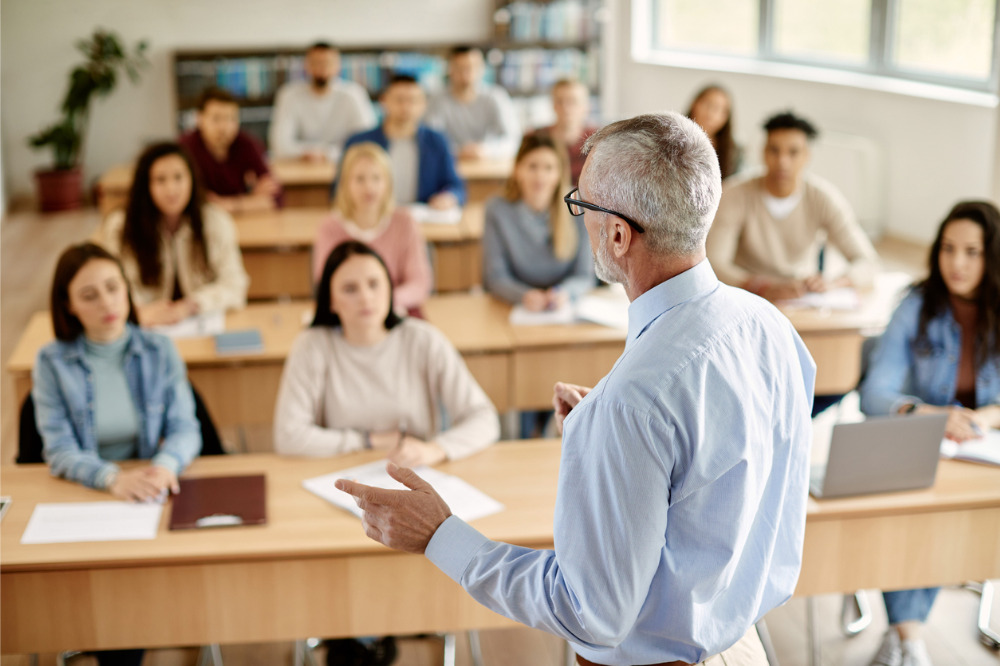 The need for more teachers must be balanced with maintaining high quality standards in the hiring process, the Vice-Chancellor of a leading university has cautioned.
The call, from ACU Vice-Chancellor and President Professor Zlatko Skrbis, follows the NSW Government's announcement on Friday of new one-year Masters to make a teaching career more attractive for people already working.
The new course means aspiring teachers across the state will soon be able to enter the classroom after completing a one-year postgraduate course.
However, the ACU Vice-Chancellor Zlatko Skrbis says that while the need for more teachers is understandable, "the quality of our teachers, the experiences they gain as pre-service teachers and the academic rigour of teaching courses should not be compromised in the process."
"We know well-educated, well-trained, well-experienced teachers make a difference in the lives of our students," Professor Skrbis said.
"It's not just about how quickly we can graduate teachers, we need to ensure classroom readiness – the success of our early childhood, primary and secondary school students depends on it."
ACU Executive Dean of Education and Arts, Professor Mary Ryan, said while fast-tracking graduates into classrooms might lead to an immediate increase in teachers, it risks longevity in the profession.
"We don't want to see graduates enter the profession only to leave shortly after due to being under-prepared and feeling unsupported for what is complex work," Professor Ryan said.
"Teaching performance assessments such as the ACU-designed Graduate Teacher Performance Assessment [GTPA], which is moderated against 18 Australian universities, assures classroom readiness, but could be compromised by a reduction in course time."
Professor Ryan highlighted the need to ensure high teacher quality is maintained while boosting efforts to attract school leavers and career-changers into the profession.
"We offer multiple flexible pathways to school leavers and postgraduates including an 18-month accelerated early childhood teaching degree. Innovative pathways like these are needed to invest in and promote for the future of the profession without compromising quality," she said.
"This aim has been at the core of why ACU has not supported calls for a one-year program in our submissions to the NSW Parliamentary Inquiry into teacher shortages or the National Teacher Workforce Action Plan."
The Association of Independent Schools of NSW (AISNSW) says the decision to offer a one-year Master's pathway into teaching should encourage more career change professionals with qualifications and experience in another occupation to become teachers.
A recent review of available global evidence by AISNSW's The Evidence Institute and Australian Catholic University's Institute for Learning Sciences and Teacher Education, found that the status of teaching was a significant factor in whether societies were successful in recruiting high achievers into the profession.
"We need to attract more young people and career changers into teaching and, at the same time, provide more support and mentoring to beginning teachers so that they stay beyond the first few years," Evans told The Educator.
"Without enough good teachers, learning suffers."
One way to address the teacher shortage, according to Evans, is to elevate the profession's status.
"We know from international experience that financial incentives alone have not improved retention. As a society, we need to respect teachers and value them more highly," she said.
"This is a responsibility for governments, industry, higher education institutions, the community and the profession itself."
AISNSW has initiated a three-year plan to attract and retain quality people into the teaching profession called Growing and Nurturing Educators - a strategy Evans said she looks forward to delivering with NSW's Independent schools.