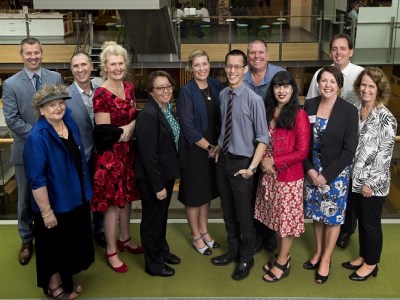 Twelve outstanding educators were recently recognised as part of a national awards program which provided 'Teaching Fellowships' valued at $45,000.
The Commonwealth Bank Teaching Awards are a key initiative of education charity, Australian Schools Plus's Pioneers of Philanthropy – a group of donors who have made significant financial contributions to schools in disadvantaged communities.
Kylie Macfarlane, the Commonwealth Bank of Australia's (CBA) general manager of corporate responsibility told The Educator that the bank's foray into K-12 education aims to not only recognise the great work being done by Australia's best teachers, but also boost a range of education initiatives and programs.
"We can only be successful for the long term if the communities that the bank exists to serve are thriving. Great schools are indispensable for Australia's success, and great schools depend on great leaders and teachers at all levels," Macfarlane said.
"High quality teaching is the greatest in-school influence on student engagement and outcomes, so we partnered with Schools Plus to create the Commonwealth Bank Teaching Awards which recognises and rewards excellent teaching and school leadership."
Macfarlane added that the Teaching Awards form part of CommBank's 25-year commitment to improving Australian education outcomes. This includes an initial $50m investment in a range of education initiatives and programs.
"In 2007 we launched Start Smart, an award-winning free financial education program that provides engaging and interactive workshops, run by expert facilitators, to primary, secondary and VET (Vocational Education and Training) students," she said.
"Start Smart has reached more than 2.2 million Aussie kids since inception and continues to grow."
'Thinking innovatively in a resource-constrained world'
Macfarlane said it is important that high-achieving teachers and school leaders are recognised because Australia's source of future prosperity is changing, and as our workforce changes with it, teachers will be critical to ensuring Australian children are effectively equipped for this future.
"The 12 inaugural Commonwealth Bank Teaching Fellows are all passionate about making a difference to the lives of their students, and in a resource constrained world, they are thinking innovatively about how to do that," Macfarlane said.
"Our hope is that the awards make the recipients feel recognised and proud, but also make a strong statement about our community's admiration for what they do. We also hope to inspire other great educators to apply for the awards this year."
Financial literacy as an extension of numeracy
Programs such as MoneySmarts, ACARA's Curriculum Connections and Child & Youth Finance International's Global Money Week have been rolled out in schools across Australia to educate students about responsible financial behaviour.
The CBA's School Banking program – which is offered on an opt-in basis to both schools and parents – has been giving children a basic understanding of core financial values and money management skills since 1931.
Macfarlane said that the bank believes a financially literate community leads to a more prosperous society.
"So it is crucial for children to develop skills and capability from an early age. We see financial literacy as an extension of numeracy and the first step towards making sensible financial decisions as an adult," she said.
Related articles:
What schools can teach students about money smarts
Schools roll out financial literacy classes
ACARA unveils financial literacy resource for schools