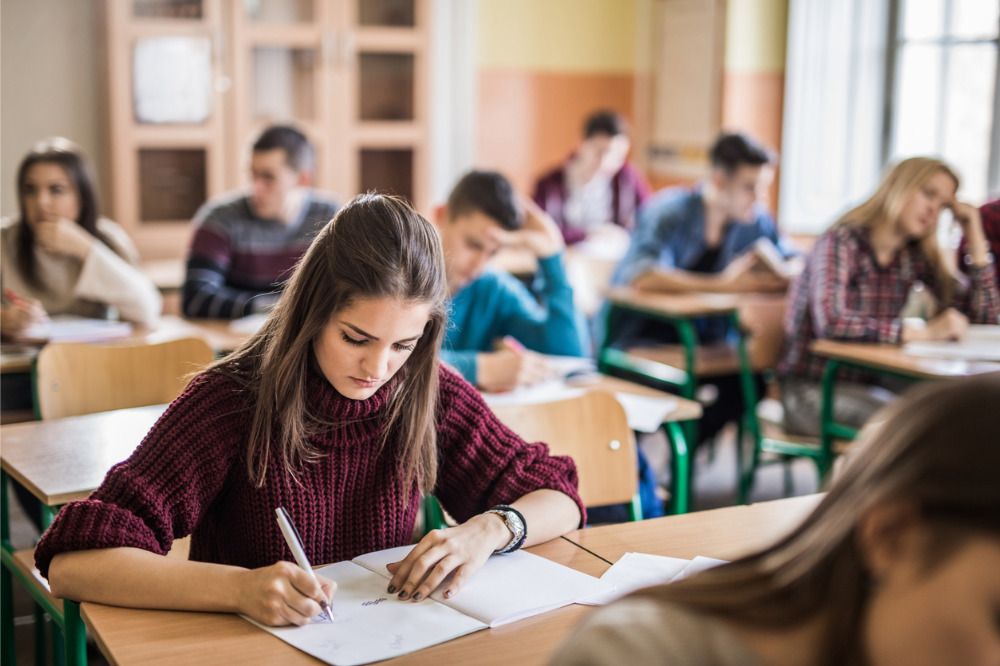 Today, more than a million students will sit NAPLAN for the first since 2019 in what is being considered a "particularly important" assessment of student outcomes.
The 2020 tests, which were to be held between 12-22 May, were cancelled to help principals and teachers focus on the wellbeing of students amid the outbreak of the COVID-19 virus.
This year, 70% of schools will participate in NAPLAN Online, in preparation for a full transition to NAPLAN Online in 2022.
ACARA CEO, David de Carvalho, said NAPLAN 2021 will help to show the impact COVID has had in terms of learning gain (or loss) in literacy and numeracy.
"Getting 70 per cent of schools across the country online is no easy task and there has been very thorough preparation by education authorities and schools," de Carvalho said.
NAPLAN Online testing platform has also been enhanced to include low- and no-bandwidth solutions, which have been designed to support schools that have limited access to the internet in regional or remote areas.
Last year, there were concerns that NAPLAN may be moving online too soon after a raft of issues affected more than 40,000 students in Western Australia.
There were similar issues in other states, too, with Victorian teachers having to adjust arrangements quickly while Year Three and Year Five primary students felt the pressure of delays and interruptions.
"The main concerns raised included connectivity issues, time lost due to having to continually sign in, white screens and loss of text," Victorian Principals Association (VPA) president, Anne-Maree Kliman, told The Educator.
"Unfortunately, the concerns raised by principals have once again brought into question the reliability and validity of the NAPLAN regime. When the results come into schools and find their way onto the My School website, the validity of national data sets from this year's testing will see more questions asked."
In recent years, there have been calls for the test to be overhauled in favour of an assessment that is genuinely useful to families, educators and students.
Indeed, a replacement for the controversial test is already being lined up.
The Australian National Standardised Assessment (ANSA), which would replace NAPLAN in 2022, would be undertaken earlier in the year to reduce stress placed on teachers and students by the practice of "teaching to the test".
The new assessment would see results returned within one week to better inform teaching and learning for the year ahead.
Another recommendation is the shifting of the Year 9 test to Year 10 so that it can better inform teachers, parents and students when making critical decisions regarding subject selection for years 11 and 12.
Efforts to replace the test have been helped along by surveys showing that most school communities believe the test is "not fit for purpose". A survey released in September last year found that three quarters of teachers consider NAPLAN to be an ineffective method of assessing students.
The Australian Education Union (AEU) 2020 State of our Schools survey received more than 12,000 responses from public school principals and teachers who expressed their views on the controversial test.
An overwhelming, majority of educators and leaders said NAPLAN is not effective, increases pressure on teachers, student stress and anxiety and that too much class time is spent in preparation for the test.
The AEU is calling on the Federal Government to scrap NAPLAN and develop a new assessment framework based on sample testing in consultation with the teaching profession and its union.
"NAPLAN does not effectively measure student's learning outcomes or correctly identify where teachers should focus to improve student performance," AEU federal president Correna Haythorpe said.
"It does not give parents an accurate assessment of their child's educational achievements, nor does it take into account a teacher's informed judgment or the daily learning that takes place in schools".
Haythorpe said NAPLAN increases student stress and anxiety, cuts into precious teaching time and adds to teachers' already overburdened workloads.
"This is in addition to problems rolling out online testing in recent years along with the interruptions of COVID in 2020," she said.
"NAPLAN is simply not fit for purpose".
Professor Jihyun Lee of UNSW Sydney is an expert on large-scale assessments like NAPLAN and PISA.
She told the Media Centre for Education Research Australia (MCERA) that however this year's assessments play out, they are sure to be a valuable opportunity for educators and policymakers to evaluate schooling.
"If NAPLAN results have gone down this year, it will suggest schooling effectiveness because the disruption last year indeed had negative impact on student learning," Professor Lee said.
"If NAPLAN results have gone up, Australia may need to consider more rigorous educational policies promoting student-initiatives and parental involvement in the mainstream schooling".
However, Professor Lee said NAPLAN results may turn out to be similar to previous years.
"Like the average height or weight, population-based testing results do not tend to change much from year-to-year. Thus, similar results should not be taken as evidence of school ineffectiveness".