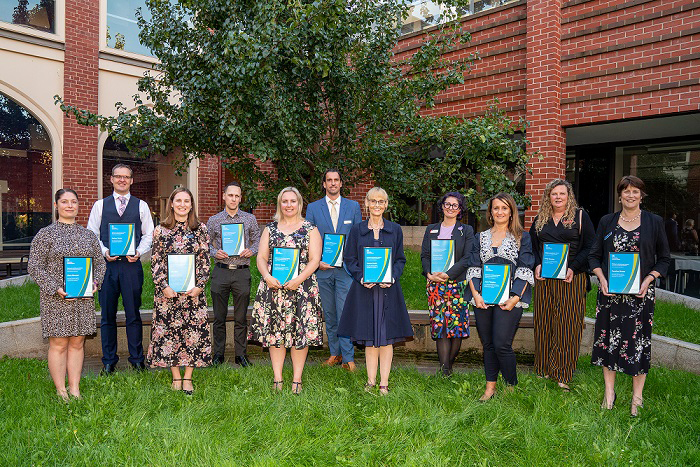 Across Australia, a growing cohort of Highly Accomplished Lead Teachers (HALTs) are having a powerful trickle-down effect in education.
Since 2012, HALTs have not only been using their expertise to impact their own classes of students, but have also been supporting and influencing their colleagues' teaching practice to extend their impact across entire schools.
As of the end of 2018, 573 teachers across Australia were certified as HALTs. However, today that number has grown to 840.
On Wednesday, a pilot group of 12 HALTs were awarded their certificates in a celebration at the Catholic Leadership Centre.
The pilot certification program, initiated by Melbourne Archdiocese Catholic Schools (MACS), aims to raise the profile of the teaching profession by building a professional growth culture, facilitating greater collaboration between HALTs and developing instructional leaders with externally validated credibility to lead conversations about improving professional practice and impact.
Jim Miles, MACS executive director, said the outcomes of the pilot program will be evaluated to inform an ongoing focus on instructional leadership at MACS.
"We provide a suite of professional learning opportunities and support to schools to build leadership capacity, subject specific content knowledge, and expertise," Miles told The Educator.
"MACS teaching staff are expected to act as instructional leaders in the facilitation of, and participation in, professional learning that aligns with both the school's improvement plan and identified student learning needs".
Miles said school improvement plans empower staff as members of learning communities and set the direction for professional learning intentions and outcomes.
"School leaders direct their leadership practice at improving instruction in an effort to impact teachers working conditions and student achievement," he said.
"This culture, which is both collaborative and embedded in practice, creates the ideal conditions for teachers and students to flourish".
Miles said HALT certification has some significant implications when it comes to big improvements in principals' professional learning.
"Certification will further develop teachers and leaders as instructional leaders with externally validated credibility to explicitly lead conversations about improving professional practice and impact," he said.
"The HALT program also provides an opportunity for senior leaders to train as assessors, developing a deep knowledge of the Australian Professional Standards for Teachers [APST] which will support them in growing the capacity of leaders within their own schools".