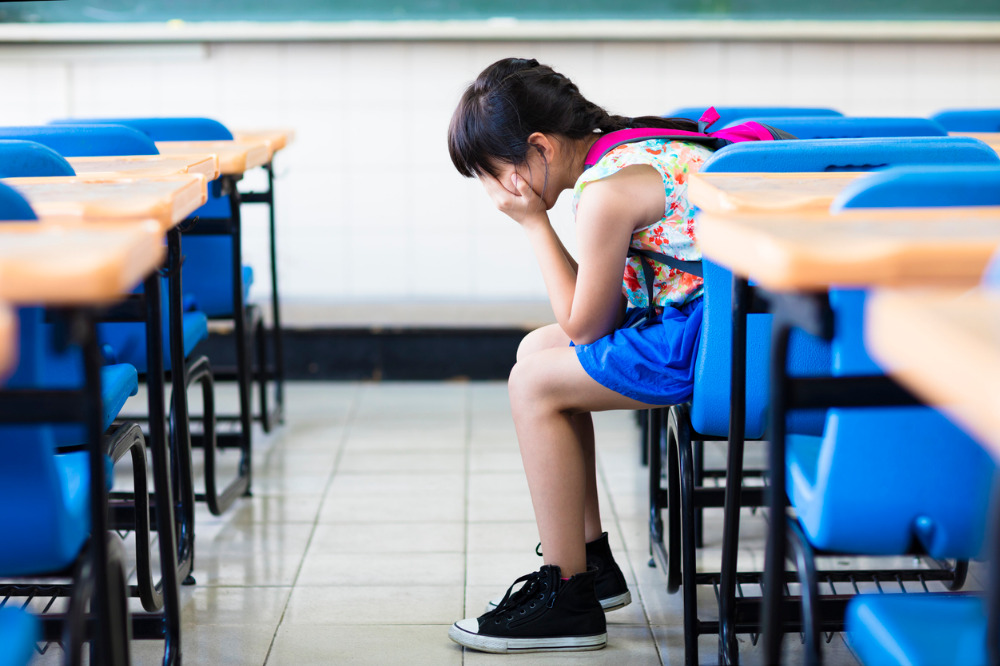 A growing number of Australia's Year 11 students are reporting poor mental health and uncertainty about the future, a new study shows.
The study of more than 1,000 Year 11 students from 39 schools across Eastern Australia last year by the University of Melbourne found that pessimism and uncertainty define what it means to be young in the 2020s, with 44% of females and 29% of males reported feeling 'unhealthy' or 'very unhealthy' when it comes to their mental health.
Survey participants demonstrated concerning levels of pessimism about the state of the world are consistent with the steady decline in both happiness and feelings of optimism about the future among 15-19-year-olds between 2012 and 2020.
The environment and mental health students' two top concerns
The reports authors, Nadishka Weerasuriya and and Dr Quentin Maire, a Research Fellow in the Melbourne Graduate School of Education, asked students to share the advice they would give politicians to address the issues young Australians are facing today, then analysed the text responses from over 700 participants.
Weerasuriya and Dr Maire said the environment and mental health emerged as two key issues for students.
"For the environment, many participants expressed anxiety about the ways in which the government is currently tackling the issue of climate change," Weerasuriya and Dr Maire told The Educator.
"Many students felt that political action on this issue is too short-sighted and too little given the scale and urgency of the climate emergency."
Many students also pointed out the discrepancy between scientific evidence and political action, with one participant writing, "Climate change isn't about liberals v labour v greens, it's an issue we should all be worried about and work to fix it".
Weerasuriya and Dr Maire said the comments highlight a distinct feeling of being unrepresented and of young people's voices not being heard regarding issues that will ultimately impact them the most in the future.
The second key issue for young people identified in the study was a widespread concern about mental health, the two academics noted.
"There was distress expressed at the lack of mental health services and how expensive it was to access these where available. This seemed to be particularly worrying for young people from regional and rural areas," they said.
"A participant from a regional city commented on the increase in self-harm amongst young people of his age across several schools, and another on the limited support provided by the schools themselves."
Weerasuriya and Dr Maire said that while the study's findings do not indicate that all young people are pessimistic and uncertain about the future, the sentiment is widespread enough "to be of significant concern".
Impacts of Covid progressively easing
While the Covid-19 pandemic took a major toll on the mental health of Australia's students, the University of Melbourne study found the effects have become progressively better over time.
Weerasuriya and Dr Maire asked students about their retrospective experiences of the COVID-19 pandemic in 2020 and 2021 using two sets of questions – one on the subjective impact of the pandemic on schooling in 2020-21, and the other on questions about students' own mental health at the time of the survey.
"Our results show that the pandemic affected students' school, teachers and peers in both 2020 and 2021. The good news is that the effects in 2021 were weaker than in 2020, suggesting that things did progressively get better," Weerasuriya and Dr Maire said.
"On the other hand, the open text comments also reveal that, for some students, the experience of the pandemic has had long-term consequences. Some young people are still struggling with the effects of social isolation during their teenage years."
Weerasuriya and Dr Maire said the passing away of family members and friends during this time seems to have taken the biggest toll on mental health, leaving them with having to process grief and loss along with pressures from school, work, parents and/or peers.
"Other young people reported breakdowns in friendships, as well as breakdowns in familial relationships around them that continue to impact their home lives. These stressors brought on by the COVID-19 pandemic are having a lasting impact on some, although fortunately not all, young people's mental health," they said.
"We aim to further explore the links between experiences of COVID-19 and self-rated levels of mental health in future analyses, including by looking at possible connections between reported levels of pandemic-induced schooling disruptions and self-reported mental health."
Weerasuriya and Dr Maire said where personal suffering is the result of systemic issues, collective solutions have to be the starting point of the way these issues are addressed.
"Young people need to be heard and their voices need to be integral to the way we collectively respond to these major challenges. Empowering young people to participate in decision-making processes that will affect their futures is crucial."
Where to from here?
Weerasuriya and Dr Maire said the study's findings point to the importance of principals building a strong culture of inclusion, belonging and meaningful learning to wellbeing, both at and beyond school.
"Strong connections to their peers as well as supportive student-teacher relationships are integral to young people's sense of belonging to their school," they said.
"Overall, most of our participants report a good sense of connection to their peers, but a weaker sense of connection to their school and teachers. A key issue is that the reported levels of belonging are variable for different groups of students."
However, Weerasuriya and Dr Maire emphasised that when discussing the issue of belonging and inclusion, it is essential to acknowledge that schools are regularly expected to do so on a stretched budget and in a context of enduring staffing challenges.
"Where possible, allocating time and resources towards a comprehensive wellbeing program that provides a toolkit of social and emotional skills and resources that help young people deal with stress and anxiety is important," they said.
"At a practical level, free resources, such as the Victorian Department of Education's Resilience, Rights and Respectful Relationships program, can be invaluable in terms of supporting young people to communicate their thoughts and feelings, build relationships and connections, as well as seek help when they need it."
Additionally, say Weerasuriya and Dr Maire, opportunities for students to have a say in driving their learning and in shaping the life of the school community can also promote self-efficacy and a sense of agency.
"Allowing young people to have a say in what and how they learn can sustain meaningful engagement, which is particularly important when things get tough."