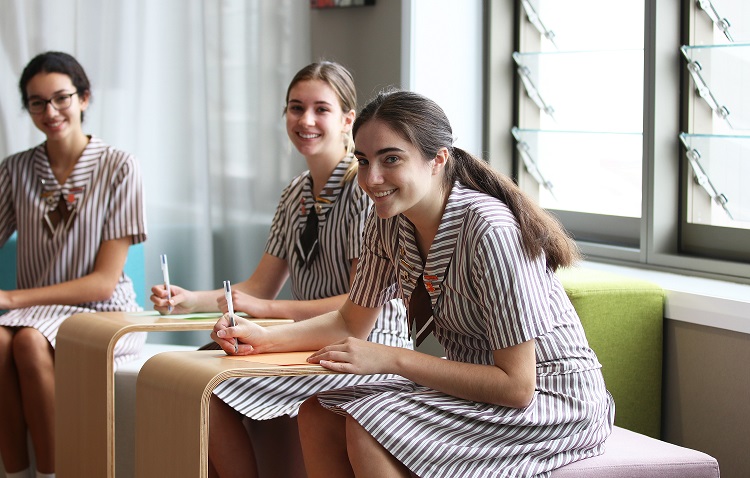 Recent days have seen an outpouring of support for brave school staff putting the education of children ahead of their own health at a time when fears of community transmission of COVID-19 are running high.
There is also deep appreciation being shown for those doing it tough in multiple other industries that are at the frontline of this crisis – and this appreciation is being shown in some truly powerful and heart-warming ways.
Enter St Rita's College.
Students at the school, located in Clayfield, Brisbane, have been busy bridging the connection gap by reaching out to community members who may be in isolation or on the frontline of the current health crisis.
Classes have been writing letters to the elderly, veterans and healthcare workers, offering a 'virtual hug' and letting them know they are appreciated.
The girls will be sending letters to a number of local hospitals, nursing homes, Meals on Wheels branches and RSLs in the lead up to ANZAC Day, after services were cancelled this year.
'2020 is the year of hope at St Rita's'
St Rita's College Deputy Principal – Students, Ms Catherine Allen, said the exercise would benefit both sender and receiver.
"In a time when it can be easy to focus on how things are negatively impacting 'me', we think it is important to offer opportunities for the girls to be look outward and serve the community," Allen told The Educator.
"2020 is the year of Hope at St Rita's. In a year where Hope has been tested globally we have made a decision to ensure that we find focus on what can be done to invite hope and trust in the good of humankind and future good".
Allen said this invited the school to think about compassion.
"Social distancing was a particular barrier that has denied many of the regular activities we participate in but we were determined to find something that allowed us to reach out positively, hopefully and compassionately," she said.
"At St Rita's we often speak about the responsibilities that come with the privileges we enjoy. We looked to those who established these; our older people, our veterans, and now, more than ever, our wonderful frontline health workers".
'An opportunity for the world to work together'
Allen said the letters are simple ways that allow the College to express "its genuine appreciation and thanks for their hope giving life work".
"Schools offer many opportunities for growth, academically, socially, spiritually and emotionally. No one has experienced COVID-19, so, like the students, we are all learning and managing together," she said.
Allen said that in its pervasive spread, the COVID-19 virus has "given the world an opportunity to work together, disregarding socio-economic and political biases".
"In some ways it has delivered us all to the same playing field, perhaps some of us just more 'game-fit'. Schools are in a great position to discuss, clarify and 'problem-solve," she said.
"COVID-19 has derailed plans and events. It does not have to derail positive thought and action. Challenges are opportunities to apply knowledge and work together for a common good. Human spirit is powerful and this is a great life lesson".
This article is the second in an ongoing series of good news stories focused on how principals, teachers and students are showing compassion, courage and humanity during this challenging and uncertain time.