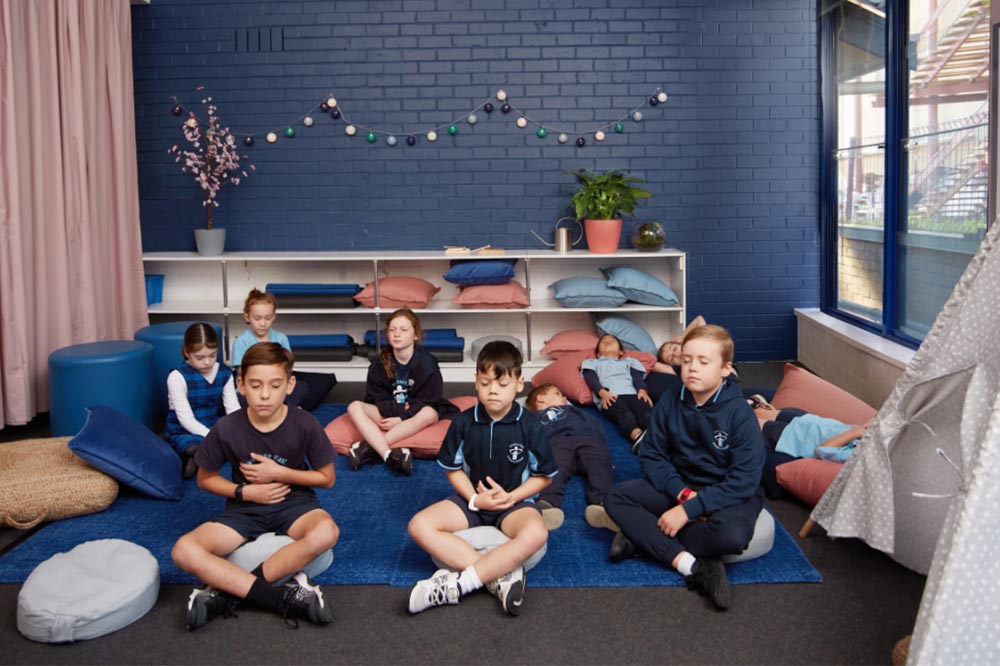 A new project aimed at providing schools across the country with colourful spaces conducive to mindfulness practises has been launched through a partnership between a colour palette company and a not-for-profit specialising in app-based meditation programs.
Research shows that cultivating skills that are grounded in mindfulness can help young people improve their mental health and help them form positive friendships, manage difficult emotions, and get unstuck from bad habits.
With this goal in mind, Smiling Mind – the creators of Australia's first mindfulness curriculum – and Dulux have partnered to extend key themes from the curriculum into built environments by helping schools create spaces designed to foster "awareness, curiosity, and connection" in various areas in the school, including classrooms, reading nooks, libraries, and outdoor communal areas.
To do this, the companies have rolled out a free online tool where schools can access colour palettes and decorating ideas for their meditation spaces, and tips on how to incorporate mindfulness in the school environment.
"With one in seven primary school-aged students experiencing mental health problems every year, it is critical that we deliver proactive, prevention-focused mental health support from an early age," said Dr Addie Wootten, clinical psychologist and chief executive officer of Smiling Mind. "We know that educators are looking for ways to support children and build resilience in the classroom, and the built environment is an important factor to consider when it comes to our mental health."
Andrea Lucena-Orr, colour and communications manager at Dulux, said that while colour can often be overlooked, it can play an important role when it comes to emotional connection, especially in an environmental context.
"A powerful tool, colour memory is a fantastic instrument that can be employed by schools to enhance and influence learning through the demarcation of spaces – this can help students engage and be attuned to mindfulness practices that are being advocated by their teachers and peers," she said.
Under the new project, the group has curated five colour palettes dedicated to different elements in the mindfulness curriculum, ranging from soft, natural pastels to bright hues. The toolkit outlines how the colours can be used "for best effect."
In line with the project's launch, Dulux and Smiling Mind are giving 15 primary schools the chance to win a "space makeover" that uses one of the five key colour palettes available within the toolkit valued at approximately $5,000. More details of the contest can be accessed through Smiling Mind's official website.