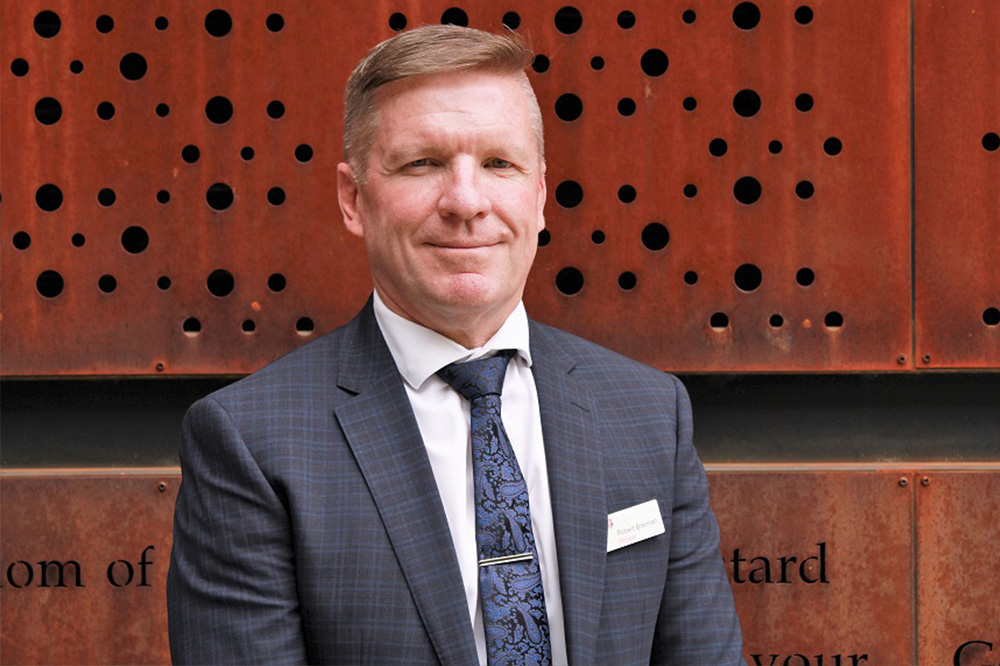 For Robert Brennan, walking the halls of Caroline Chisholm Catholic College evokes a strong sense of déjà vu, and rightly so. Forty years ago, he graduated as a Year 12 student from the very campus he now roams as principal.
With his home in Footscray, taking up the principalship at his old College is somewhat of a homecoming and return back to the West. Prior to this, Brennan headed up Salesian College in Chadstone for eight years after moving on from his role as principal at Nagle College in Bairnsdale.
For Caroline Chisholm Catholic College, the last two years have been eventful. In 2018, the College won an Employer of Choice Award, which recognises organisations which have developed leading workplaces that maximise the full potential of their workforce.
In 2019, the College expanded its family and community engagement with local primary schools, alumni and other members of community. While the face-to-face element of these connections were disrupted for obvious reasons in 2020, this has not stopped the College from pushing ahead with its plans to build on its already robust community engagement.
The Educator recently caught up with Brennan to ask him about what he has learned during his time as a principal, his vision for Caroline Chisholm Catholic College and some of the biggest challenges and opportunities he sees for the year ahead.
TE: I understand that you graduated 40 years ago from the very school you now lead. Did you ever imagine that you would become a school principal? If not, what facets of the job inspired you to pursue the principal profession?
No, it certainly was not on my agenda back then. At that point going to University was a big enough deal given that I was the first member of my family to do so. I just wanted to teach and enjoy working with kids. There are so many reasons I eventually decided to pursue senior leadership in education. The main ones were, however, I had always enjoyed the fact that I had been able to influence young people's lives and the more senior the position the more lives I felt I could have an influence on, so ultimately being a Principal allowed me to work with others to influence a whole community.
TE: During your time as a school leader, what did you learn about school leadership and its many challenges, and in what ways do you see the profession evolving moving forward?
I have learnt many things in my leadership roles but probably the most the most important thing I learnt is that my leadership is determined by the quality of the people around me in the first instance then making sure we all have a single focus or agenda and finally ensuring we are all clear of the role we have to play in bringing about whatever it is we are wanting to achieve before working together to achieve it. Another major learning is having to understand so many different people and where they are coming form and endeavouring to take all perspectives into account when making decisions, which must be made in the best interests of the students and their learning ultimately. Whilst most aspects of the role will remain consistent moving forward there are a couple of pressing issues which are requiring more and more consideration and that is the mental health of staff and students and the level of compliance and accountability expected of educators. In lots of ways these two issues are interrelated
TE: What was behind your decision to pursue the role of principal at Caroline Chisholm Catholic College?
There were two reasons for making the decision to apply for the role. The first being that I had been in my previous role nine years and I had begun considering the implications on both myself and the College if I were to stay much longer. This was particularly relevant given my age as had I stayed for much longer, I probably would have seen out my time until retirement and I concluded that would not be good for me or the school. The second was the romance of returning to where it had all begun for me all those years ago and to have an influence on the kids in my local area
TE: What are you most excited about as you begin your new role as principal at Caroline Chisholm Catholic College, and conversely, what do you see as the greatest challenges ahead of you as a school principal in 2021?
Working in my local community excites me and working with the staff to continue the growth and development of this great College to ensure our kids are able to live their lives to the fullest by attaining their full potential. Whilst it is still very early in my time I think some of the challenges will include language barriers, socio economic challenges, social issues prevalent in this area and possibly convincing our kids they are as good as any child in the state.