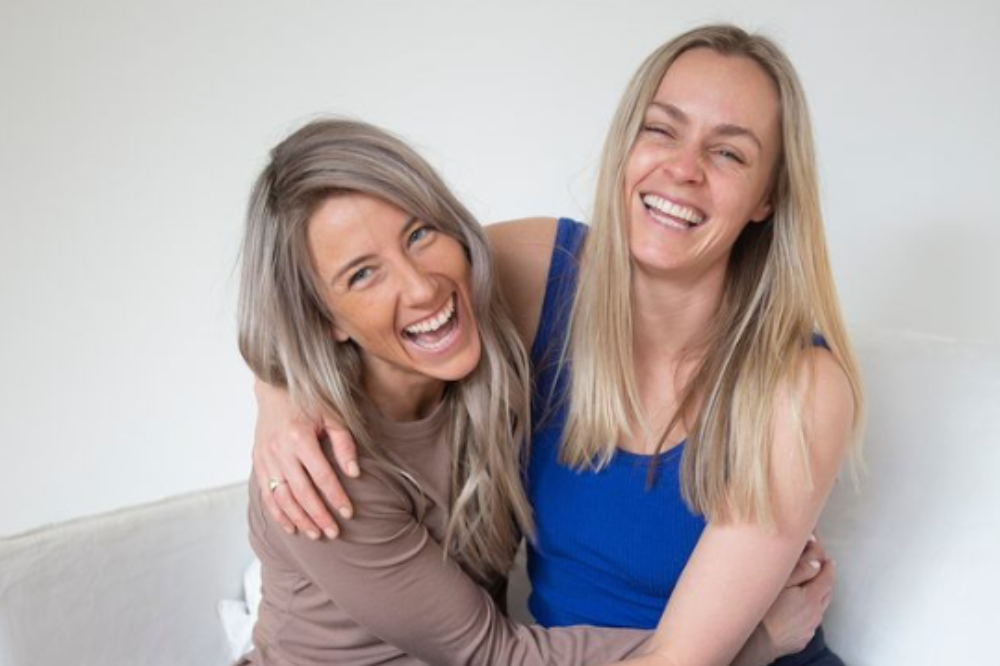 Studies show 70% of adolescent girls have body dissatisfaction, with eating disorders being the 12th leading cause of hospitalisation in Australia's health care system.
Two Melbourne locals found the rise in hospital admissions for preventable health conditions in young females alarming, which led to them developing an evidence-based program that aims to bridge the gap between Australia's education and health care systems by providing young females, their families and more broadly, their communities with tools and referral points for all areas of their health and wellbeing.
Read more: The blurring line between promoting student health and 'body shaming'
Created by qualified Physiotherapist, Nutrition and Health Coach Megan Dickinson and her team of experts, Live Life Whole is a suite of preventative health education modules and programs designed to help young women and their families understand more about their physical, mental and emotional health.
The knowledge and content provided in these programs comes from a team of evidence-based Health Professionals with over 70 years of experience collectively, working with young women. Programs provide young females aged 12-25 the opportunity to learn about and discover knowledge and skills to support their overall health and wellbeing, now and for life.
Below, The Educator speaks to Dickson about the latest research on eating disorders and body dissatisfaction and how the Live Life Whole program is helping schools improve the health and wellbeing of girls and young women across Australia.
TE: What does the latest research say about the prevalence of eating disorders and body dissatisfaction among school-aged children in Australia?
Following the Covid-19 lockdowns, research has shown an increase in all eating disorder symptoms, with increased body image concerns, food restriction and binge eating, reported by the majority of participants. There was also a significant experience of depression, anxiety, stress and loneliness. The overall incidence of eating disorders increased during the COVID-19 pandemic by 15.3% in 2020, compared with previous years; Only 25% of people actively seek treatment for an eating disorder with up to 70% never accessing any care; The pandemic highlighted an escalation of eating disorder symptoms and extremely low rates of treatment/access to treatment; and In Australia, the number of children presenting with eating disorders doubled during the pandemic, and accounted for 5.6% of all emergency department presentations compared to 4.0% pre pandemic (Zipfel et al., 2022).
Our key mission at Live Life Whole is to provide a "whole health" approach through our preventative health education programs. We support the National Eating Disorders Collaboration, (2010) and their approach to reducing the prevalence of eating disorders by addressing body dissatisfaction, improving self-worth by supporting a balanced and individual approach to psychology, nutrition and exercise. We believe prevention is the key to reducing the impact of eating disorders on young females, their families and on a larger scale their community engagement and participation.
TE: When you launched Live Life Whole, what was your ultimate hope as for how the programs would assist schools in helping girls confront and overcome these debilitating issues?
Educators (and parents) want support with the challenging and sensitive areas of eating disorders, menstrual cycle education, mental health etc. Educators do an exceptional job of managing the wellbeing of students but (particularly post covid) their job has now increased tenfold. Educators are the backbone of the education system, they are the experts in learning and education, yet somehow they're now expected to be experts at managing the health and wellbeing of their students on top of what they already do. In the same breath, healthcare professionals are the backbone to our health system, managing patient presentations, assessments, screening, treatment/management as well as educating their clients on health prevention. In addition, parents have great difficulty understanding and navigating the health care system to get the right support for struggling girls. We can only see now the waitlists for a 1:1 session with a Psychologist is at 3-6 months, the pressure and demand on both educators and health professionals to manage the wellbeing of children without 1:1 healthcare support is at its' highest. Live Life Whole has been created to improve health literacy in schools by giving young females access to the tools, knowledge and resources they need to support their health and wellbeing throughout life. Its' aim is to support educators, to encourage early detection, provide early referral pathways and early intervention for the health outcomes of our future generation. Ultimately, it hopes to achieve a reduction of strain on both our education and health professionals and reduction of unnecessary hospitalisations of so many preventable health conditions affecting the quality of life for our future young women.
TE: Can you share a heart-warming example or two that speaks to the program success?
When I initially started this program, I felt no matter how many young women I had the privilege to speak to my mission was to impact just one girl in the room. If I could help make a difference to that one girl that might be struggling in the back corner, then to me I'd made a difference to not just her but the life of her family and friends and perhaps helped change the direction of her life. The biggest compliment the program has been given thus far is that it is different from any other program entering schools. It is bringing experienced clinical knowledge from clinicians and practitioners who work on a daily basis with all of the issues the programs cover. Bringing that clinical knowledge and experience to share with educators who do their best to deal with the challenges of managing student wellbeing without the health care experience, means that we can provide valuable support to educators. Having educators help design our programs, we have the ability to flex and evolve with the needs of each individual school and their students in terms of delivery. Our programs are delivered by women who have experienced their own hurdles and health challenges and have been complimented as a "big sister approach" to helping support students to learn more about their bodies from relatable and authentic role models that they are likely to listen to. On an individual level some reported outcomes from participants thus far are quite simply; awareness of how to improve health behaviours such as not skipping meals, improved sleep hygiene and motivation to engage in social activities, appreciation for their bodies and a better understanding of stress and respect for their thoughts and feelings towards themselves.
TE: Drawing from your experience as a qualified Physiotherapist, Nutrition and Health Coach, what is your advice to school leaders who are looking to improve the health and wellbeing of girls and young women in the year ahead?
The Live Life Whole Project has been designed by experienced health professionals who have worked with many women across the lifespan to support their health outcomes in a 1:1 setting, yet not everyone can get access to 1:1 health care. We've teamed up with wellbeing educators, learning and curriculum specialists to help us deliver the knowledge those who attend 1:1 appointments get access to in a much more accessible way. Uniting healthcare and education in one big team helps us get the right messages out there in an engaging way to spread the knowledge far and wide and provide greater access to preventative health education material in schools Australia wide. Rather than engaging multiple different programs for different areas of health, Live Life Whole is designed to include all areas of physical, mental and emotional wellbeing as a one stop shop to educate and improve the health outcomes of our future generation of women.