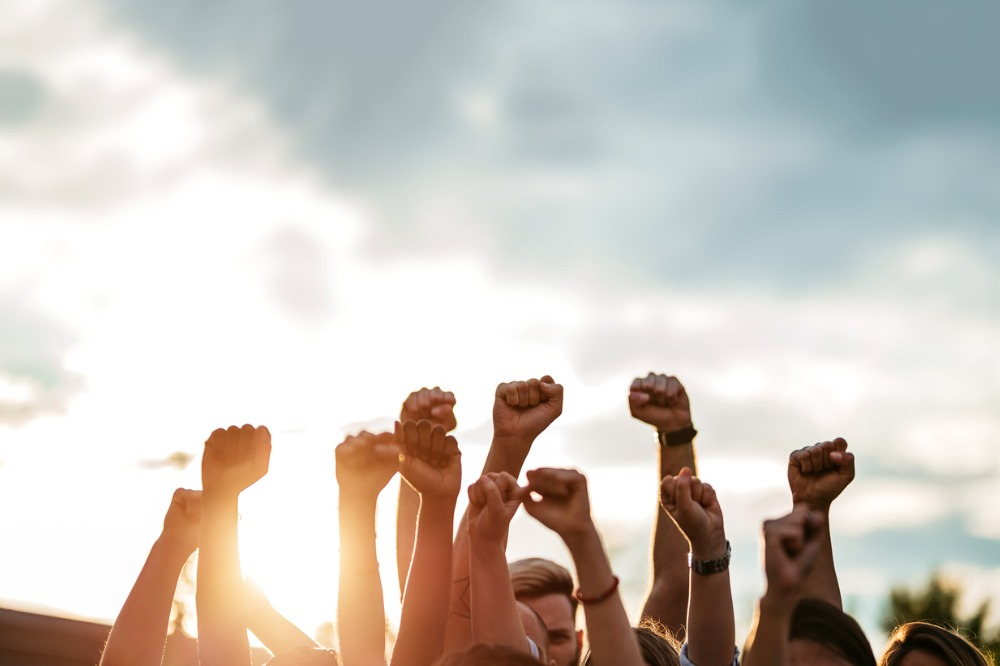 Last month, a teacher from The King's School in Parramatta was suspended after attending an anti-lockdown protest in Sydney's CBD, which was attended by more than 3,500 people.
The crowd converged in Sydney to demonstrate NSW Government restrictions enforced as a result of the rapidly spreading COVID-19 Delta variant, which has now seen more than 4,000 cases emerge since June 16.
In a social media post, the teacher explained that he was attending the protest because he was standing up for what he believed in.
"This is me standing up for what I believe in rather than being a keyboard warrior, a pacifist, or worse, a coward in my own mind. I live with me in the mirror. I do not believe in living in fear. I do not believe the propaganda. I do not believe in unjust house arrest … I stand for all students. I stand for all those families who are stranded, isolated and suffering …. I stand for freedom. I love you."
Parents alerted the school's headmaster, Tony George, to the teacher's social media post, and a letter was then sent out to parents advising of the teacher's suspension.
"While I appreciate that people are free to hold their own views and beliefs, this does not extend to their behaviour and conduct. It is the mark of civil society that we should be able to engage in healthy debate and respect each other's views, but this must be in a safe, lawful and respectful manner, at all times. Consequently, the matter has been reported to police by the school, and the staff member has been suspended from duties."
While the teacher did not understand the full consequences of his actions at the time, he has since apologised and has returned to normal duties at the school.
In an interview with ABC Drive's Richard Glover, George said teachers should bear in mind that communicating privately to students via social media is against school policy.
"It's not common and it's on our code of conduct that this not be the case, but there are other layers to this situation that we're working ourselves through," George said.
"It's not as simple as a teacher having attended a protest rally and therefore being suspended; there's layers of complexity. You have to create a bit of time so you can deal with these things in the cool light of day and not in the heat of exasperated phrenetics."
Miles Bastick, a partner at Herbert Smith Freehills law firm, said it would generally be obvious to a school teacher that they would need to be highly cautious about attending an unlawful protest for two key reasons.
"Firstly, any 'unlawful' protest should not be attended in any event; and secondly, as an employee of a school [or otherwise the relevant educational employer], the employee may have specific i.e. 'express' contractual duties in relation to the way they do or do not behave, including in relation to the need for them to be an appropriate educator and role model to students," Bastick told The Educator.
"It is very likely that a school would find that any public knowledge of attendance by a teacher at an unlawful protest might be contrary to specific or general obligations they might have in a teacher's employment contract."
Bastick said employees generally have an obligation to be loyal to and act in the best interests of the employer.
"If an employee engages in conduct, even in their 'private life' that is contrary to the interests of their employer, then in some cases it means that the employer can take disciplinary action against them, leading up to, and including, the termination of employment," he explained.
"In relation to the general question as to whether or not more training is necessary, one would expect that most teachers would, if they carefully considered the matter, consider it a risky matter to attend an unlawful protest in circumstances where their attendance could become known to their employer and the students they're educating and/or their parents."
But what about attending lawful protests?
Bastick said Australian law does not prohibit in a general sense teachers from attending lawful protests.
"Schools may have specific express contractual arrangements with their employees – including teachers – which require them to act in a manner which doesn't damage the integrity of their role at the school," he said.
"Attending a lawful protest, depending on the protest, could in theory infringe such a contractual obligation."
Bastick said it should be noted that in many cases attending lawful protests might be considered completely appropriate.
"Generally, employees have an implied contractual obligation to serve their employer with fidelity and good faith which, expressed in more modern language, has been considered to mean that they must be 'loyal to and act in the best interests of the employer'," he said.
"If attendance at a protest [even a lawful one] was not in the interests of their employer and there was either a risk that the teacher employed could be connected with the protest [a matter contrary to the interest of the employer] or they actually did become connected with it, then this may create a situation where a school may appropriately discipline the teacher."
Bastick concludes, "As a general matter, given the nature of their role (and the express and implied terms in their employment contracts), teachers and employers will need to be cognisant of activity engaged in by teacher outside their employment as, depending on the circumstances, it may have an impact on their employment."