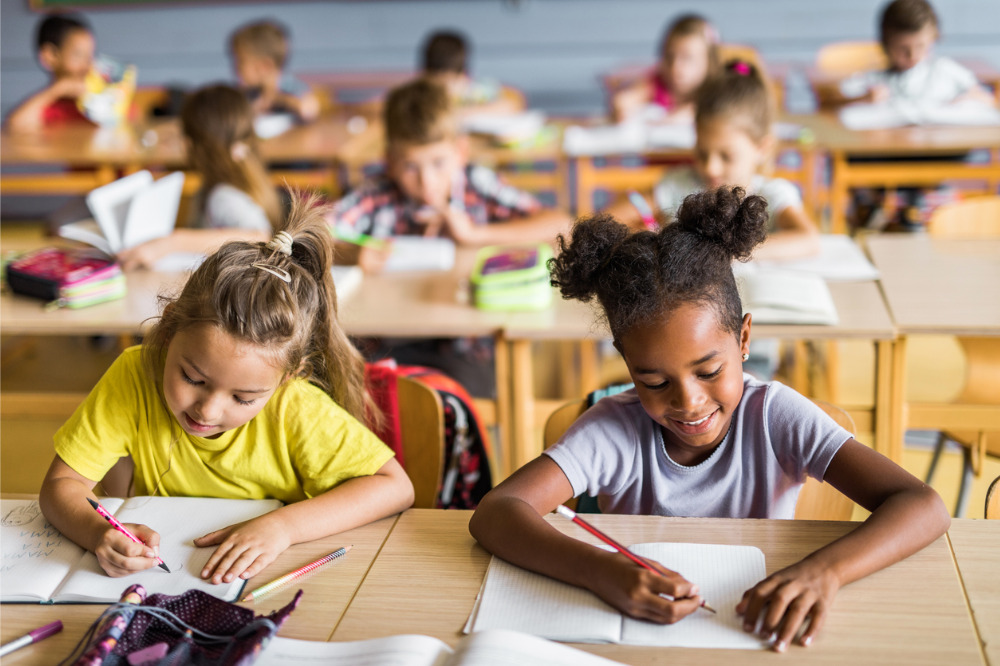 Since the death of George Floyd in the United States on 25 May, the Black Lives Matters (BLM) movement – active since 2013 – has drawn global attention to issues of racism across multiple institutions.
Schools are certainly no exception.
In Australia's education system, racism has been having a profound affect on Aboriginal and Torres Strait Islander people, whether it's through a decline of educational outcomes and engagement or on their mental health.
To address this, governments, schools and communities have been striving to improve Indigenous Australians' learning, and life, outcomes.
This push took an important step in 2008 when State and Territory Governments committed to targets aimed at closing the gap in Indigenous health, education and employment.
However, there has been little progress in achieving this, with some areas stagnating and others even going backwards.
The 12th Closing the Gap report, released in February, revealed that Indigenous students' education targets, especially in the areas of school attendance and literacy and numeracy, are veering off track.
Racism dragging outcomes down
According to experts, the stagnation in the educational outcomes of Aboriginal and Torres Strait Islander students runs much deeper than poor grades and engagement.
Indeed, an increasing body of recent research has shown the depth and impact of racism on the education opportunities of Aboriginal and Torres Strait Islander students.
In 2019, a landmark study by the Australian National University (ANU) and Western Sydney University, surveyed 4,664 primary and secondary students across 23 schools in NSW and Victoria, revealing an alarming trend of racism in schools.
It found that nearly a third of NSW and Victoria students from non-Anglo or European backgrounds in years five to nine have experienced racial discrimination.
Another study, published in 2016 by Professor Gawaian Bodkins-Andrews of the D'harawal nation, identified the pervasiveness of racism in the practices and conceptualisations of schooling.
'Schools must fight all of racism's insidious diversities'
Professor Bodkins-Andrews said that whilst justified, schools' zero-tolerance approaches to racism – often only framed as micro-aggressions between students – rarely consider the impact of racism on students themselves.
"There are decades of empirical research repeatedly telling us that Aboriginal and Torres Strait Islander youth who experience racism are at higher risk of disengaging from and feeling hopeless about school," Professor Bodkins-Andrews told The Educator.
"They are also at higher risk of having lower aspirational and achievement outcomes, suffering from emotional-behavioral-conduct problems, suffering from stress, depression, and anxiety, and suffering from suicidal ideation".
Professor Bodkins-Andrews said schools must commit to acknowledging racism and "fighting it in all its insidious diversities within and outside school itself".
"Schools must ensure that Aboriginal and Torres Strait Islander students are aware that their school will stand against racism, that the students will be given meaningful support from all school staff, and be given opportunities for counselling – both cultural and therapeutic," he said.
"School leaders must ensure that Aboriginal and Torres Strait Islander students are given space to be proud of the Country they are on, their Mobs, communities, families, and identities".
To do this, Professor Bodkins-Andrews said there must be a strong Indigenous presence within the school, not only through meaningful community partnerships, but through Aboriginal and Torres Strait Islander teachers, administration staff, and senior management itself.
"Discourses about racism are too often limited to micro-aggressions, such as name-calling, that frame racism in some individualistic-singular-point-in-time behaviour that is reduced to debates about 'intent', rather than the active perpetuation of a system built on racism itself".
Professor Bodkins-Andrews pointed to several examples of this racism, including James Cook's 'claiming' of what is now known of 'Australia' to a nation that has no recognition of Aboriginal and Torres Strait Islander peoples in its constitution, a largely unrecognized history of slavery and the segregation of Aboriginal and Torres Strait Islander children from education, among many others.
"The only way to shift a mindset is for that mind to be open to another perspective, another lens, another truth," he said.
"Unfortunately, too much shoot-from-the-hip resistance to truth-telling, and therefore truth-seeing".
Standing strong in the face of adversity
Dr Janice Scott Cover is proud to be a black, female leader in the world of education with four decades of experience a teacher, mentor, and assistant superintendent to the Palm Beach County School District – one of America's largest.
When asked what Australia's leaders, both in and outside of education, could learn from her own initiatives to help disadvantaged students, she pointed to the importance of improving teacher efficacy through ongoing training in pedagogy and competence – something she did with great success at her "chronically underperforming" school.
"Students took responsibility for learning used data to develop academic and behavioural goals; parents and the community became partners in the educational process," Dr Cover told The Educator.
"I lead the monitoring and implementation of the comprehensive school-wide plan that swiftly and dramatically changed the trajectory of the school".
She said that while the process was difficult, she learned that "leadership matters and clear communication of expectations is critical".
Having watched the BLM movement swell enormously since its inception in 2013, Dr Cover said she is proud of the "persistent, smart, confident and articulate young people who stood bravely despite fierce opposition and personal attacks".
"This shows that education matters and educators must intentionally provide classroom opportunities for free expression," she said.
"Get students involved in the development of school rules, include debate about cultural and historical events in the curriculum and give voice to students through student lead organisations".
Dr Cover believes history classes should include civics lessons and show stories of young people who have spearheaded significant changes in civil rights.
"The Black Lives Matter movement is on track to take their place in history".
How can principals make a difference?
Dyonne Anderson, president of the National Aboriginal & Torres Strait Islander Principals' Association (NATSIPA) says the BLM protests present school leaders an opportunity to bring about an important attitude shift within their school and local community.
"This is an opportune time to allow all students to discuss and critically respond to a global issue that is not new for anyone of colour but especially for our First Peoples of this land," Anderson told The Educator.
"How can we even begin to discuss Black Lives Matter when within our own country there is denial of what our whole history entails?"
Anderson also pointed to the issue of hypocrisy when addressing the issue of racism in the United States.
"The injustices, the inequities and the racism of a country that eliminates this perspective is founded on untruths and lies, yet we feel they have the right to enter into the debate of racism in America," she said.
"Our schools have a responsibility to teach a true and accurate account of current events and history to present an unbiased view so that students can engage in conversations to really delve down to the core values, attitudes and behaviours to assess, evaluate and shape their own views".
"Be the change you want to see the world"- Mahatma Gandhi
Anderson said Australia has a National Curriculum (currently under review) that includes Aboriginal Histories & Cultures as a Cross Curriculum Priority, which she called "a hit and miss approach".
"How can we be viewed as an educated society if we are not educated? How can we so arrogantly enter into any debate on race when it comes from a place of ignorance and falsity?" she said.
"Our current Prime Minister stated that there was never any slavery in Australia yet evidence proves otherwise".
Anderson said an accurate and all-inclusive account of events and worldviews that encapsulates "warts and all" accounts from both sides allows all Australians to be informed of facts and impacts.
"Teachers have a responsibility to teach responsibly so that students can critique accordingly," she said.
"School principals have an opportunity to engage in robust conversations with school staff, students and communities to tackle racism and to eliminate the damage and harm it causes".
Anderson said that Australian cannot afford to shy away from prejudice and the damaging impact it has.
"We must confront it, name it and address it. It is never acceptable".
New initiative gives strong glimmer of hope
A new anti-racism program aimed at 10-12-year-olds is showing positive results. The Speak Out Against Racism (SOAR) program includes teacher training and development, classroom activities and an audit of school policies and practices.
The program's lead researcher Associate Professor Naomi Priest, from The Australian National University (ANU), said a new analysis of the program shows students and teachers felt it raised teacher confidence to discuss and address racism, and increased students' awareness of racism.
"The SOAR program is unique as it is a multicomponent sustained program that explicitly focuses on race and racism," Professor Priest told The Educator.
"SOAR is evidence based and supports primary school children to develop the socio-cognitive skills they need to navigate discussions and issues of race and racism, including building empathy, perspective taking, and self-efficacy to intervene as well as developing their racial literacy and awareness of racism and anti-racism".
A big value-add to other key programs
Professor Priest said the program also supports teachers and school leadership to develop their knowledge and skills in this area, and in having conversations about these issues with children in a safe and developmentally appropriate way.
"Many teachers, families and community agencies have been telling us and our colleagues that there is a key gap in resources that specifically address issues of race and racism," she said.
"They tell us that SOAR is highly complementary and important value-add to other programs such as Reconciliation Australia's Narragunnawali program, Stronger Smarter, and other anti-bullying and socio emotional learning programs".
Importantly, SOAR has been evaluated rigorously, including surveys of school students before and after the program so that change can be assessed over time as a result of the program.
"Including comparison schools in the evaluation, that is schools that did not receive the program, means we can assess if the change seen in the surveys is due to the program or not," she said.
"We also conducted qualitative interviews and focus groups with teachers and students who were part of the program so that we could understand their experiences and views about the program and how they saw the program impacts".
Looking ahead: Principals must lead by example with a "no excuses policy"
Anderson said it is never too late to listen and learn from those who experience racial attacks, and work with communities to build a "collaborative and restorative model" to eradicate racialism.
"Our future is in the hands of our young people and as a nation we have an ethical and moral obligation to create a better future for all despite race, religion, sexual orientation and gender," she said.
"Schools must equip students with the skills to recognise bias and to be courageous to expose it. Can we live together and not feel fear of attack or persecution due to our difference? Do we fear authority?"
She said this reality for some is "the difference between life and death".
"Our school leaders build the leaders of the future by investing in programs and approaches that connect our young people to each other where we can empathise with hardships and wrongs with a moral and ethical purpose to improve life circumstances free of racism," she said.
"This is our better future. It is time and it is the right thing to do".