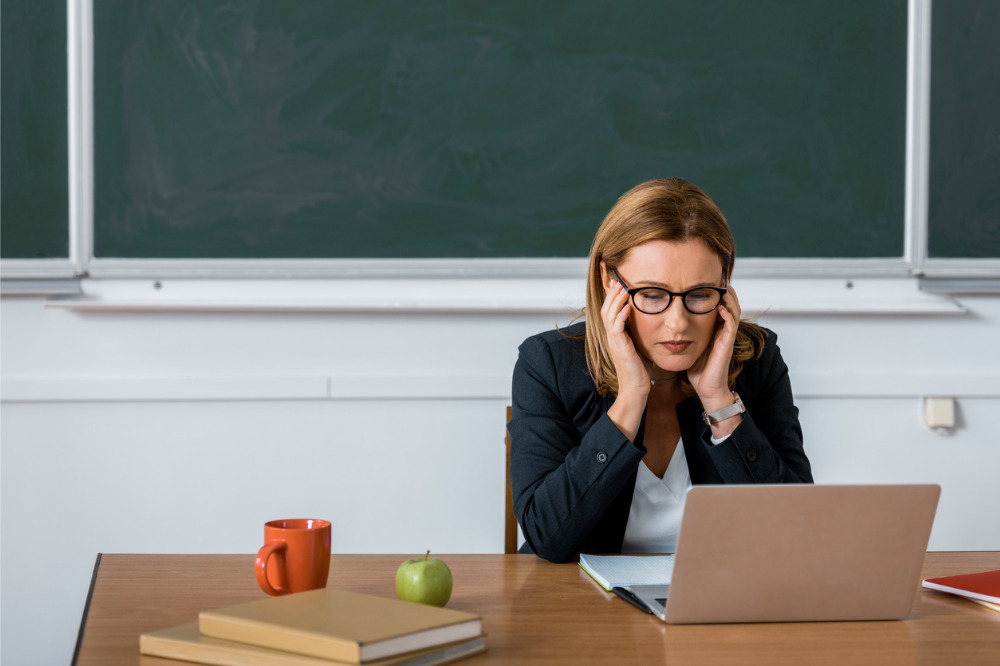 Ninety-two percent of teachers believe reducing workloads will improve the profession's retention rate, a major survey of 10,843 teachers, principals and education support staff has found.
The 'State of Our Schools' report, conducted by the Victorian branch of the Australian Education Union during February and March, found that teachers, principals and support staff work an average of 53 hours a week, and that "seldom manageable" workloads are continuing to increase.
Also on the rise is the profession's stress levels, with a staggering 89% of staff saying their work-related stress had increased or increased a lot in the last 12 months. Seventy-two per cent of staff indicated that this had occurred due to excessive workloads.
And the findings have massive implications for staffing levels in Victorian schools.
According to the report, 40% of teachers are regularly thinking of leaving the classroom, with 92% of teachers reporting that reducing workloads would help the most to retain teachers in the profession.
On Friday, Victorian public school teachers, principals and support staff launched their campaign for a new Victorian Government Schools Agreement (VGSA) which has now expired.
The union is calling on the government to address excessive workloads in a new agreement through the employment of additional staff in the state's public schools.
"Despite their professionalism, exhausted teachers with excessive workloads and teaching large classes can't deliver the quality and support our children need and deserve," AEU Victorian Branch president, Meredith Peace, said.
"Teachers must be provided with the time and professional trust they need to focus on their core work of teaching and learning".
When passion takes its toll…
Professor Philip Parker, Dr Theresa Dicke and Professor Herb Marsh, from the Australian Catholic University's Institute for Positive Psychology and Education, co-authored the 2020 Australian Principal Occupational, Health, Safety and Wellbeing Survey.
In an interview with The Educator, shared their advice for hardworking school leaders who are concerned about their state of wellbeing due to the pressures their job brings.
"We know principals are some of the most passionate leaders in the country. But passion can take two forms. Passion for your work can be harmonious—your work is integrated into the rest of your life in healthy balance with other things," they told The Educator.
The three academics warned that passion can also be obsessive for many principals.
"Work dominates your time, your thoughts, and your emotions. This obsessive form of passion can lead to burnout. To be the best principal you can be, your work cannot dominate your life," they said.
"Ensuring that your work is well integrated into your life, that you have good work-life balance, good work-family balance, and interests outside of work can help protect you from burnout. Yet even with external support, the research evidence is clear that burnout prevention and treatment cannot just focus on you the principal alone".
The trio note that successful treatment of burnout should also alter the work environment.
"Thus, education policymakers must find ways to better support your mental health," they said.
"We suggest education policy makers focus on efforts to increase resources and decrease demands. This may include more administration support or training".
Professor Parker, Dr Dicke and Professor Marsh say education policy makers should also focus on demands principal's face that take an emotional toll.
"Policies that aim to give principals access to sufficient resources and support to manage emotional demands are a priority. Burnout interventions are likely to be most successful when paired with opportunities for principals, like you, to meet with education leadership to promote positive change," they said.
"Ultimately, the prevention and treatment of burnout must focus on both resourcing you the principal and modifying your workplace".