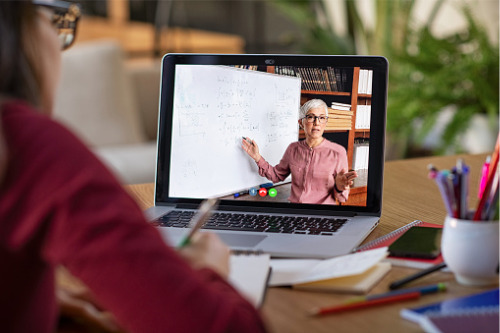 Remote learning could drag on until the first week of September, new modelling from the University of Melbourne shows.
Schools in Greater Sydney have been learning remotely since the beginning of Term 3, and NSW Premier Gladys Berejiklian says it won't be until at least the beginning of August that face-to-face teaching resumes.
However, the state has recorded several days of triple digit COVID-19 case numbers, even as residents remain locked down under tough restrictions.
The University of Melbourne's Populations Intervention Unit recently looked at how soon the current lockdown could end, based on reaching five or less cases of COVID-19 a day and found that this threshold would be reached on September 4, so long as Stage 4 restrictions remain in place until then.
The NSW Premier has repeatedly cautioned that the state's lockdown will only end once the number of cases identified as being infectious in the community "reaches zero or close to zero."
The study lead, Driss Ait Ouakrim, told the ABC that the effects of different lockdown restrictions were hard to control.
"This COVID thing, if we've learned one thing, is that its high on randomness. The less time you give it, the less opportunity you give those hundreds of parameters to interact in a way you don't predict."
Two other models released in recent weeks have shown that at least 4-5 more weeks of Stage 4 restrictions are needed to contain the Delta strain.
Last week, the University of Sydney released modelling showing that if 80% of Australians were isolating as directed, it would still take until the middle of August for numbers to drop below 10.
This followed modelling from the Burnett Institute of Medical Research in Melbourne, which said a month of Stage 4 restrictions were needed to get case numbers under 5.
Since Greater Sydney went into lockdown on June 25, new clusters have appeared in Victoria and South Australia. On Tuesday, the Premiers of both states announced a seven-day lockdown to contain the spread of the virus, which is significantly more contagious and harmful than the 'Alpha' version the world experienced in 2020.
According to epidemiologists, the Delta variant spreads 50% faster than Alpha, which was 50% more contagious than the original strain of SARS-CoV-2.
It is estimated that the average person infected with the original COVID-19 strain will infect 2.5 other people. However, Delta has been known to spread from one person to 3.5 or 4 other people.
'Principals have a much better grasp now'
Berwick Lodge Primary School principal, Henry Grossek, said the fact that lockdown has become an almost regular occurrence over the last 15 months means that many schools have been able to transition quite smoothly into remote learning for their students.
"Last year, early on especially, I think we were all flying by the seats of our pants into the unknown and that was very, very stressful indeed. My reading of the mood of the community here, now suggests that there is now a greater acceptance of the need for a lockdown and return to remote learning than last year," Grossek told The Educator.
He said that when this is coupled with what principals have all learnt from previous recent experiences of remote learning, it suggests the profession is handling the situation better.
"That's not to say, of course, that we are at all excited about what we are going through. Indeed, the stop-start nature of schooling since the pandemic struck has not allowed us to build any kind of sustained momentum and that has been very energy-sapping and depressing," Grossek noted.
"Nonetheless, the optimist in me sees a stronger confidence systemically in meeting the current challenge."