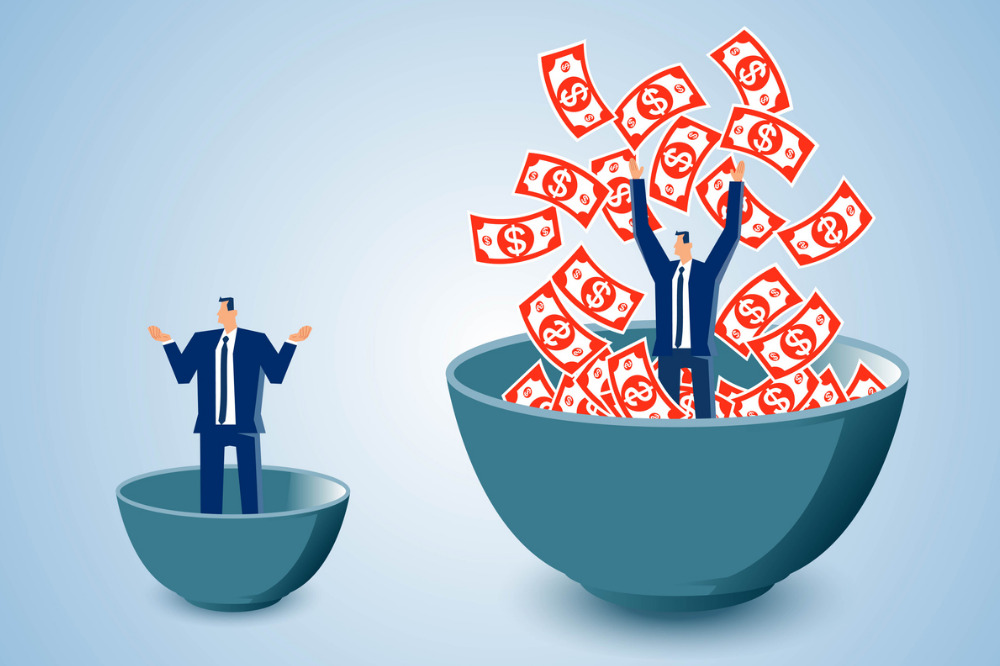 Public school advocates are calling on the Federal Government's Expert Panel reviewing the National Schools Reform Agreement (NSRA) to address widening gaps in school outcomes between rich and poor.
In a statement released yesterday, Save Our Schools (SOS) national convenor, Trevor Cobbold highlighted "massive" achievement gaps between highly advantaged and highly disadvantaged students, which he said must be closed if the government's reforms are to be realised.
"Closing the achievement gaps is the fundamental challenge facing Australian education. The Expert Panel must ensure that its policy recommendations for the next NSRA are focused on closing the gaps. It must set clear targets to achieve greater equity in school outcomes," Cobbold said.
"The latest NAPLAN results reveal vast inequity in school outcomes in Australia. Very large proportions of highly disadvantaged students are only achieving at the lowest proficiency level in reading, writing, and numeracy."
Cobbold noted that this level is well below the national proficiency standard.
"For example, the following percentages of Year 9 students need additional learning support in reading, writing, and numeracy," he said.
"By contrast, only 3-5% of students of highly educated parents and of parents in the highest occupation group (senior executives/managers) need additional learning support."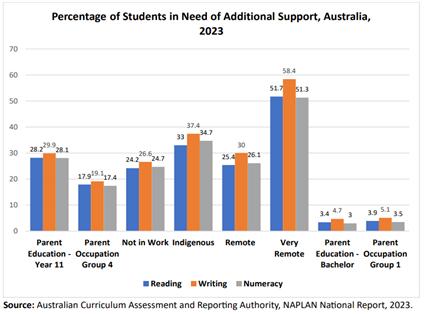 'Shocking and unacceptable inequalities'
Cobbold said these figures are indicative of the huge education gap between rich and poor.
"They are shocking and unacceptable inequalities. The Expert Panel must focus on eliminating these gaps. It should set clear equity targets for the next NSRA," he said, adding that the Panel must also clearly specify the priority equity cohorts.
"This is a first step towards achieving equity in education. These cohorts should cover low SES students, Aboriginal and Torres Strait Islander students, students living in rural and remote locations, students with disabilities, and students from other educationally disadvantaged backgrounds."
The release of the figures comes weeks after the OECD's latest 'Education at a Glance' report found that Australia continues to significantly underperform against most OECD countries when it comes to investing in public education.
According to the data from the OECD, Australia spends just 1.5% of total government expenditure on upper secondary school education, 28.6% lower than the OECD average of 2.1%. This is despite spending more than twice as much as the OECD average on funding private schools.
"Public schools are often educating and caring for children that are left in these communities after private schools have skimmed the most able kids to their schools," Pasi Sahlberg, professor of educational leadership at the Melbourne Graduate School of Education told The Educator.
"At the individual level of children, families and also teachers it is heartbreaking to see what the situation is in disadvantaged communities in one of the wealthiest nations in the world."
Where to from here?
Save Our Schools called on the Panel to set clear equity targets to be included in the next NSRA, recommending they include the following:
All students in the priority equity cohorts should achieve the NAPLAN national proficiency standard in all domains in Years 3, 5, 7, and 9;

The average NAPLAN outcomes of each equity cohort should be similar to those of high SES students in all domains in Years 3, 5, 7, and 9;

All students, whatever their background, should complete Year 12 or a vocational certificate III;
Cobbold said that these targets are necessary to close the achievement gap between advantaged and disadvantaged students.
"Apart from overcoming injustice in education, achieving these targets would promote increased productivity, the lack of which is bemoaned regularly by the business community and the Government," he said.
"The achievement gap between rich and poor is a measure of potential productivity improvement. Closing the gap will increase Australia's economic prosperity."
Little effort, big payoffs
According to a recent report by the Australia Institute's Centre for Future Work, funding public schools to 100% of the Schooling Resource Standard (SRS) would deliver long term economic and fiscal benefits of between $17.8bn and $24.7bn a year.
"This research shows fully funding public schools will payoff for our kids and our country. Fully funding public schools is the only way to ensure that every child has every opportunity to succeed," Australian Education Union federal president, Correna Haythorpe said.
"Right now, only 1.3% of public schools are funded to the SRS and this must change when the Albanese government negotiates new school funding agreements with state and territory governments in the next 12 months."