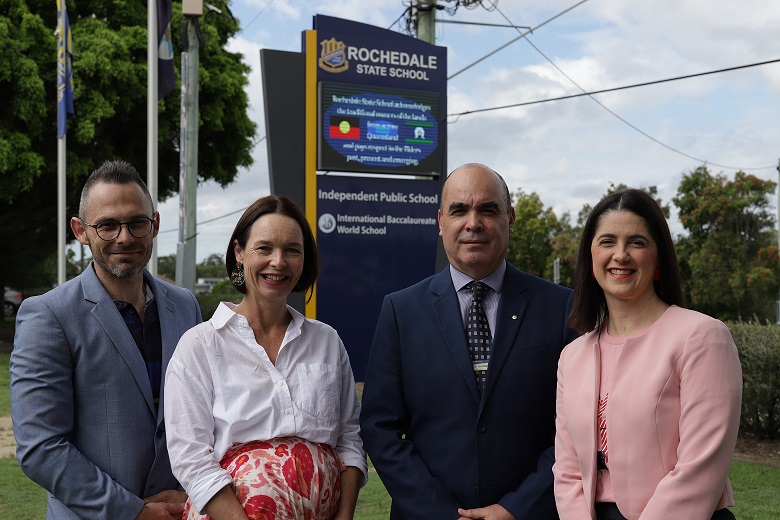 For Rochedale State School, Friday 3 December marked an exciting milestone in its 90-year history.
Before a virtual national audience at the Australian Education Awards 2021, the Brisbane school took out anzuk Education Australian School Principal of the Year, Primary School of the Year (Government), Primary School Principal of the Year (Government) and the Tes Australian School of the Year Excellence Award.
Rochedale State School, an Independent Public School and an International Baccalaureate (IB) World School, is already internationally recognised for its successful IB Primary Years Program (PYP). However, as the school's principal Dr Keith Graham tells The Educator below, the latest awards show that the sky is the limit.
TE: Can you tell us about your educational and leadership philosophy, and how this has tied into the culture you've helped build at Rochedale State School?
Our former Governor General Peter Cosgrove once said: 'Leadership is relational', and this notion has always underpinned my leadership. A leader is there to serve others and to adapt to what the people and organisation needs, not the other way around. The most effective way to lead is through genuine and trusting interactions. I endeavour to be honest and fair in my interactions and decision making. I strive to be predictable and consistent to keep everyone balanced, professional and calm. I constantly set a standard for others to follow as I firmly believe that what you do as a leader is far more important than what you say. My positive relationships within our school community have enabled me to lift teacher performance and commitment which has value added to a positive, learning culture which in turn has significantly improved student outcomes across the board.
TE: Rochedale State School was also named the Primary School of the Year (Government) and was an excellence awardee for Tes Australian School of the Year. What programs and initiatives do you believe have underpinned the school's success in 2021?
Lipsitz and West (2006) identified four aspects, which make schools 'great' - curriculum, community, culture, commitment; Rochedale excels in all four. Our IB curriculum is innovative and caters for individuals so that they can live, grow and learn well. Through our staff expertise, we contextualise and adapt every program we use to ensure it is perfect for the Rochedale setting. Rochedale is part of (not apart from) a committed/supportive community where everyone works together embracing diversity. We value our community believing that together we can achieve more. Our culture is as important as our practices/structures. Rochedale is calm, organised with a caring sense of purpose embracing high expectations and supported success. Everyone plays a role knowing their importance to the team – success is planned, not left to chance. Finally, we have a commitment to our students, each other, the teaching profession and ourselves. This commitment to do our best has been the catalyst for our school success.
TE: Looking ahead into 2022, how will the school be building on its success?
One of our big challenges we face is the growth of our primary school, now exceeding 1010 students. As we grow in size, our aim is to maintain a line of sight to each student and keep our curriculum personalised to maximise each individual's learning. Our student outcomes have lifted once again in 2021 to give us our best NAPLAN results to date - well above state and national averages - and we wish to keep moving forward with this success into the future. Additionally, in a post COVID world we will look for ways to stay connected as global citizens and replace previous in person visits/exchanges with alternative initiatives which will continue to add to our international mindedness and maintain these valuable connections.