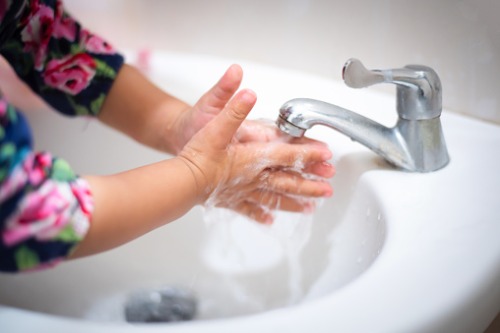 Schools are intensifying sanitation and hygiene practices as the number of COVID-19 cases in Australia passes 1,000.
On Friday, Prime Minister Scott Morrison said schools should still remain open, despite warnings by some experts that this will only exacerbate the spread of the virus.
Meanwhile, other experts are highlighting the risk that some schools are taking by not providing adequate hygiene products, such as soap.
In an article published in The Pursuit, University of Melbourne Laureate Professor Hugh Taylor and research fellow Emma Stanford wrote that after checking with other states and having looked at their policies to compare, they were unable to find reference to the provision of soap in WA, NSW and SA.
The authors said that among the states, Victoria is the "gold standard" when it comes to personal hygiene policy. The University of Melbourne has also worked with the NT Education Department to ensure schools there will have soap supplies.
How state governments are helping
On Thursday, the Queensland Government said it would be ramping up the amount of cleaning done in its state schools throughout the school day and providing more cleaning resources.
Queensland's Education Minister Grace Grace said the additional cleaning will focus especially on high-touch points.
"Schools should pay extra attention to health and hygiene measures including increasing the frequency of the cleaning of toilet facilities and providing additional soap and sanitiser," Minister Grace said.
"We will continue to work with suppliers to ensure schools have access to adequate cleaning and hygiene supplies such as soap, sanitizer and disinfectant".
The government also requested that schools wash microfibre cloths before using these to clean surfaces. Schools can also opt for disposable microfibre cloths as well. Surfaces should be wiped with a general cleaner, followed by disinfectants.
However, high-contact areas such as door handles, light switches toilets, and desks should be cleaned with bleach or disinfectant solutions, the government said. Schools should also make sure that their rooms are well-ventilated and receive enough sunlight.
The NSW Government, meanwhile, is using the State Emergency Operations Centre to keep schools updated with the latest health advice and ensure they have sufficient resources to continue their daily operations.
On Wednesday, the NSW Government provided schools with cleaning and hygiene guidelines and pledged additional soap and other hygiene supplies after public school principals reported struggling to find enough resources.
According to the guidelines, school staff are encouraged to remove loose items from floor-level areas and high-traffic surfaces. The same rules also follow for staff rooms, which should also be clear from any food materials. Telephones and computers do not have to be stored away, however.
High-contact areas in industrial arts and lab areas should also remain clear of obstruction to make it easier for cleaners to sanitise the surfaces.
In an interview with NSW Education Secretary Mark Scott, Parramatta Public School principal Gail Charlier shared some strategies her school has implemented to keep students safe during the COVID-19 outbreak.
One important health safety measure the school has implemented is to have parents drop their children off at the gate instead of lingering within the school's premises.
The school's kindergarten students have also been taught proper handwashing techniques, which are also displayed on posters within the school.
Charlier said the school has already planned out what to do in case it has to close due to COVID-19. She said older students are already well-versed in using Google Classroom while younger students will be introduced to online learning.