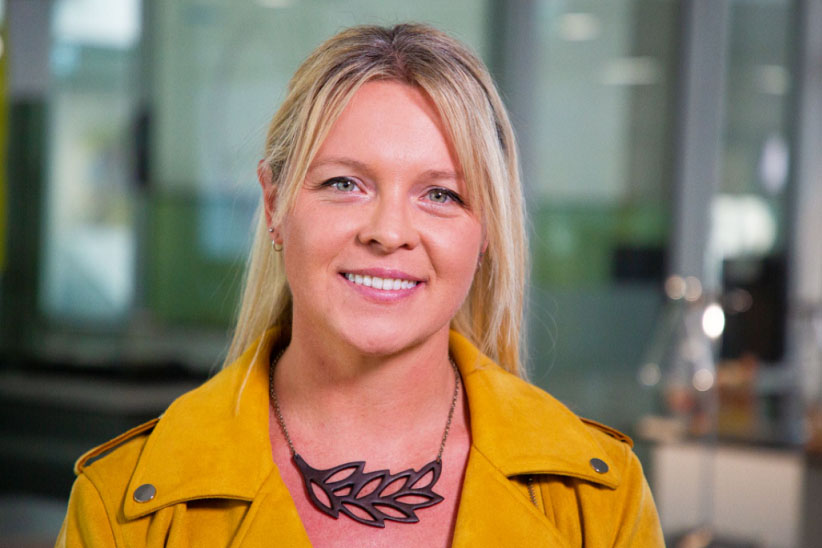 For Brighton Secondary School science teacher Samantha Moyle, it's all about hearing the 'ooohs' and 'ahhhs' from students as they discover the exciting results of their experiments.
More importantly, her students have been encouraged to take what they have learnt from their purposeful and engaging lessons back home where they share it with their families and friends, generating a ripple effect of scientific knowledge that spreads throughout the community.
However, her service to science education, and the impact she has made, extends well beyond the classroom in which she teaches. For years, her pioneering work has helped make this crucial subject more fascinating and relevant for students.
Moyle has received the Prime Minister's Prize for Excellence in Science Teaching in Secondary Schools in 2019 and the South Australian Science Teachers Association's Outstanding Teacher Award in 2013.
Innovating through uncertainty
For obvious reasons, science education in 2020 hasn't been quite the same as in preceding years.
Moyle says the difficulties facing teachers has been how to deliver a practically-based curriculum that requires specialist equipment and chemicals to learners in the home environment.
"In South Australia, we have been lucky and the disruption and challenges to learning were minimal," she told The Educator.
"We developed self-directed science inquiry units that would enable the students to investigate something personally interesting using everyday materials".
She said some of the considerations related to the absence of available toilet paper and how people had resorted to using tissues and baby wipes which should not be flushed.
"We were looking at challenging the students to determine the biodegradability of these toilet paper substitutes," Moyle said.
"Fortunately, for us, our students only missed a week of school, but the challenge provided an opportunity for us to really think about how students could undertake a secondary school science curriculum in the home working environment".
Moyle said the advantage of this has been two-fold.
"Not only are we prepared should we be affected by the ongoing pandemic issues, but it also provides an opportunity to develop strategies that could support learners who may be absent for other reasons," she said.
"I am now able to offer my Year 12 Biology students additional 'tutorials' held in the evenings. This enables them to finish school for the day, go home and have a decent break before sitting down to seek specific assistance from me or re-go over topics that they are uncertain".
'Showing students the science behind everyday life'
Moyle has created many cutting-edge lessons with real world links to improve student engagement, but her forte lies in 'applied science' and its interactive power.
"Some of the units I create are specifically aimed at showing students the science behind everyday life," she said.
An example of this was the silver mirror reaction for her Year 9 chemistry class.
"Students explored the concept of a deposition reaction but had the additional challenge of solving the problem of 'how can a solution be continually 'swirled' to cover a flat rectangular surface?'" she said.
"They used items like duct tape or plasticene to create edges on their mirrors so they could continually swirl the solution to deposit the silver. The good part was that the students could take their mirrors home and share their learning with their family and friends".
This year, Moyle won the position of Science and STEM coordinator at Brighton Secondary School. In this role, she oversees the STEM Bright program and is responsible for implementing integrated learning across mainstream programs.
"What I am particularly proud of was the integration of a science, maths and history curriculums for a joint 'Siege Engines' project, where they reviewed the impact of three different types of siege engines [ballista, catapult and trebuchet] on the nature of warfare," she said.
"Students investigated the destructive capabilities, measured using mathematics and science, before analysing the most effective methods for warfare [history]".
Remote learning creates new avenues of support
Moyle said there was some minimal disruption to the subject integration timeline owing to COVID-19, but for the most-part it ran effectively.
"Expecting students to sit in front of a computer and engage with online-delivered content was definitely a disengaging pedagogy," she said.
"In preparing for online and remote learning we strived to ensure that large tracts of time were spent away from content delivery through devices and focussed on science inquiry and investigative skills that could be conducted in a backyard".
Moyle said the possibility of moving to online learning also had advantages.
"In addition to new avenues of student support, it also forced an upskill and rethink of curriculum delivery," she said.
"For teachers already comfortable with technology, this meant extending the use of technology in new ways to support learning but for those uncomfortable with technology it provided some valuable professional learning and a new mindset towards the power of these devices".
Examples of this included the use of augmented reality like apps JigSpace or creative programs like CoSpaces and Minecraft.
"Teachers who were uncomfortable trialling these new avenues have had the support and time they've needed to become more familiar and confident with their use".
Building on evidence to improve future outcomes
Moyle has also been contributing to the South Australia teaching curriculum in some important ways. In addition to the Siege Engines unit, which she is hoping to publish as a free resource later this year, she has also completed her Masters in Education through research.
"I worked on developing a tool to 'map' student engagement across the four domains with different pedagogies, with findings demonstrating that for year 9 and 10 students, they engaged preferentially across the four domains with Inquiry or challenge-based projects supporting the STEM ideology," she said.
"Interestingly though, students also demonstrated a strong emotional and cognitive engagement preference for 'chalk and talk' style lessons where information was disseminated on the board and through note taking, with class discussions about particular points".
Moyle said this was quite a surprising finding as pre-survey data indicated that students felt that this lesson format was one of the most unappealing.
"I am keen to implement this survey tool across all science classes in 2021 in order for my team to shape their pedagogy based on evidence-based approaches, allowing them to design a range of lesson formats and tasks that will cater to the class cohort as a whole," she said.
"Finally, I have had the privilege of being involved as part of the advisory group with the Department for Education in South Australia, contributing to the development of the Australian Curriculum Science Scope and Sequence".
Moyle said the group have put in a huge amount of time and effort into creating primary and secondary documents that are clear, easy to follow, build on evidence-based practice and emphasise South Australian scientific and Indigenous culture examples.
"These documents not only provide excellent support for early career teachers, but I believe are excellent resources for teachers at any point of their careers," she said.
"I feel very privileged to have been involved with this undertaking and cannot recommend these resources more highly".