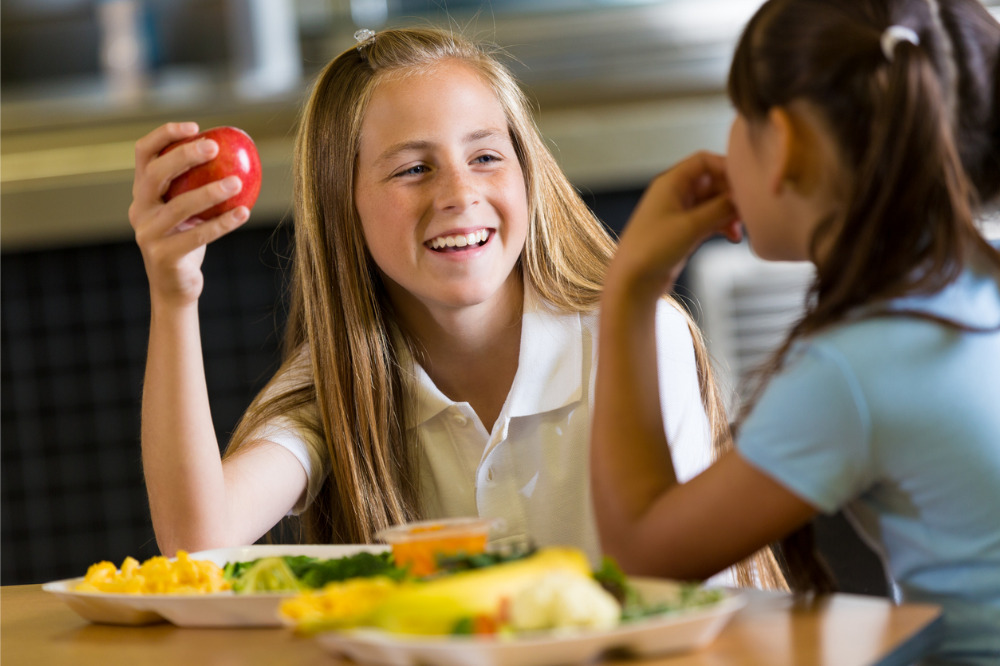 In Australian schools, food education tends to be patchy. While there is some emphasis on students' acquisition of food preparation skills, there is little coverage of the impact of environmental and social issues, marketing practices or family dynamics.
A quick glance at the eating habits of young people in Australia shows why schools and families need to up their game when it comes to encouraging kids to eat more fruit and vegetables.
The most recent data from the Australian Bureau of Statistics shows that while 73% of 4-8-year-olds eat sufficient fruit serves (1.5 servings), just 3.3% eat sufficient vegetable serves (4.5 servings). In the 12-13-year-old age bracket, this figure was slightly lower, with 68% eating the recommended two servings of fruit and just 1.4% eating the recommended five veggie serves.
While it's parents who pack the lunches, schools have an important role to play in educating children about the benefits of a good diet, not just for their own physical health, but for their academic outcomes, too.
Dr Evangeline Mantzioris, Program Director of Nutrition and Food Sciences at UniSA's Clinical & Health Sciences Department says there is good evidence from a number of studies that healthy eating habits which follow healthy eating guidelines – like the Australian guide to healthy eating – are associated with better educational outcomes.
"Research has also shown that providing healthy meals at schools leads to better educational outcomes," Dr Mantzioris told The Educator.
"Perhaps more importantly what they have founds is that children that eat a healthier diet, aligned with national dietary guidelines have better mental health, which of course would be linked to better overall success at school both academically and in the soft skills that would be attained."
Research has also shown that the benefits of good nutrition can extend to preventing health issues later in life, too.
A 2013 study from the Department of Health noted that developing healthy eating habits in childhood can continue into adulthood and play a role in reducing the likelihood of chronic diseases.
"The message is we should always be trying to achieve healthy diets in children, each stage of their development is critical for better health outcomes as well as academic outcomes – they really are interrelated. The other important aspect to better health is also adequate physical activity," she said.
"I think the best thing that teachers, leaders and let's not forget the parents, is to set and lead by example, and eat as well. After all, we also want healthy parents."
Dr Mantzioris said schools must encourage practices which lead to eat more fruit and vegetables.
"Offer cheaper fruit and healthy cooked vegetables ta canteens – not fried or packet chips, potato gems, etc," she said.
"This can include salads, wraps with veg, cold rolls, banh mi, burritos that are field with lots of vegetables in them. Make the fruit and vegetables look appetising – if it looks good, they are more likely to eat it."