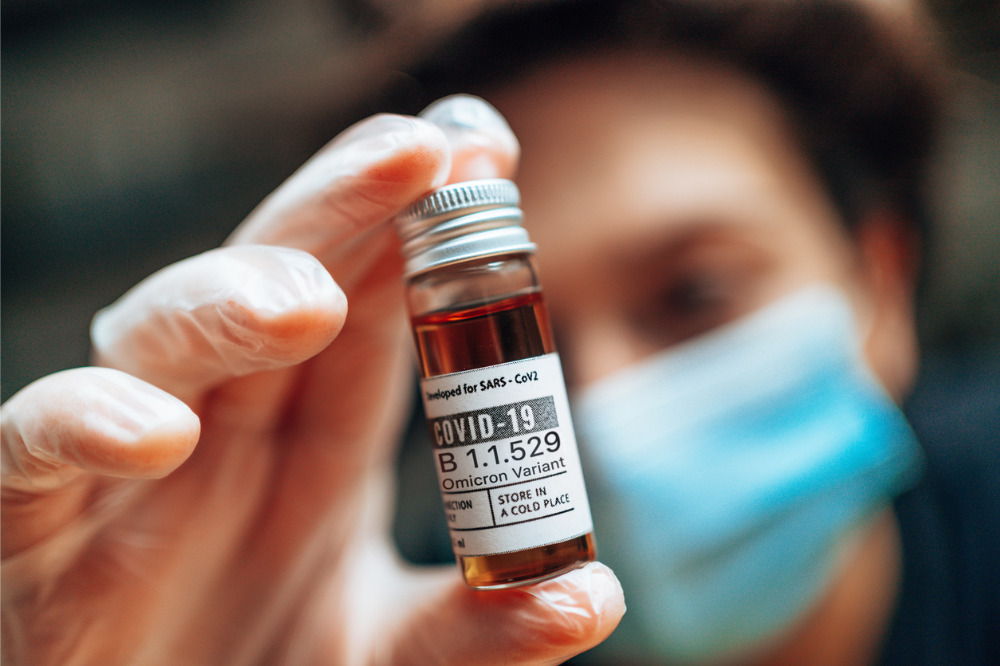 The new 'Omicron' variant threatens to derail the government's COVID-19 roadmap out of lockdown just as the nation's schools readjust to face-to-face learning.
NSW Health has confirmed that five travellers who recently returned from southern Africa have now tested positive to the new variant, which the World Health Organisation has designated a "variant of concern". A man from south-west Sydney who recently spent time in Nigeria is expected to be confirmed as NSW's sixth Omicron case today.
The Omicron variant was first detected in Botswana on November 11 before being formally reported to the WHO from South Africa on November 24. Cases of the strain have since been confirmed in South Africa, Belgium, Israel, Hong Kong, Italy, Germany, Canada, the Czech Republic, Portugal, Austria, the UK and NSW.
Of particular concern to scientists is that this variant has 50 mutations, including more than 30 mutations on its spike protein. This means the variant could be resistant to existing vaccines, making it potentially more transmissible. By comparison, the highly infectious Delta strain shows eight mutations.
Now that new cases of Omicron are being confirmed in Sydney, there are concerns it could wreak havoc across the NSW education system if it turns out that the new variant is more contagious and deadly than the Delta strain.
Horror or hype?
In an interview with DW, Dr Ulrich Elling, a molecular biologist at the Institute of Molecular Biotechnology in Vienna – a laboratory that specializes in sequencing the coronavirus and detecting new variants – said the first estimates indicated the new variant "might be up to 500% more infectious" than the Delta strain.
However, South African Medical Association chair, Dr Angelique Coetzee – who discovered the Omicron variant of COVID-19 – says this has not yet been independently confirmed and that there is "too much hype" around the new strain.
"Looking at the mildness of the symptoms that we are seeing, currently there's no reason for panicking as we don't see severely ill patients," Dr Coetzee told Reuters recently.
"The hype that's been created currently out there in the media and worldwide, doesn't correlate with the clinical picture."
Nonetheless, the immediate response from Australia's health authorities has been to stop flights to South Africa, Lesotho, Botswana, Zimbabwe, Mozambique, Namibia, Eswatini, Malawi and the Seychelles as a precaution, impose 14-day quarantine restrictions on non-citizens who have been to those countries and pause the return of international students to Australia.
Too much is still unknown
Dr Alexandra Martiniuk is a Professor of Epidemiology at The University of Sydney. She cautioned against alarm, saying there are simply too many unknowns about Omicron at this point.
"No-one knows yet if Omicron is more transmissible than other strains, like Delta," University of Sydney epidemiologist, Dr Alexandra Martiniuk, told The Educator.
"It is also not known whether people get sicker with Omicron than other variants. Research on this will take weeks since it often takes this amount of time for people who get sick with COVID-19 to get sick enough to need hospital or die."
Dr Martiniuk said African countries have 'population pyramids' which are typically younger than the rest of the world and that COVID-19 has not typically been as severe in younger people.
"So, it may take some time until we see how Omicron affects older people," she said. "We do not know how well our vaccines hold up against Omicron."
One encouraging factor, says Dr Martiniuk, is that Australia's PCR tests – such as the ones administered at drive-through testing centers – can still detect this new variant.
"We will need to do more research to know if the rapid antigen tests still work well. Some treatments for COVID-19 will still be effective, but for others we'd need to study more to know."
What should schools do?
Below, Dr Martiniuk lists some important reminders for schools as this new variant puts communities on edge.
Keep vaccinating (e.g., high school students)
Adults to seek booster shots when eligible for these
Open windows and doors, and be outside as much as possible
Ensure those with symptoms stay home and get tested
Wear a mask indoors if possible
Assist with contact tracing if there is a confirmed COVID-19 case in the school community
Advocate for vaccines for the whole world
Chat with your friends who may be vaccine-hesitant and recommend they get a COVID-19 vaccine