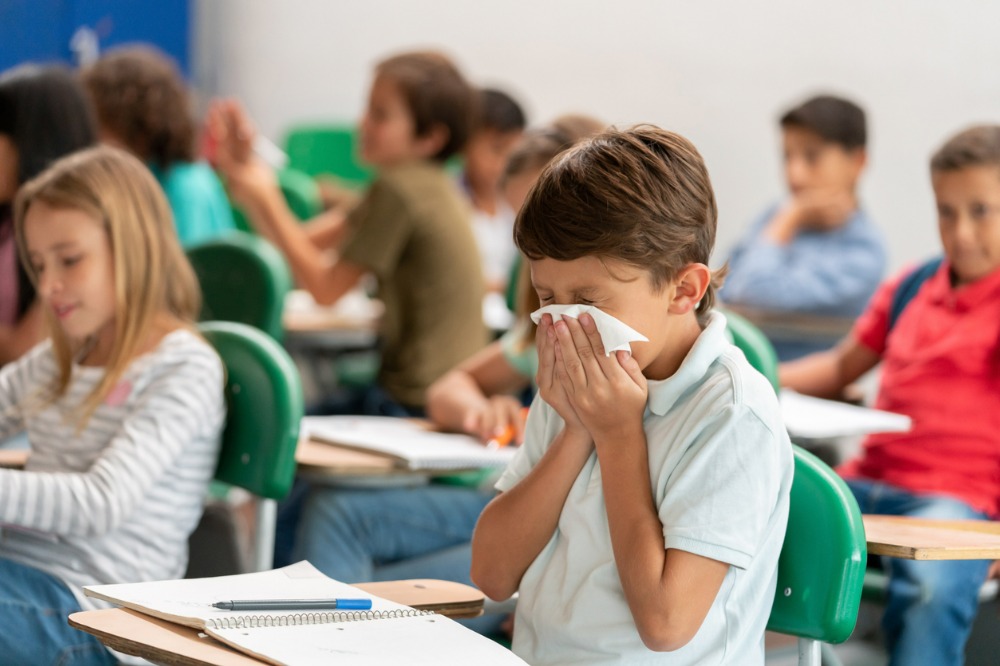 Children are potential spreaders of COVID-19 and emerging variants, new research from Harvard shows.
The research comes as students return to face-to-face learning in school and state governments insist the health advice that it is safe for children to do so is backed up by the science.
A mere eight weeks into the pandemic, Prime Minister Scott Morrison declared the health advice had "been consistent that for children, schools are a safe space". And as recently as last month, Australia's chief medical officer hosed down concerns about the risk of the Delta strain to children's health by saying there was "very little evidence anywhere in the world that severity has increased" in childhood infections.
Research from the National Centre for Immunisation Research and Surveillance (NCIRS) also claims that most children diagnosed with COVID-19 during the current outbreak – including those who caught the infection in schools and early childhood settings – experience mild or no symptoms.
However, a study of 110 children aged two weeks to 21 years who tested positive for COVID-19 found that children and adolescents are equally capable of carrying high levels of live, replicating COVID-19 variants.
Most children are asymptomatic or only mildly symptomatic when they develop COVID-19, giving the misconception that children are less infectious.
In an article published in the Harvard Gazette, Lael Yonker – a pediatric pulmonologist at the Massachusetts General Hospital – said there had been the question about whether the high viral load in children correlated with the live virus.
"We've been able to provide a definitive answer that these high viral loads are infectious," Yonker said.
"Reassuringly, they also found that viral load had no correlation to severity of disease in the kids themselves, but concerns remain for them and those around them: Children can carry the virus and infect other people."
Studying the virologic features of SARS-CoV-2 in children with COVID-19, and how SARS-CoV-2 infection differs between children and adults, is an essential component for establishing effective public health policies, not only to ensure safety within the school but also for controlling the pandemic, says Yonker.
As COVID-19 variants continue to emerge, infected children are potential "reservoirs" for the evolution of new variants as well as potential spreaders of current variants, she said.
"Kids with COVID-19, even if asymptomatic, are infectious and can harbor SARS-CoV-2 variants. Variants could potentially impact both the severity of the disease and the efficacy of vaccines, as we are seeing with the Delta variant.
Health impacts on kids worse than thought
In September, a UK survey of 6,804 young people aged between 11-17 found that up to 1 in 7 children may have symptoms linked to the coronavirus months after testing positive for COVID-19.
The study was carried out by researchers from University College London and Public Health England and involved one control group, numbering 3,065 who had positive results in a PCR test between January and March, and another group of 3,739 young people who tested negative over the same period.
The researchers found that those who tested positive to COVID-19 were twice as likely to report three or more symptoms 15 weeks later than those who had tested negative.
Among those who tested positive, 14% reported three or more symptoms such as unusual tiredness or headaches 15 weeks later, compared with 7% reporting symptoms by that time among the control group.
COVID-19 risk to children underestimated
Dr Sabi Kaphle is a Public Health Lecturer at CQUniversity in Melbourne, with more than 20 years' experience in the health sector in Australia and internationally. She's also a mum to primary and secondary school students, living in Melbourne's west.
As far back as July 2020, Dr Kaphle said the messaging that 'school is safe' has not been sufficiently proven.
"From the start of the pandemic we were told that children were at low risk and schools were safe places, even with little physical distancing or other safeguards enforced, and this was obviously confusing to the whole community," Dr Kaphle said.
"Governments have clearly underestimated the risk to children – in my opinion, all educational settings should be closed until the situation is under control."
The NSW Teachers Federation (NSWTF) says that there are ongoing concerns around delays in ensuring NSW public schools are properly ventilated to mitigate against the spread of COVID-19 in classrooms and staffrooms.
NSWTF president, Angelo Gavrielatos said that despite repeated calls to conduct an audit of all schools, the NSW Government only commenced a ventilation audit in the last weeks of Term 3.
"Based on international experience we know risk mitigation strategies regarding ventilation are critical in school settings," Gavrielatos told The Educator, adding that the orderly, staggered return of students "is necessary but not without its challenges".
"It assumes that students' current teachers timetabled will be onsite and have met the vaccination requirements. That may not be the case. Teachers who have their own children will face additional challenges," he said.
"The orderly, staggered return of students, as per heath advice, is necessary but not without its timetabling challenges. It assumes that students' class teachers will have met the vaccination requirements. That may not be the case."