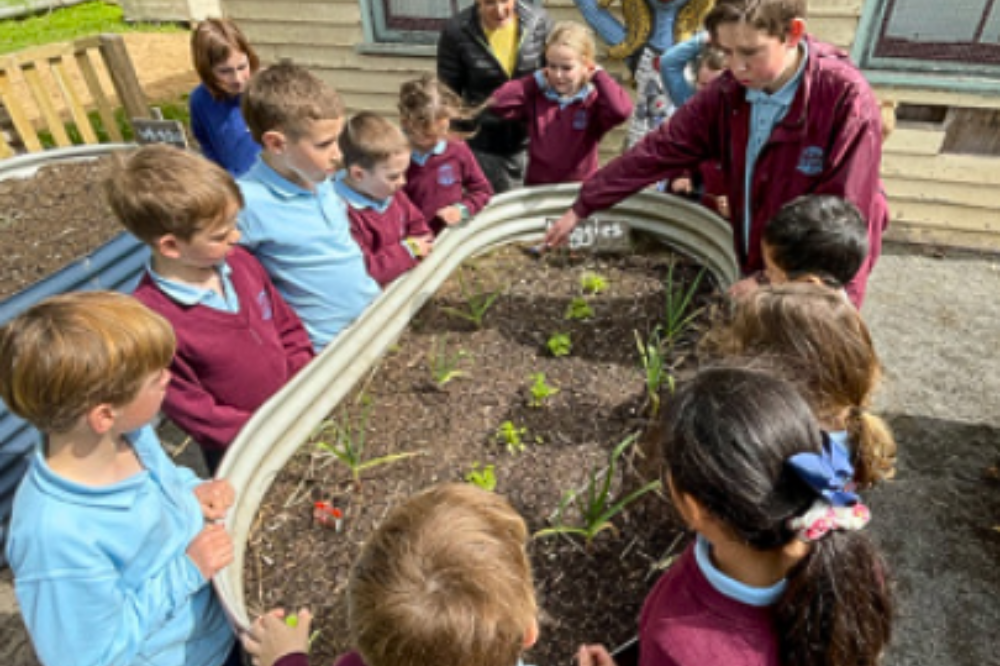 Around the world, a growing body of research reveals a significant interplay between environmental consciousness in education and improved student wellbeing.
The ResourceSmart Schools and Wellbeing – Main Study, published in 2020, found that when young people feel their school actively prioritises sustainability, they exhibit higher levels of wellbeing.
This harmony between environmental mindfulness and student health spotlights a potential route for schools to not only enhance the educational experience but also foster a healthier, happier student body.
In Victoria, the ResourceSmart Schools Awards program – run by Sustainability Victoria – has been supporting principals across the state to embed sustainability across their campus, community and curriculum, while saving resources and money for the school. The awards, now in their 14th year, are the largest celebration of sustainability in schools in Australia.
Read more: Recognising schools' sustainability achievements
Over the past 15 years, the ResourceSmart Schools program has helped over 1,400 schools save over $41m and reduce over 118,000 tonnes of greenhouse gases through energy, water, and waste efficiencies.
On 15 June, the ResourceSmart Schools Awards were announced, showcasing ten schools across Victoria who demonstrated remarkable sustainability leadership through achievements spanning waste reduction and litter monitoring, energy and water saving and the creation of kitchen gardens and wetlands.
"I applaud the students, teachers, school staff and volunteers who are achieving great things in sustainability and showing outstanding leadership," Matt Genever, Sustainability Victoria's Interim CEO said. "You are all tremendous role models and I know your work will inspire other schools to take action."
Among the standout schools were Braybrook College and Eastwood Primary School & Deaf Facility, which each won two awards.
Over a decade of enduring action
Eastwood Primary School & Deaf Facility, which was named ResourceSmart School of the Year and Community Leadership School of the Year (Primary), embeds sustainability as a cross-curricular priority and dedicates a whole school term to environmental learning. Additionally, the school supported the Department of Education by reviewing sustainability resources.
Last year, the school community regenerated their campus by repairing planter boxes, renewing garden beds, reviving package-free food days, and bringing back the Active Travel Weekly Tally Competition.
Eastwood Primary School & Deaf Facility joined the program over 12 years ago and achieved 5-Star status in 2020 before receiving their latest accolade.
"Over the 40 years of my career, I have maintained a hope and a strong belief that the primary objective of a healthy learning environment is to empower learners to make informed decisions and take responsible actions for environmental integrity, and by doing so, create a just society for present and future generations," Principal Rukshana Verzijl told The Educator.
"I believe it is extremely important to integrate a wide range of sustainable development issues such as climate change and biodiversity, socioeconomic inequality, peaceful societies, and more, into teaching and learning. The movement for sustainable development begins in the classroom, and local grassroots work is equally as important as national policies."
Verzijl noted the transformative potential of school leaders in promoting sustainability and improving academic outcomes.
"In the long term, school leaders have the power to make changes, to lead with the future in sight and to develop a cultural change in the thinking of our community. In the short term, environmental education improves academic performance, enhances critical thinking skills, and develops life skills," she said.
"By placing a strong focus on sustainability education, school leaders provide a learning environment that is future focused."
Generosity and partnerships for collective action
With a long-lasting commitment to sustainability, Eastwood Primary School & Deaf Facility worked closely with Maroondah Council, participating in incursions, Tree Day, and Ride and Walk to School activities. The school also partnered with Bedford Park Community Group and Precious Plastics to recycle plastic bottle tops.
With a Climate and Health Small Grant from Eastern Access Community Health (EACH), the school was able to improve their kitchen garden program by addressing climate change and extending access to all students. This initiative provided Ringwood Church of Christ with soup for families in need.
The school also contributed to the Department of Education's Sustainable Schools resource development by providing input and reviewing documents.
In 2022, a school delegation from the U.S visited the campus, with visitors enjoying a student-led tour in which they learned about ResourceSmart Schools, and participated in a kitchen session. It is hoped the school will follow in the footsteps of Eastwood Primary School & Deaf Facility to drive change in its own community.
Braybrook College's "teacher of the century"
Rowena Archer's vision for sustainability started in the 90s when she instigated the inclusion of the Victorian Certificate of Education (VCE) Environmental Studies elective. Her innovative eye is also behind the school's Year 7 Environment Day, a yearly event with impacts on the whole community, and the 2022 Climate Emergency Program, which involved 500 students.
Heading the school's Careers Team, Rowena's creativity stood out as she worked with a local virtual reality company to secure the launch of the students' Climate Change VR experience.
Archer's negotiation skills saw the school increase its solar panels from 3 to 100kW, conduct a carbon audit, source a specialized air-quality analysis machine, and install new water tanks and waste and biodiversity facilities.
Her infectious dedication, which has inspired parents and ensured students enjoy a culture of sustainability, has seen colleagues dub her "Braybrook College's teacher of the century."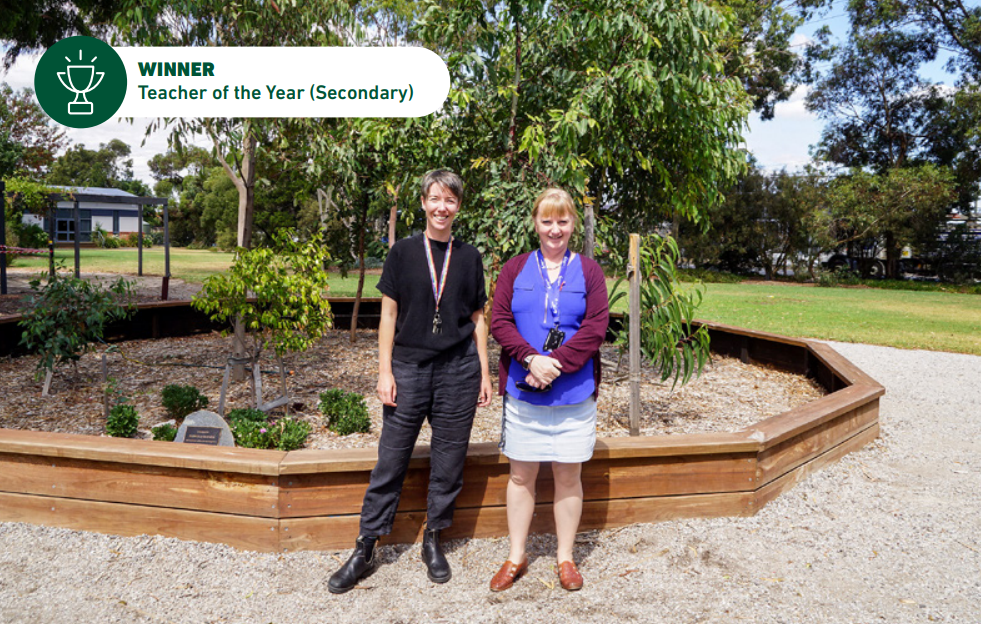 "Braybrook College has had a long history of being involved with sustainability. From humble beginnings involving recycling paper and collecting aluminium cans, we now have a much larger and wider involvement in many areas of sustainability and environmental education," Archer told The Educator.
"A key aspect to this area is to get a number of people involved. The task is time consuming and can be draining if one person tries to take it all on without support. Creating a 'Team' or 'Committee' where ideas can be shared works well."
Adding student groups or interest groups can involve and empower more school community members, said Archer.
"This is sometimes challenging in a secondary school but even small numbers of students can have a positive effect," she said.
"We signed up to Resource Smart in its various incarnations and other programs such as the Schools Water Efficiency Program [SWEP]. We have found these to be really good in allowing us to 'work through' set targets and working towards attainable goals."
Archer said SWEP has enabled the College to spot when there are water leaks on the campus and monitor electricity usage. She said Resource Smart has also provided an engaging platform for students to be able to take on small tasks from time to time, adding "small steps can become big achievements" in this area.
"Start with a task that you can achieve. Publicise it. Tell lots of people how beneficial it has been. Grow from there. An example, take on the Mobile Muster program and advertise the number of phones you've collected on a regular basis," she said.
"A group of students may wish to make a display showing the data to more people. Then add a photo of this data onto your School Website. From this you may find others who'd be keen to help, and you can expand from there."
Archer said the College's Swap Table has been extremely successful and would be easy for other schools to implement.
"Ours is in the Library foyer. Staff and students share items they no longer need, including books, pens, folders etc. This is a handy way to reduce waste to landfill and also reducing costs for some families who are struggling to pay for basic school supplies."
The full list of Victoria's 5 Star ResourceSmart schools is below.
Brentwood Secondary College, Glen Waverley
Eastwood Primary School & Deaf Facility, Ringwood East
Mentone Primary School, Mentone
Mount Waverley Primary School, Mount Waverley
Outdoor School, Bogong
Rosanna Golf Links Primary School, Rosanna
St Macartan's School, Mornington
Strathaird Primary School, Narre Warren South
Winters Flat Primary School, Castlemaine
Wooragee Primary School, Wooragee
Yinnar South Primary School, Yinnar South