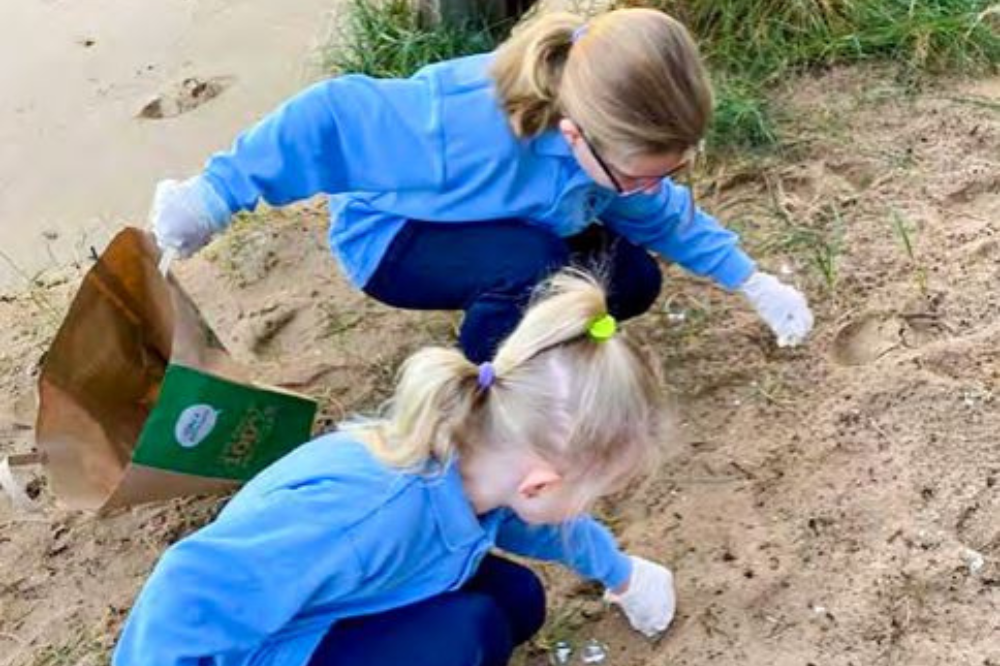 In October 2019 – just weeks shy of the Covid-19 outbreak that sent entire nations into a prolonged state of lockdown and economic hibernation – the Australian Government received a petition with record-breaking 370,004 signatures to declare a climate emergency.
This followed the declaration of a "climate emergency" from more than 11,000 scientists around the world, who warned of a "catastrophic threat to humanity".
As demonstrated by the historically disastrous droughts, bushfires and floods that followed, Australia is not immune from the extreme weather that climate change is producing around the world.
While the previous Federal Government was being urged to do more about climate change, Australia's schools were already busy at work, expanding the way students are educated about this important topic.
One program that has been helping to make a difference is ResourceSmart Schools – a free program offered by Sustainability Victoria that supports Victorian schools to embed sustainability across school facilities, community and curriculum, while saving resources and money for the school.
On Friday 3 June, the ResourceSmart Schools Awards were held, recognising the great work that the state's schools have been doing in driving successful sustainability practices on their campuses.
Over the past 14 years, 1,400 schools have participated in the program, saving more than $41 million on bills, reducing more than 118,000 tonnes of greenhouse gases through energy, water and waste efficiencies, diverting 194,000 cubic metres of waste from landfill, and planting more than 5 million trees.
'Green Team' making green shoots
Solway Primary School teacher Sarah de Jong received the award for Primary Teacher of the Year, while Secondary Teacher of the Year went to Beaconhills College teacher Clare Tuohy for her work to establish a community garden to feed people in need, as well as co-ordinating students to make solar-powered lights for underprivileged students in Bangladesh.
"My approach to sustainability education is based on my own personal passion for sustainability," de Jong told The Educator.
"When I started the role of Sustainability Coordinator in 2018, I began to embed sustainable practices throughout the curriculum to make it easier for students and teachers to be a part of the program and recognise how their contributions make a difference. We built a Green Team of students who showed a passion for sustainability."
de Jong said the students' motivation for starting sustainable approaches at the school has been a driving factor in the success of the Sustainability Program at Solway.
"Originally, our Green Team was made up of Year 5/6 students however we noticed a keen interest in students in years 3/4," she said.
"We decided to restructure the Green Team in recent years, appointing one student who is voted in by classmates in each class from years 3-6 a Green Team representative. From this change, we have noticed a huge difference in the motivation and leadership that our students show in leading sustainability at Solway."
'Change is possible'
At Brentwood Secondary College in Glen Waverley, Victoria, 40% of the school's electricity is generated using renewable energy, promoting commingled recycling, composting onsite and community-based tree planting. 
The sustainability-savvy school took out the titles of Student Action Team of the Year (Secondary) Community Leadership School of the Year (Secondary) and the top award.
"At Brentwood, we strive to ensure that our students learn in a connected community so that they grow as individuals who are future ready – a future that is sustainable!" Venkata Kalva, Pathways Manager and Sustainability Coordinator at Brentwood Secondary College told The Educator.
"That change is possible is the secret we would like to share with others who want to succeed. Be persistent and resilient. When you desire something hard enough, the entire world will come to help you out."
'Every action, however small, counts'
Beaconhills College recognised in the early 2000s, as the school rapidly expanded, that future growth would lead to a significant impact on the environment.
Head of Strategy and Business, David Young, said the College set a clear, strategic plan with a range of actions aimed at lightening its environmental footprint.
These included sustainable energy sources and building designs, rainwater harvesting, reducing landfill, new recycling systems and worm farms, along with extensive native, indigenous and community gardens.
"The plan was not only about introducing new infrastructure, but to educate our community on the environment and outlining the role of each individual…with the long term aim of changing the way people live," Young told The Educator.
Clare Tuohy, Beaconhills' former Head of Citizenship and Service, was the recipient of Sustainability Victoria's ResourceSmart Schools Teacher of the Year (Secondary) Award.
"The College tries to empower students to be part of the solution," she told The Educator.
"We emphasise that any action, no matter how big or small, is a valuable contribution."