Jump to winners | Jump to methodology | View PDF
REDEFINING THE SCHOOL'S ROLE
Through an incredibly challenging year, Australia's educators have shown remarkable resilience, adaptability, ingenuity and, not least, care and empathy for their students and the wider community. The many nominations for this year's awards are testament to that, and it was no easy task narrowing the choice down to 36 individuals.

This year's Hot Listers are reshaping the learning experience to enable every student to excel and thrive. Some are delivering the best academic results in their school's history.
Beyond traditional education
Lorna Beegan, deputy principal for learning and teaching at Genazzano FCJ College (Kew, Vic), says the pandemic is forcing a redefinition of the role of the school in society.

"The students who return to the classroom post-lockdowns have experienced opportunities for self-direction that previous students have not been afforded for decades, if not centuries," Beegan told The Educator.

"Students, when learning from home, kept learning – whether part of an enacted curriculum or not. They are acutely aware of what they want to learn and how to go about it."

While equity and excellence must remain cornerstones, Beegan says educational leaders need to promote the greater flexibility and opportunities for deep learning that remote schooling provides.

"The greatest need for transformation and reimagining is perhaps in secondary schools. The rigid confinement of the timetable, the school day, the school uniform, and the school holidays require reimagining and reassessment."

At Element College (Noosa, Qld), founding principal Michael Ha is designing a "learning ecosystem that is intentionally different". Through partnership with a global alliance of education innovators, he is ushering in a new learning paradigm where the pursuit of passions is prioritised, along with the real-world application of 21st century skills. The College aims to become a beacon for its community and redefine how school days and year levels are structured, allowing flexibility for families to choose when they have holidays, as well as catering for open-age learning experiences from three to 103 years old and beyond, says Ha.

"Traditional school walls are reshaped. Noosa is our classroom, the biosphere is our backyard. Element College aims to dissolve traditional barriers separating 'school life' from 'real life' within the community."

Learning experiences centre around students being caring, curious, courageous.

"I believe all [students] are capable of learning. They might not learn at the same rate, but with different methods, strategies and support, the sky is the limit," says Ha.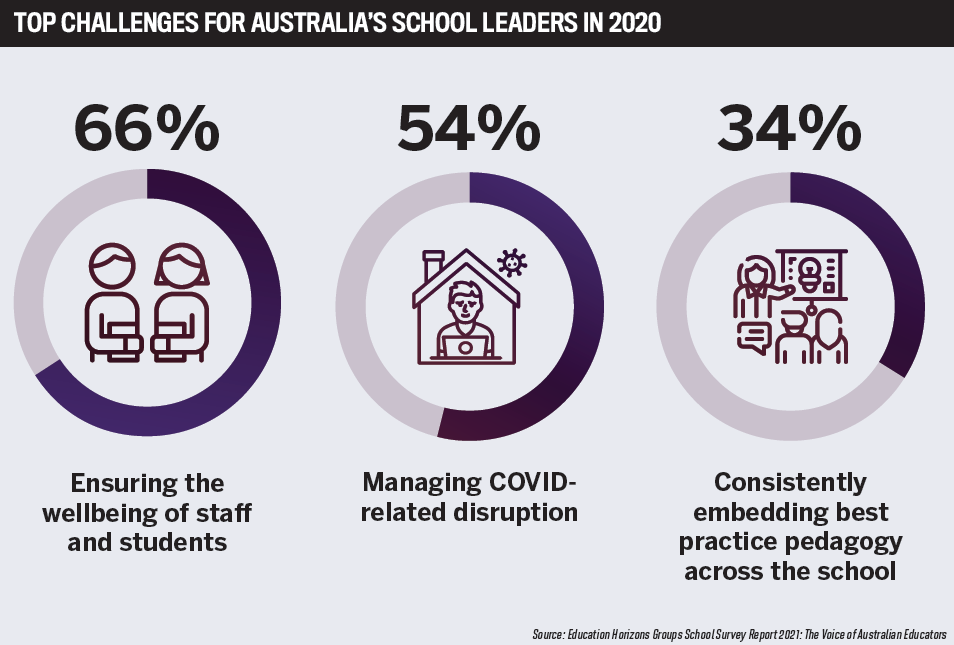 Inclusivity and social engagement
All the Hot Listers are promoting strong links between school and community.

"I see the school as the heart of the community," says Susan Wyatt, principal at Mosman High School in NSW.

"Our school community is inclusive and engages varied and diverse perspectives to ensure quality education for our students. Involving the community of parents, locals, educators, businesses and government, we are able to take a holistic approach to education and innovate and adapt to change with the incredible support of those around us. We recognise the importance of collaboration and collegiality to obtain the best for students."

Given the opportunity, parents are keen to have greater involvement in students' learning, says Wyatt.

"We provide lots of forums that parents and the community can participate in, whether it's about school administration or curriculum or student wellbeing. We want to hear from our parents and the community and involve them in decision-making and student development."

For Kevin Burke, principal at Our Lady of the Way Primary School (Kingsbury, Vic), being a high EAL school lends additional importance to building relationships between the school and parents.

"For many children who start here, the only English they get is at school. That can be very challenging for some. Parents who may [be unfamiliar with] the language are handing over their children to us, so our main focus is to build and maintain trust with those families," says Burke.

During lockdown, he led the development of OLW's YouTube learning channel so students had access to lessons and activities for repeated practice. The channel is now part of the regular class program to enhance learning. The school also makes videos of students engaged in learning and activities throughout the week to help maintain the school-family connection.

"We want to ensure school is the greatest influencing factor on a student's life because education can get them to places they may not have thought possible," says Burke.

Over the past 12 months, the power of schools to bolster morale has hit home for Russell Morgan, director of the Performing Arts Centre of Excellence at St John's Anglican College (Forest Lake, Qld).

Keeping the arts afloat was essential "to keep students' brains active and take their minds off the fear they are seeing around them in the world". But it was only when parents began coming to him saying, 'I just want to see my child perform again and chat to other parents', that Morgan realised how much people were missing one another. As the rules in Queensland only allowed 75% attendance at venues, a planned jazz night was moved outdoors to accommodate more people.

"To see parents dancing, singing, having fun again, was amazing. We're here to bring the joy back. It's bigger than what is in the classroom."

Personal communication with students has also been vital, along with positivity and making them feel appreciated.

"At home, their parents may be busy with work or [other children], so our students need to be seen."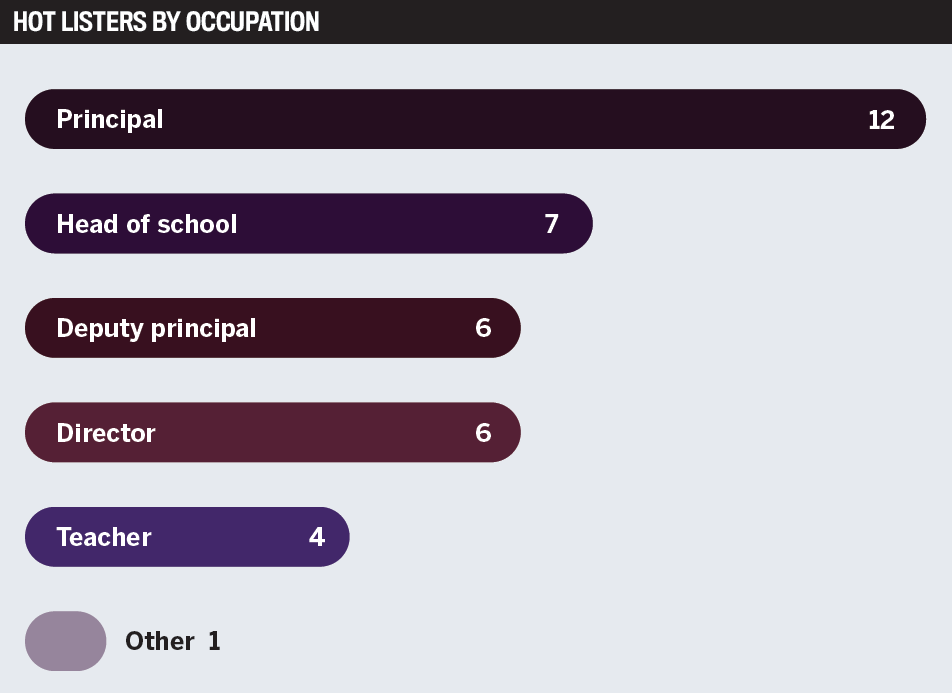 A cultural transformation
Many of the Hot Listers are leading voices in the conversation around pedagogy.

Ross Featherston, headmaster at Brighton Grammar, Victoria, has co-authored research into wellbeing and positive masculinity, which was published in the Health Promotion International journal this year.

The school's academic results have steadily improved over the past five years, thanks to a research-based unified teaching model. Although results are important, Featherston says academic performance and personal development are inextricably linked.

"If a boy has a greater sense of self, of purpose and direction, that can only lead to a positive academic outcome. And if he's achieving academically, that feeds his self-worth and sense of purpose. You get a cycle."

The focus is on offering alternative pathways for students who may not aspire to a traditional model of success.

"Success for our boys is not how expensive your car is; it's about feeling good about yourself, having an understanding of others, contributing to society, finding your passion and purpose. If that's being a doctor or a lawyer or becoming a plumber or a builder, and that defines success for you, that's fantastic."

This year's leading educators also show that sometimes it takes a cultural transformation to fuel success.

Under Tim Shields' principalship – his first – student outcomes at Australian Christian College (Singleton, NSW), have rocketed from consistent underperformance to the highest in the region, and student enrolment more than tripled. For Shields, this transformation starts with 'calling people to a vision,' selecting teachers for attitude before experience.

"When we interview, we tell applicants, 'It's not just about a job; we want to take the student results many expect from our region, and our kids are going to beat that. Do you want to be a part of that?'" It's a call to join a culture that's determined to grow and achieve.

Shields subscribes to five key pillars for successful outcomes. First is keeping things simple. "Schools' inboxes are littered with things we 'should' be involved in; but to improve academic outcomes you have to say no to a whole raft of competing interests and distractions." Second is a 'one in, all in' philosophy – a consistent, whole-school approach with the same structure, level of engagement, language and strategies used by all teachers. Third is empowering support teams where teacher aides deliver highly impactful intervention lessons. Fourth is limiting meetings and paperwork so teachers' prime focus is on teaching and positive relationships, and fifth is constant development of teachers through weekly observations and direct feedback.

Australia's educators do an extraordinary job in 'normal' times, but even during the pandemic, as this report shows, they have truly excelled in their efforts to support students, their families and their communities.
Adriano Di Prato, A School for Tomorrow (Vic)
Alex Wharton, Carinya Christian School (NSW)
Anna Owen, Canberra Girls Grammar School (ACT)
Carla Gagliano, Masada College (NSW)
Craig Thomas, St Stephen's School (WA)
Donald Cameron, Marsden State High School (Qld)
Fiona Johnston, St Hilda's Anglican School for Girls (WA)
Gavin McCormack, Farmhouse Montessori School (NSW)
Gregory Grinham, Granville Public School (NSW)
Gregory B Whitby, Catholic Education Diocese of Parramatta (NSW)
Jason Smith, Tamborine Mountain State School (Qld)
Kathleen Donohoe, School Learning Environments and Change School Infrastructure, NSW Department of Education
Kerrie Nelson, Giant Steps Australia (NSW)
Lauren Sayer, Melbourne Girls Grammar (Vic)
Lee Catterall, Ormiston College (Qld
Lorna Beegan, Genazzano FCJ College (Vic)
Luke Callier, Wesley College (WA)
Marg Clark, Prospect North Primary School (SA)
Marise McConaghy, Strathcona Girls Grammar (Vic)
Michael Ha, Element College Noosa (Qld)
Michael Smith, Marsden State High School (Qld)
Peta Raftery, Ormiston College (Qld)
Peter Thomas, Haileybury (Vic)
Ross Featherston, Brighton Grammar School (Vic)
Russell Morgan, Performing Arts Centre of Excellence, St John's Anglican College (Qld)
Samantha Wyatt, Trinity College (SA)
Shanine Collavino, Saint Stephen's College (Qld)
Susan Wyatt, Mosman High School (NSW)
Thomas Oliphant, Pembroke School (SA)
Tom Lillyman, Stuartholme School (Qld)
Zachary Gomo, Bialik College (Vic)