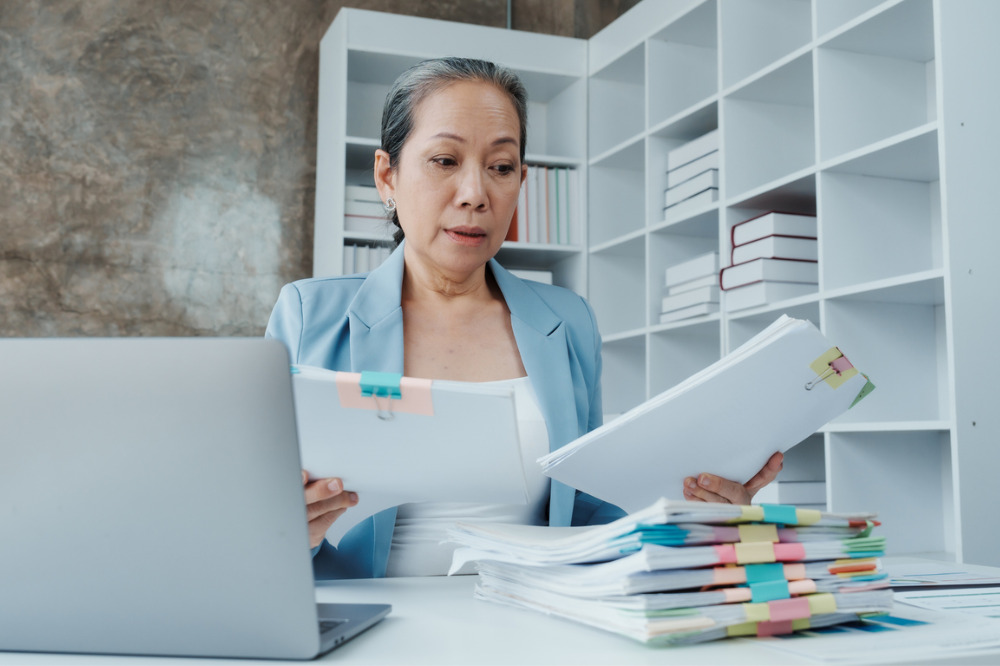 Victoria's principals continue to struggle unsustainable workloads and worsening levels of burnout despite a range of government initiatives aimed at addressing the crisis, a new report has found.
The report by the Victorian Auditor-General's Office (VAGO) found "the Department is not effectively protecting the health and wellbeing of its school principals", despite implementing 28 initiatives since 2018.
Principals reported working an average of 55 hours per week during school term and 21 hours per week during school holidays in 2022. Averaged over a year, they reported working 94 hours per fortnight – 18 hours more than their 'ordinary hours of work'. The report went on to point out that there has been "no material change" in working hours since at least 2015.
Initiatives to reduce workload
The report urged the Department to provide resources that undertake work on the principal's behalf, saying while the principal would continue to be accountable for the work, this system can help ease the burden.
In terms of progress that has been made, the report pointed to two initiatives - The Organisation Design Guide (2016) and The School Administration Support Hub (SASH), which have been helping principals delegate work to support staff and provide finance and human resources (HR) support to small schools.
However, the report's authors said that for these initiatives to meaningfully reduce principal workload, the Department must increase access and support.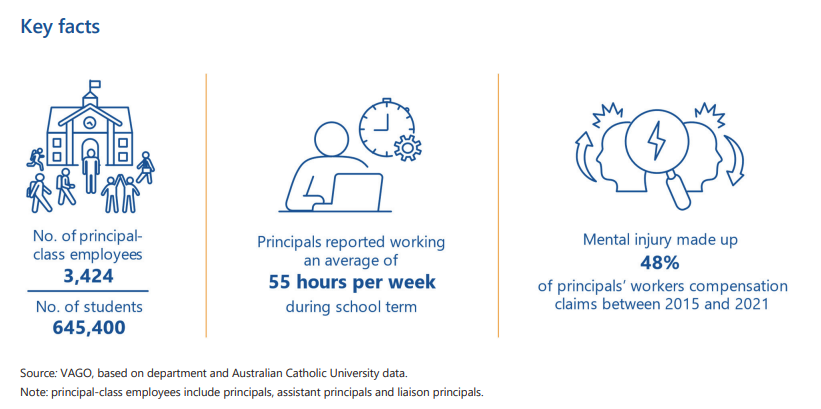 Bold reforms needed to tackle principal burnout – union
The state's peak teachers' union says the report is a "warning sign" that urgent measures need to be taken to avoid principal burnout and a mass exodus from the profession.
Australian Education Union (AEU) Victorian branch president Meredith Peace said the situation is particularly severe in Victoria's public schools, where principals are dealing with dire teacher shortages and don't have the support and resources required to provide the support and programs students need, due to the lack of full and fair funding.
"Workloads for Victorian public school principals have been unmanageable for many years, and the role and expectations of principals is entirely unsustainable," Peace said.
"The chronic teacher shortage in our state, on top of existing workload and other challenges, has forced principals to shoulder additional teaching and administrative responsibilities, pushing them to the brink of burnout and quitting the profession."
A 2022 survey by the AEU found nearly 90% of the respondents were concerned about not having teachers in front of classrooms in 2023.
"This fear has, unfortunately, materialised in many cases and is still not being adequately addressed," Peace said, adding that the Auditor General's report on Principal health and wellbeing only confirms what the union has been hearing from its members on a regular basis.
"Increasing attrition rates and falling numbers of applicants for principal positions, sends a stark message that public school principals in Victoria need far greater support to continue doing the valuable work they do."
The union is calling on the Victorian Government to urgently tackle the teacher and principal shortage in public schools through "more comprehensive and targeted measures".
"This includes efforts to attract new teachers and retain existing staff in the profession through a range of incentives and further reduce their workloads," she said.
"The chronic underfunding of public education in Victoria not only has had dire consequences for public school principals and their staff, but it also risks impacting students' educational outcomes."
'A damning indictment'
Berwick Lodge Primary School principal, Henry Grossek the VAGO Report on Principal Health and Wellbeing is "a damning indictment" on the Victorian Government's approach to supporting the health and wellbeing of principals in public schools.
"It comes as no surprise whatsoever to read in the Report that unmanageable workload expectations are a major contributor to principal burnout and walk out," Grossek told The Educator.
"Principals have been banging on about this for years and according to the report, the Department of Education alerted the state government as far back as 2018 to the enormity of the problem."
Grossek also noted the report's conclusion that the Department needs to do more to reduce principals' volume of work, saying it doesn't bode particularly well for already time-poor leaders.
"That's hardly surprising when VAGO discovered that of the department's 29 initiatives, almost all the 22 aimed to reduce principal workload focused on increasing principals' efficiency in undertaking required tasks rather than on reducing the volume of work."
Victorian principals developing collective strategy
In March, 60 experienced school leaders representing five major leadership bodies from across Victoria converged at the 'Reimagining the Principalship' conference to discuss and develop a collective position, including possible solutions to the major issues the profession faces.
Victorian Principals Association president, Andrew Dalgleish said the ACU Principal Occupational Health, Safety and Wellbeing Survey "once more outlined the top stressors for school leaders as being, the sheer quantity of work, along with a lack of time to focus on teaching and learning."
"Ultimately, we came together [at the conference] to form a range of possible solutions to share with the broader education community on how we can better use resources already available to us, along with the potential for additional resources we feel could be considered," Dalgleish told The Educator.
Dr Cheryle Osborne, acting principal Queenscliff Primary School and VPA Board member, said supports that would free principals from some compliance tasks would be one area that would be beneficial, adding there were some "excellent suggestions that can be shared with the Department of Education".
"It is hoped that by bringing the organisations together we can share some possible solutions that can be implemented to enable principals to do the job more effectively by decreasing the workload, the number one factor impacting on principal wellbeing," Dr Osborne told The Educator.
The conference is yet another initiative in recent years by principals to establish a united front in the face of the serious issues the profession continues to face.
In 2021 Australia's major principals' associations announced a 9,000-strong coalition to tackle soaring workloads, worsening mental health issues and increased incidences of bullying, violence and harassment.
This marked the first time that every major Australian principals' association, including the national principal associations for government, Catholic, independent, Aboriginal and Torres Strait Islander, and special education primary and secondary schools, had joined forces to speak with one voice.