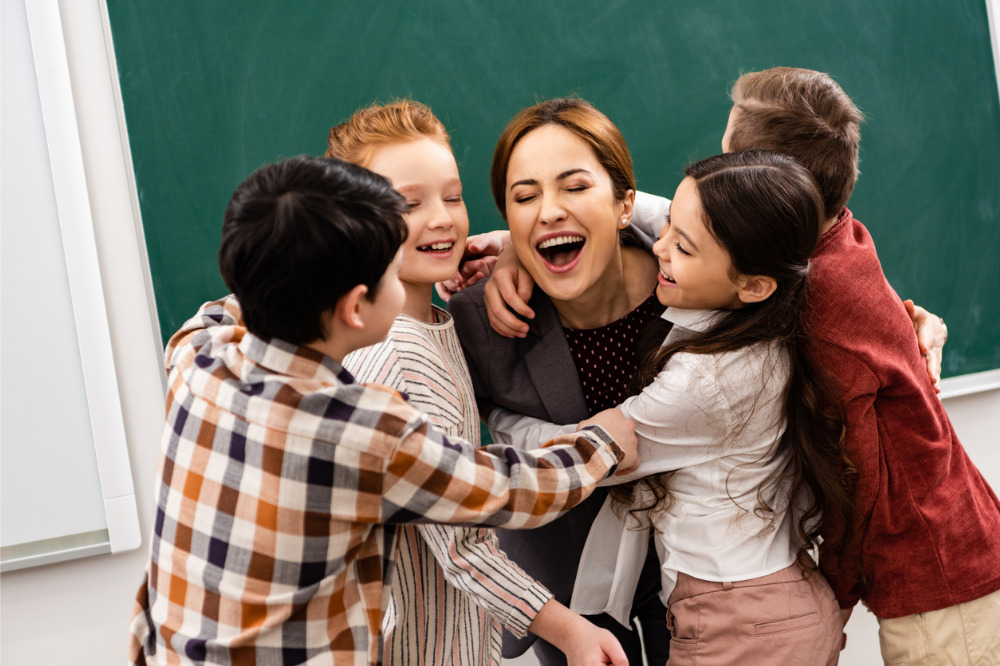 When a teacher arrives home from a long day's work (often to begin a night shift of lesson planning), they're focused on knuckling down and making sure that the following day's class will be as educational, if not more so, than the last.
However, while Australia's educators are tirelessly and selflessly preparing young people for the future, they are also crafting those who, in the years to come, will be healing the sick, making our laws, powering our economy, tending to our ecosystem and inspiring millions of others through the arts.
In that sense, teachers are reshaping the world we are living in, one lesson at a time.
In celebration of what is unarguably one of the most important professions on earth, the Australian Institute for Teaching and School Leadership (AITSL) is encouraging everyone to take a "Hats off to Teachers" selfie to show their appreciation of the critical work they do.
"Evidence shows that our teachers have the greatest in-school influence on student outcomes. Today we really celebrate our teachers and show our appreciation for the tireless work they continue to do both inside and outside the classroom," AITSL CEO, Mark Grant said.
One of AITSL's campaign Ambassadors, Eddie Woo, agrees.
"Taking part in World Teachers' Day is a fantastic way for the community to acknowledge the important and essential work done by the teaching profession," Woo said.
"I love being a maths teacher. I love what our profession does and the positive impact we can have on our students."
Woo remarked on the satisfaction he gets when he sees his students' maths skills progressing and developing, especially when they get to a point where it even changes their view of themselves and what they're capable of.
"These are the moments that truly make me smile and feel satisfied, knowing that what I do is having a lasting impact."
'Teachers don't always realise how valued they truly are'
Grant said Australia's 400 000 teachers are an "amazing group of people whose high-quality expertise is truly valued by the community."
"I don't think they always realise this," he said.
"Today, they will get to see this firsthand through the messages and photos flowing in on social media. It reinforces that the work they do each day has a positive effect on the lives of all of Australia's 4 million learners."
Woo hopes a greater number of people take the opportunity to visit the World Teachers' Day website, take a selfie using the virtual photo booth and share that with the world to show their appreciation of teachers.
Teacher Campaign Ambassador, Kate Inglis, is a Highly Accomplished Teacher and Deputy Head of Senior School, Westminster School in South Australia. She said she loves teaching and having the privilege of being part of a profession that uses its expertise to spark the interest in the students and instill a passion of learning.
"I love today, as it not only shows me how much of the community actually respects and values our profession, but it also gives me an opportunity to show my appreciation to my peers and mentors," Inglis said.
'Teachers have the power to change the trajectory of a student's life'
Pat Murphy, Australian Government Primary Principal Association president, said Australia is "blessed to have outstanding teachers in all parts of this land."
"People who are willing to sacrifice their families and way of life to ensure every Australian child receives a great education regardless of where they live. Teaching is more than a job, it's a vocation. Teachers have the power to change the trajectory of a student's life," Murphy told The Educator.
"Sometimes this could come through simple things, such as positive comment or getting to know a student, or by challenging a student to go further with a task or by encouraging them to do something the student doesn't think is possible."
Murphy said these simple things all spark an interest in the child and above all are designed to create a love of learning.
"While students can learn from a book or gain information from the internet, it's the teacher who brings the curriculum to life and makes it relevant for every child in their care," he said.
"Australians are employed around the world for their ability to solve problems, be creativity, our work ethic and our customer service which are started and developed in partnership between home and school."
Murphy said it's Australia's teachers that ensure that these skills, attitudes and abilities continue to be fostered and make Australians who they are.
"Australia let's be proud of Australia's teachers and their role in helping create such a great country."
'Teachers deserve personal and professional respect'
Association of Heads of Independent Schools of Australia (AHISA) CEO, Beth Blackwood, said 2020 and 2021 demonstrated the agility and innovation of Australia's teachers.
"Teachers rapidly adopted new skills and adapted resources to meet their students' needs during remote learning. In 2022 Australia has discovered not only that teachers are an essential national resource, but that they are a resource in limited supply," Blackwood said.
"Teachers are calling for respect for their work, and the very least Australia can do to show appreciation for their exceptional contribution over the last three years is to demonstrate that respect – not just on World Teachers' Day, but every day."
Blackwood said it is important that teachers are given both personal and professional respect.
"Teachers are highly trained and educated and must undergo continuing professional learning to maintain their professional registration," she said.
"Many, many families discovered during remote learning the depth of professional knowledge and expertise that is required to support students' learning. That understanding is a great basis on which we can build greater community respect for teachers."