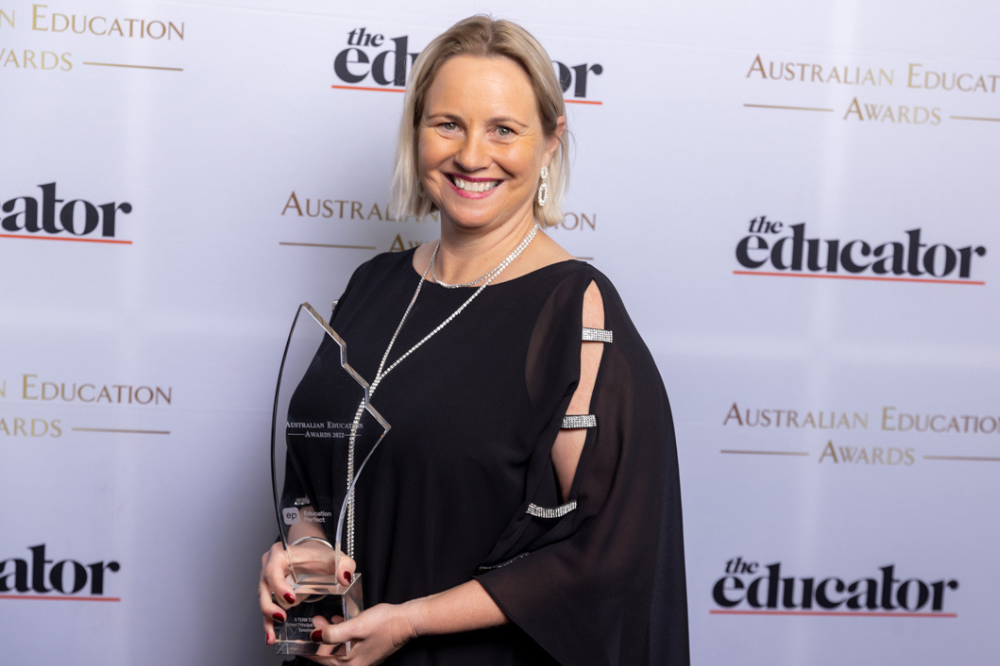 It's a tough slog leading a junior school of nearly 2,000 students, but Marsden State High School principal Alison Fahlbusch almost makes it look easy.
With a laser-like focus on the whole student, Fahlbusch provides her students the full gamut of learning opportunities; the body, through the school's exciting sporting and excellence programs; the mind, through a comprehensive range of VET, Arts and STEM programs; and the character, through a strong focus on the quality of a person.
And with an extraordinarily diverse student cohort, this has been no easy feat. Marsden SHS has a Pacific Islander population of 67%, with 37% EALD students, and 8% Indigenous students within 54 distinct cultural groups. Additionally, the school has 5.5% of students with a verified disability, and 15.5% of students are on an Individual Curriculum plan.
Perhaps one of the most telling aspects of Fahlbusch's leadership approach is the esteem in which she holds the science of learning.
Leveraging the most up-to-date educational neuroscience around student learning, Marsden's Mako Art of Learning (MAOL) program provides a reflective tool for staff, students and parents to drill deeply into the understanding of what a student really needs to improve their learning.
The success of the school's approaches to learning speaks for itself.
Marsden SHS won Best Professional Learning Program and School Principal of the Year at the Australian Education Awards 2021, and also picked up Excellence Awards in the categories of Education Perfect Secondary School of the Year (Government), Special Education School of the Year, Secondary School Teacher of the Year (Government) and anzuk Education Australian School Principal of the Year.
At the previous year's Awards, Marsden SHS school secured a whopping six trophies, winning the categories of Secondary School of the Year (Government), Best Professional Learning Program, School Principal of the Year (Government), and excellence awards in the categories of Teachers Mutual Bank Teacher of the Year (Secondary School), Best School Strategic Plan and Best Student Wellbeing Program.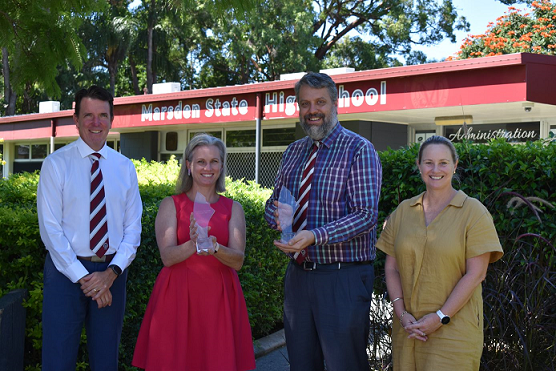 A group effort
On Friday 12 August, the school was again recognised on the national stage when Fahlbusch was named the Education Perfect Australian School Principal of the Year and Primary School Principal of the Year in the Government category.
"Winning the awards including School of the Year and the Professional Learning Suite of Programs is a great recognition of the wonderful work of our students, staff and wider community," Fahlbusch told The Educator.
"Marsden SHS is really proud of the opportunities we provide, and to be recognised at a national level is great for our school and Logan City. I am honoured to be part of a such a great team."
Fahlbusch said that for a school as large as Marsden SHS, success requires high performance from every member of the team.
"At Marsden we have just that – a high performing team of leaders, teachers, support staff and community working together to provide superior opportunities for our students," she said.
"Daring to inspire and make a difference for our local Logan community. These awards reflect this hard work and a performance culture that has developed over a number of years."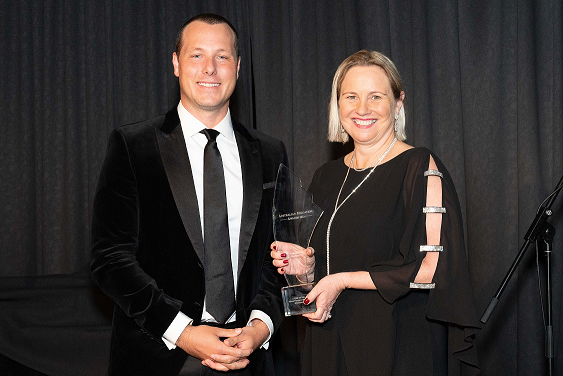 'The hallmark of a great leader is trust'
Fahlbusch says effective leadership in education and schools is a key factor in ensuring success, not only for the organisational aspects but also for the students that educators inspire.
"Just like the schools we are leading, every leader is different and must develop a set of leadership tools that can be applied in a variety of situations or environments. In our ever-changing landscape, effective leaders must be able to inspire others to make great things happen," she said.
"Our current environment has been dynamic and challenging, teachers and wider school staff are change fatigued to say the least, an effective leader has had to create a climate that transforms these challenges into opportunities."
Fahlbusch says the hallmark of a great leader is "one that can develop and build trust amongst colleagues, celebrating and recognising that a school's greatest asset is their people."
"The most important legacy of an effective leader is the future, in terms of the development of their people and the school into one that can adapt, grow and prosper in challenging times."
Shift the narrative to improve the education system
Fahlbusch says improvements and evolution within Australia's education system must come from "a change in the dialogue and narrative around our profession".
"External pressures, opinions and influences that dominate current discussions about educational reform are abundant," she said.
"Everyone has an opinion on school improvement, teaching pedagogy, student outcomes and teacher retention but how many of those voices are skilled educational professionals? Why, as a society are we asking for radio audience or social media feedback on school performance or teacher retention?"
Fahlbusch says the voices and expertise of teachers and leaders must be elevated so that they can lead change within the teaching profession.
"We must invest in and develop our leaders and future leaders to best serve their communities and to ultimately produce student graduates that are responsive to the emerging needs of those communities," she said.
"For real and sustainable change to occur, school leaders must have the courage to question the status quo, to analyse and improve educational practice within an individual context. Educating Australia's future is not a one size fits all."
Fahlbusch said solutions to the complex issues facing Queensland schools today requires trust in school leaders to make autonomous decisions to adapt and evolve practice specific to the needs of the community they are serving.
"In essence, education as a sector should be transformational for our students and our communities. For Australia to develop a system that is truly world class requires a national vision for change that inspires hope for the future."
At the Australian Education Awards 2022 on Friday 12 August, Marsden SHS also took out the top award for A Team Tuition Secondary School of the Year – Government, Best Professional Learning Program, and A Team Tuition School Principal of the Year – Government.
Marsden SHS also received Excellence Awards for Education Perfect Australian School of the Year, Special Education School of the Year, Best School Strategic Plan, Grok Academy Best STEM Program, Best Use of Technology, and Innovation in Learning Environment Design.