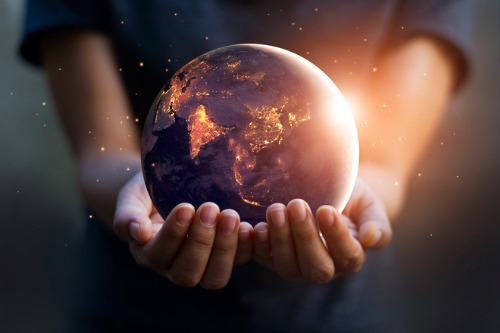 "We cannot simply stand by and watch the destruction of our planet."
This is the call to action of Italian Education Minister Lorenzo Fioramonti, who this week announced that every government school in the country would make climate change and sustainable development education a mandatory part of the curriculum.
In an interview with The Educator, Fioramonti, called climate change "the most important challenge humanity has ever faced" – a view shared by 11,000 scientists from 153 countries who declared a "climate emergency" in the BioScience journal on Wednesday.
"There is much to be done within the education sector to responsibly address the risks of climate change: that's why starting from September 2020 Italian teachers in every grade will lead lessons in climate change and environmental sustainability," Fioramonti told The Educator.
Fioramonti said this will comprise of a 33-hour-a-year lesson, aligned to Agenda2030, which aims to improve sustainable development, promote peace and reduce poverty worldwide.
"I truly believe this will give Italy the possibility to become a model in environmental education," Fioramonti said.
Governments have 'shied away'
In 2016, Australia joined the 150 countries that signed The Paris Agreement, a concerted effort to lower global emissions.
However, where climate change education in schools is concerned, it is left up to the states and territories as to how they teach the subject through the learning areas of science, humanities and social sciences.
Some prominent academics are calling for a more cohesive approach, arguing that the federal government should be leading by example on this important issue.
Two of them are professor Pasi Sahlberg from the UNSW Gonski Institute of Education and Hilary Dean, an associate professor and deputy dean of James Cook University's (JCU) Graduate Research School.
In an article published in The Conversation, associate professor Whitehouse, along with arraine Joy Larri, PhD Candidate and Research Fellow at JCU, said that state and federal governments have "shied away from systematic, climate change education" in the last decade.
"That's despite the real risks to all Australian children and young people who are facing the prospect of diminished lives without climate stability," she added.
Likewise, professor Sahlberg says it only makes sense that schools and governments support students who are protesting about climate change.
"Many schools are already teaching children about the civil rights, freedom of speech, democracy, how to influence decision-making and debate eloquently about important issues like climate change," professor Sahlberg told The Educator.
And it's fair to say that many of the nation's scientists are already on board with the idea of bringing climate change education into classrooms.
The BioScience journal published last Wednesday was supported by more than 350 Australian scientists, 10 of whom are current or ex-CSIRO researchers.
Still, any move by the Federal Government to follow in Italy's footsteps is unlikely any time soon.
Following recent nationwide climate change protests, Prime Minister Scott Morrison branded environmental protesters "anarchists" and threatened a crackdown on the right to protest, claiming that progressives want to "deny the liberties of Australians".
Federal Education Minister Dan Tehan claimed that "professional activists" had "orchestrated" the school student strikes.
'We can be passionate contributors to a better world'
According to Fioramonti, it is incumbent on governments to recognise the collective danger that climate change poses and take the lead – starting in schools.
"Only by educating new generations we can create a common platform to take high-impact actions," he said.
Fioramonti said that giving schools and education a pivotal role can create an "incredible network" of people, associations and institutions working at different levels to "shepherd world leaders and decision-makers to the next level of sustainability."
"Since September, 'Education, not extinction' has become our mantra inside and – literally – outside the Ministry building, and I want to continue to be close to our students in this global challenge," Fioramonti said.
"We can be passionate contributors to a better world."