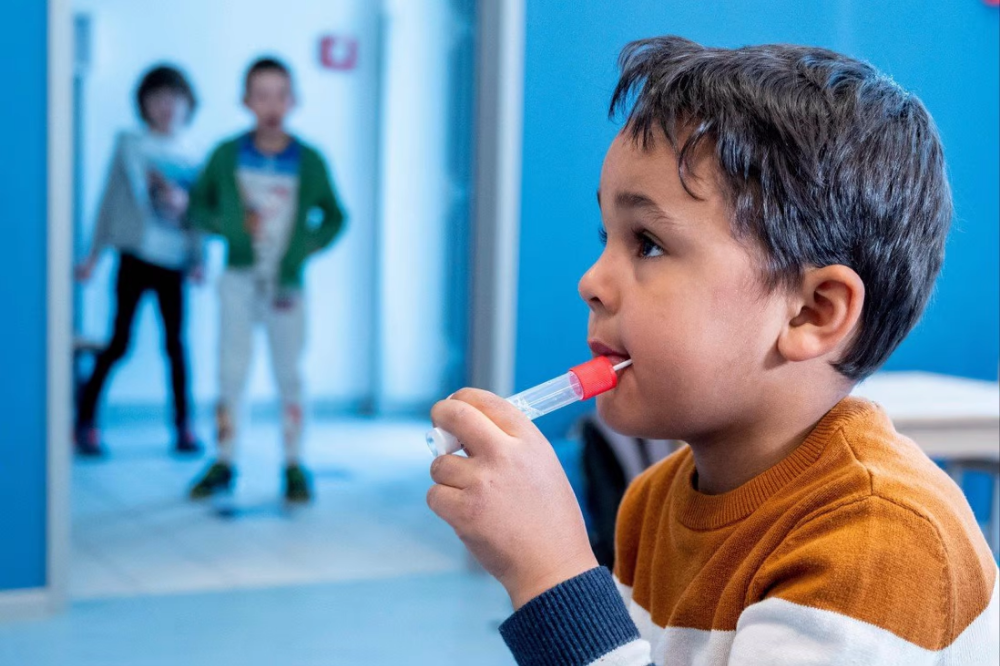 This article was produced in partnership with Cole Supplies, a Supply Nation-certified supplier of high-quality bulk corporate apparel and industrial supplies.
Brett Henebery sat down with Michael Cima, director at Cole Supplies to talk about how the company is helping schools keep staff and students safe amid new strains of the COVID-19 virus.
Founded in late 2013 as Cole Workwear, Perth businessman and Noongar community leader, Gordon Cole, joined forces with Michael Cima, experienced importer and founder of Australia's first Indigenous workwear company, with a shared focus on supporting local communities.
Whether it's the ongoing school closures caused by the Delta strain or the potential of another lockdown due to the new Omicron variant, it seems that schools can't seem to catch a break.
Throughout the disruption caused by the COVID-19 pandemic, the top focus for schools has been protecting the health and safety of school children and those educating them.
NSW primary schools are in the process of receiving more than 500,000 Rapid Antigen Home Testing (RAHT) kits to reduce the disruption positive COVID cases have on schools and student learning, and last week the state's government announced new health guidelines to ensure an improved Covid-Safe environment for students and staff.
The private sector is also working hard to help schools, with some companies finding new and innovative ways to ensure that education staff can respond more effectively to potential health risks on their campus.
One of these companies is Cole Supplies, which was founded in late 2013 as Cole Workwear. At the company's inception, Perth businessman and Noongar community leader, Gordon Cole, joined forces with Michael Cima, an experienced importer and founder of Australia's first Indigenous workwear company, with a shared focus on supporting local communities.
Last year, Cole Workwear distributed 40 million PPE masks to the Australian government, and introduced a range of important products for schools, including anti-viral backpacks made with next generation retentive "anti-microbial" technology.
In 2021, the company recently won a Point of Care (POC) certification to distribute a simple and painless COVID 'Lollipop Test', called V-Chek. The swab test allows for the rapid detection of the virus, negating the need for entire student cohorts to go into prolonged periods of isolation.
Below, The Educator speaks to Michael Cima, director at Cole Supplies, about the company's journey since 2020, the new swab test and the outlook for student and staff safety as we approach 2022.
TE: When we last spoke in 2020, Cole Supplies was introducing anti-viral backpacks for schoolchildren. A lot has certainly happened since then with regards to the virus and Covid-Safe advice and guidelines. How have the events of 2021 shaped and informed Cole Supplies offerings to schools?
We saw what was happening in Europe in terms of opening up borders post pandemic and knew Australia would follow suit with rapid tests in addition to preventive measures like masks, QR codes and social distancing. Having both undergone a PCR test, we knew that an easier, faster and more affordable testing method would benefit Australians of all ages greatly, and as parents, both Gordon (my business partner) and I are acutely aware of the challenges faced by any parent trying to put anything up their child's nose. As the old saying goes; "You don't know what you don't know", so the more people get tested the better we can combat COVID-19. Our aim with V-Chek is to increase testing rates amongst all Australians across all age demographics by making the testing process as non-invasive as possible – we feel the lollipop sampling method helps us achieve that goal. Minister Hunts October announcement that Australia would permit self-testing from 1 November, so the V-Chek saliva test was definitely a pivotal moment for us. It has been sold and distributed into a number of countries across Europe since January 2021, and its main users are children aged 2 and above.
TE: I understand that Cole Supplies have a POC certification for the Lollipop Test and have been pursuing Home Test certification with the TGA. What are the latest developments on this, and some important benefits for schools that are interested in this product?
We thank the TGA for their tireless work in helping us get the V-Chek test approved for self-testing on 17th November 2021. They've been swamped by applications, so we were amazed at the hands on help they gave us with numerous emails, telephone and video calls. Since then, it has been pedal to the metal to get marketing organised, product shots taken, advertising slots booked, products ordered, air-freight slots booked, distributors firmed up and customers to buy the actual product. The benefits to schools are that they can purchase a non-invasive, easy to use accurate test (classed as "Very high sensitivity") that has been thoroughly vetted by the TGA, meaning it is completely safe and efficacious to use. We do have to stress that like a homer pregnancy test, V-Chek is only a screening test and in no way replaces a PCR test which is 100% accurate and should be used to confirm all results.
TE: Looking towards 2022, are there any ways in which Cole Supplies will be building on its existing offers to schools to improve student and staff safety?
With the help of the TGA and the factory, we are constantly checking V-Chek's effectiveness in detecting the very latest COVID-19 variants to ensure we offer all users, especially young people, the very best and easiest detection methods for COVID-19 to ultimately help keep them safe.