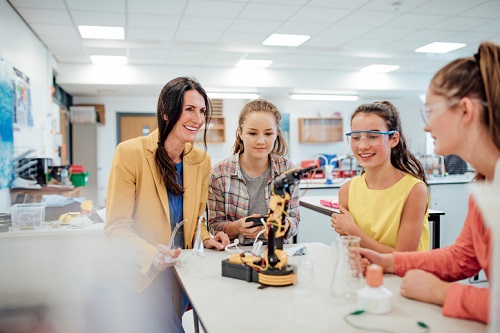 Victoria's public schools and not-for-profit organisations across the 'education state' can now receive support in rolling out STEM-related activities.
Last week, the Victorian Government announced grants up to $2,000 to support activities such as exhibitions, competitions, online STEM initiatives and outreach programs.
The state's Education Minister, James Merlino, said this year's Education Week highlights the role of schools and communities encouraging students to be more engaged in STEM.
"STEM skills, along with the ability to think critically and find creative solutions to complex problems, are vital for preparing students for the jobs of tomorrow," Minister Merlino said.
The announcement follows the release of the 2019 NAPLAN National Report and the NAP – Science Literacy assessment, which found generally favourable results. Year 6 students, in particular, were found to have improved the most.
Principals have expressed the importance of students learning STEM to keep up with emerging technologies they will encounter once they join the workforce.
Fostering appreciation for STEM
Stirling East Primary School teacher Sarah Finney – one of last year's recipients of the 2019 Prime Minister's Prizes for Science – said being able to understand STEM concepts is essential when making informed and sensible decisions.
Finney has been lauded for her approach to teaching that connects scientific concepts to her students' topics of interests. Stirling East is also encouraging its students to share their findings with their parents, peers and even science experts who are able to offer them valuable insights and feedback.
In the Northern Territory, one university lecturer is innovating in terms of how STEM education is delivered to keep students engaged.
Dr Jim Lee, an exercise and sport science lecturer at Charles Darwin University, has delivered a report to the NT Department of Education Innovation Fund for School Improvement on the use of wearable technologies in STEM subjects.
The research on using STEMfit – a device which collects data on certain actions such as running or jumping – was conducted on students at four schools. Teachers who also took part in the testing were able to simply plug and run the program without prior training.
Dr Lee said they made use of students' STEMfit data as maths problems for the students to solve. Comparing their running speed with Japanese school children, for example, helped students become more engaged with maths as they could relate to the topic more easily.
The use of STEMfit also made students understand maths and science concepts more as they immediately saw evidence through data collected by STEMfit.
Charles Sturt University (CSU), meanwhile, is inviting students to take a peek on what they may experience should they decide to take up a STEM degree.
CSU next week will start with its Explore Day program in Port Macquarie. Through Explore Day, Year 10-12 students can visit the University's five campuses to experience the courses and services the University has to offer.
Aside from accommodation tours and information sessions, the program also hosts workshops catered to specific careers, such as medicine, clinical science, education and creative industries.