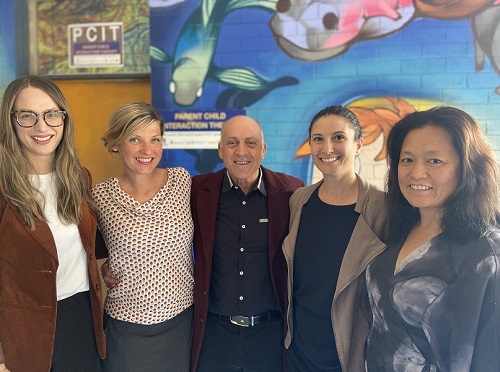 With the end of Term 4 now in sight, schools are eager to draw on the learnings of the pandemic to ensure that students and staff begin the new year calm, healthy and focused.
In particular, special attention is being given to helping those who were struggling most to catch up on their learning and access the support they need to thrive when Term 1 begins.
Indeed, the widespread uncertainty and disruption caused by the COVID-19 pandemic has taken a massive toll on the mental wellbeing of an increasing number of young Australians.
However, for many other young people, mental health struggles existed long before the outbreak of the pandemic.
One of the most prevalent and disabling mental health problems for Australian children are disruptive behaviour disorders (DBDs), which affect approximately 6% of young people across the country.
Ingleburn Public School has developed an innovative and entrepreneurial partnership with UNSW to establish the world's first school-based clinic that provides Parent-Child Interaction Therapy (PCIT), a gold standard program for managing DBDs in young children.
The PCIT at School innovative initiative is the world's first trial in which PCIT has been adapted for delivery in the school setting. In this unique program, parents receive 'real-time live coaching' from a certified therapist, who observes the parent/child playing from behind a one-way mirror.
On Wednesday, Ingleburn Public School was named among Australia's most innovative schools of 2020 in recognition of this successful ground-breaking program.
Below, The Educator speaks to deputy principal, Rebecca Dao, about the ground-breaking program, fostering whole-of-school innovation and the most important learnings for teaching and learning as we approach 2021.
TE: What has been the impact of the pandemic on children with disruptive behaviour disorders and how is the clinic helping to address this?
The pandemic has been hardest for those families who were already struggling before it started, and we know that children with disruptive behaviour problems face particular challenges at home and at school. The IPS School PCIT project is supporting these students and their families during this particularly difficult and stressful time and helping to keep them connected with their schools. School PCIT supports family members and teachers to work together as a team to consistently implement evidence-based skills across home and school settings that reduce children's disruptive behaviour.
TE: The PCIT program has been duly recognised in The Educator's most Innovative Schools for 2020. Drawing from your experience in teaching and educational leadership, what makes a truly innovative school?
A truly innovative school creates a kaleidoscope of opportunities that empowers students and communities to collaborate, innovate and challenge existing beliefs to create a school of accomplishment. Ingleburn Public School is the first ever school in Australia to implement Parent Child Interaction Therapy (PCIT) on school grounds. In doing so it brings the best available evidence-based treatment for child behavioural problems to students at seven south western Sydney schools who might otherwise have never gotten the help they needed. This is a major step towards addressing a challenge experienced by schools worldwide of how to best manage students with disruptive behaviour problems. Without treatment, these behaviours interfere with the student's ability to learn and fully achieve their academic potential, placing them at risk for poor academic achievement and school drop-out. Our goal is to empower the most at-risk students in our South Western Sydney community to gain the skills needed to thrive academically and live a fulfilling, independent life post school.
TE: For many, it might seem surreal that we're already approaching the end of Term 4. How would you describe the kind of year 2020 has been for Ingleburn Public School and its community?
In 2020, many of the ways in which Ingleburn PS engaged with families and communities before COVID-19 were temporarily shut down for health and safety reasons, including innovative and future-focused learning opportunities such as film making, local entrepreneurs, dance, cooking, Indigenous and other performing arts programs. Without appropriate outlets for our students to relieve stress we saw an increase in their disruptive and aggressive behaviours. With the help of technological advances previously tested by our partners at UNSW Psychology, we were able to keep the School PCIT program running through COVID-19 shutdowns. This enabled us to maintain connections with some of our most vulnerable students and their families.
TE: This year has certainly provided some important learnings for schools and their communities. What have been the most important learnings for you personally as a school leader?
The COVID-19 pandemic has been a positive catalyst for change. It created an opportunity for us to examine and reimagine the school's operations and education delivery. This rethink has laid the platform for us to develop new "norms" and to challenge mindsets around how schools traditionally operate. The students, staff and community demonstrated their capacity to be flexible and pivot where necessary to build stronger culture of empathy, personal growth and wellbeing.