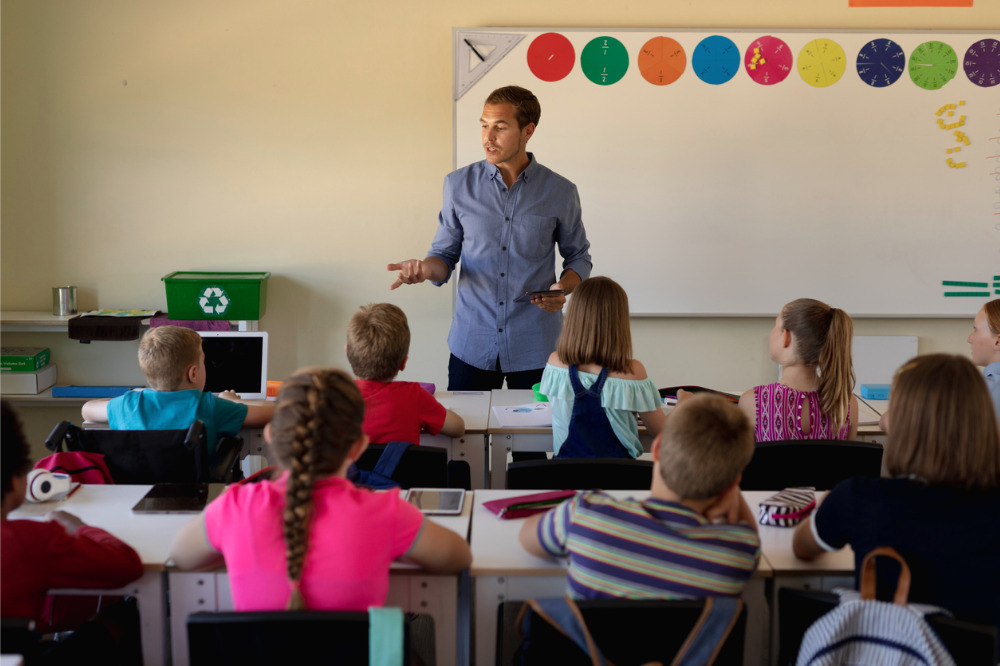 In February, the first major investigation into the NSW teaching profession since 2004 warned that unless greater financial and human support is given to teachers, the state's education system faces its most severe crisis in decades.
The 200-page report, written by an eminent panel chaired by former WA Premier Dr Geoff Gallop and released over the weekend, collected more than 1,000 submissions from teachers over a 12-month period.
The report's authors say a combination of "constant policy changes", massive increases in student needs, rapid changes in technology and new compliance and reporting responsibilities and higher community expectations of what schools and teachers can do have coalesced to create a crisis that cannot be ignored.
On Wednesday 7 September, teaching and education leaders presented a strong vision for an end to teacher shortages in NSW and a more equitable and stronger future for public education during a special broadcast to parents and families across the state.
Hosted by TV journalist Tracey Spicer AM, the broadcast included interviews with President of the Federation of P&C Associations Natalie Walker, President of NSW Secondary Principals' Council Craig Petersen and President of the NSW Primary Principals' Association Robyn Evans.
"The Gallop Inquiry made it very clear, we need to improve the conditions of work, and improve pay in order to attract and retain teachers in the numbers required," NSWTF president, Angelo Gavrielatos, said.
"It's not very frequent but from time to time we hear platitudes, if you like, from politicians, where they throw thanks at teachers. Well, thanks won't cut it."
Gavrielatos said mere expressions of appreciation are not sufficient to resolve the staff shortage crisis that the state is facing.
"It needs more than thanks if we're going to attract and retain teachers in the numbers required so that every child can have a qualified teacher in front of his or her classroom."
That required number presently stands at 1000 unfilled vacancies state wide, with research revealing up to 12,000 teachers would be needed in the next 10 years as enrolments increase by more than 200,000 students.
Speaking at the event, Walker highlighted what parents and school communities are experiencing across NSW, calling the teacher shortage "truly not an acceptable state to be in".
"It's so disheartening when use see principals looking for expert or specifically trained teachers and they're unable to find them for their school community," Walker said.
"I know of many schools in the far west that have gone without certain permanent teaching positions for two to three years. The impact of teacher shortages ultimately means it's our children that are missing out."
Walker's message to the NSW Government was that educators need to stop playing catch-up.
"We really need the NSW Government to be brave and just step up and be the forward thinkers and planners of our children's future," she said.
"An investment in high-quality teachers and resources in our schools is an investment in the future of our children and young people."
Federation's solution, Gavrielatos said, was to ensure the terms and conditions of work for teachers – their workload and salary – are more attractive and the union will demand the same at the upcoming Award negotiations.
"Teachers' salaries have declined dramatically over the course of the past 10 to 15 years. At the peak of their career, teachers are earning significantly less than other professionals with similar qualifications," Gavrielatos said.
"On top of that, the hours of work of teachers and principals continues grow and the intensity associated with it has grown as well. We have a massive problem ahead of us, and if we don't change the settings … necessary to attract and retain teachers in the numbers required, I fear for the future of all students."
Petersen said the Department had resorted to "knee-jerk reactions with short-term aims" – such as fast-streaming principals and mid-career pathways – rather than a long-term plan to build and develop the teacher workforce.
"[That] may plug a short-term gap but we need a much better way of recognising the workload of teachers and principals, of remunerating them for the work they do, but also for raising the status of teaching in the community," he said.
"We want to attract the best and brightest into teaching, we've got to make it an attractive job."
High on the agenda were the pressures and challenges presented by COVID, however, Evans said that issues of teacher burn-out and fatigue pre-dated the pandemic.
"This not a new thing. The administrative workload that teachers and principals have to cover off is debilitating," Evans said.
"Great work happens in the classroom; the preparation for that great work sits outside the classroom. We need to reinforce a balance in the time allocated to do that preparation and that explicit collaboration with our colleagues that really drives learning."
'National approach needed to resolving crisis'
Over the past seven years, major education service provider Tes has been encouraging schools to take a more national and proactive approach to recruitment.
"Our experience with many across all states and with the thousands of candidates with whom we have interacted, has led us to understand more fully some of the reasons why Australia is currently so challenged by teacher shortages," Tyson Wood, Company Manager at Smart Teachers Australia and Tes Australia told The Educator.
"Why is this so? There are many reasons and schools and authorities have put solutions into the market. Highly accomplished and lead teacher programs are helping to develop and retain teachers".
Wood said that in the meantime, Tes is seeing many schools delivering staff wellbeing programs or introducing new products like Staff Pulse.
"There has been a significant surge in prioritising and monitoring staff wellbeing. Staff coaching and collaboration are also very popular. There are a lot of good things happening in education to help keep our fantastic teachers in the workforce".
One reason that could explain the shortage that has not changed is the casualisation of the workforce, says Wood.
"This is a significant reason as to why the teaching profession has become less attractive and why early career teachers are at risk of leaving the profession," he said.
"Of the 1,500 placements our recruiters made through 2019 and 2020, 25% were permanent. This has been the case since 2014".