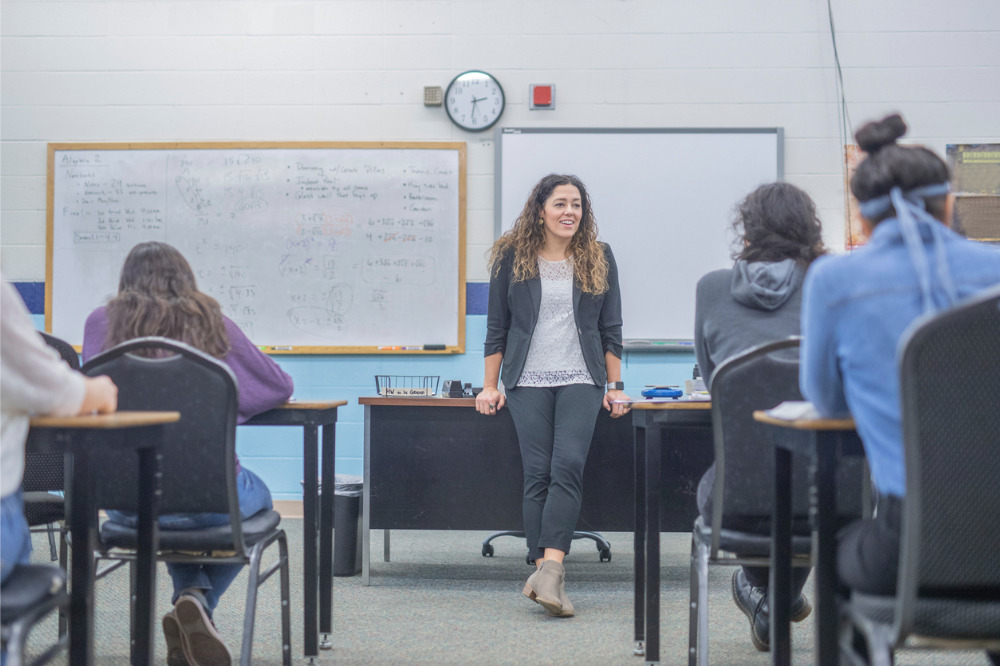 Across Australia, many schools are struggling to find staff to fill crucial roles amid an expected surge in student enrolments.
Another factor compounding the need for teaching staff in the nation's schools is a reported 40% decline in initial teacher education (ITE) course applications.
One recent survey found that in the ACT alone, 82% of schools were unable to fill a casual vacancy on one or more days in the survey period, causing teachers to miss out on critical professional development sessions and lesson plans.
Recognising this challenge, two prominent education providers have teamed up to provide on-the-job training to a new generation of trainee teachers.
Christian Education Ministries (CEM) and Alphacrucis College recently announced they are teaming up for the teacher training initiative, which is due to launch in January 2022.
Aspiring and eligible candidates from across Australia will be able to study fully online to become a teacher, through diploma, undergraduate or postgraduate degree courses through Alphacrucis, whilst working as Teacher Assistants at one of ten CEM operated schools situated in New South Wales, Queensland, Victoria, Western Australia and Tasmania.
Upon graduation from the CEM/Alphacrucis Teacher Training School, a student will transition from Teacher Assistant to Teacher having gained depth and insight into exceptional teaching practice by working alongside an excellent mentor teacher.
'Flipping the conventional model of teacher training upside down'
Liz Hutton, Chief Operating Officer at CEM, believes that this innovative model will be popular with younger aspiring teachers.
"The Teacher Traineeship model flips the conventional model of teacher training upside down, allowing students to earn as they learn in a school setting. The trainee teacher gains experience in the classroom while doing their formal teacher education online with Alphacrucis," Hutton said.
"No longer do students have to study teaching for 3 or 4 years at university before entering a classroom to gain in-school experience. This model sees students in the classroom from day one while learning the necessary theory and skills as they go."
Founded in 2003, Christian Education Ministries operates 9 Australian Christian Colleges, Brightwaters Christian College, three SmartPlay Early Learning Centres and Australian Christian Home Schooling. Collectively the CEM group educates more than 4,500 children across Australia.
With long-held concerns about a forthcoming teacher shortage in Australia resulting from an ageing workforce and high attrition rates among early-career teachers, this teacher training model aims to set new teachers up for success as they enter the profession.
'A new breed of teaching school'
In addition to being the largest self-accrediting Christian liberal arts College in Australia, it is the official training college of Australian Christian Churches, the Assemblies of God in Australia.
Dr David Hastie, Associate Dean of Education Development at Alphacrucis College, explained that this new breed of teaching school will provide a range of accredited courses, including a Bachelor of Education and Masters of Education.
"Alphacrucis is excited to be involved in championing quality teacher education by working with CEM. Students will be able to access a range of diploma, bachelor and masters level courses in education," Hastie said.
"What distinguishes this teaching school from others is its online delivery and national coverage. Students can complete their placement in five states of Australia under the guidance of an experienced mentor teacher."
'Greater lateral thinking and innovation needed'
Ben Grozier is the co-founder of ClassCover, a company simplifying relief teacher bookings and teacher recruitment for thousands of schools across Australia and New Zealand.
He says lateral thinking and innovation needs to be engaged in order to attract and keep teachers in the profession.
"I do believe this type of thinking and planning to be occurring at the highest levels. Obviously, remuneration is key, as everyone needs to put food on the table," Grozier told The Educator.
"However, speaking as a former teacher myself, salary is often not the primary reason for entering education."
Grozier said fulfilment, forming meaningful relationships with students and staff and making a positive difference are the main drivers rather than financial incentives.
"The key, in my opinion, is therefore to always be better supporting our educators so that they can more efficiently fulfil non-teaching obligations of their job and be liberated to thrive at what they truly love, which is interaction with and nurturing our children."