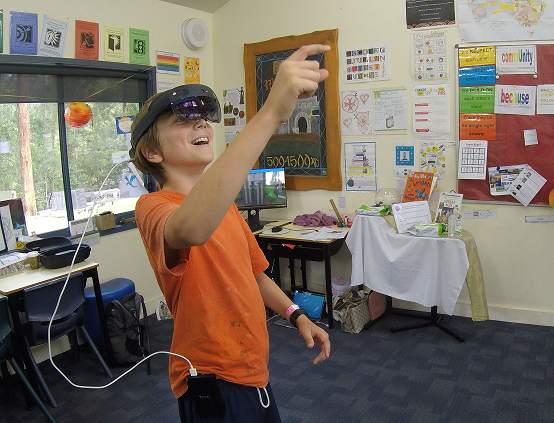 "This new generation of wearable technology is not a passing fad. It is the way of the future."
This prediction was made by Professor Kathy Mills, of the Australian Catholic University's Institute for Learning Sciences and Teacher Education, following a groundbreaking study into the use of three dimensional (3D) smart glasses designed to build students' multimodal literacy.
While the majority of research on Augmented Reality (AR), Virtual Reality (VR), and Mixed Reality (MR) in education has focused on students' consumption of learning material, the latest research was driven by a recognition that students need to create narratives, rather than simply consume them, working with transmedia narratives across modes.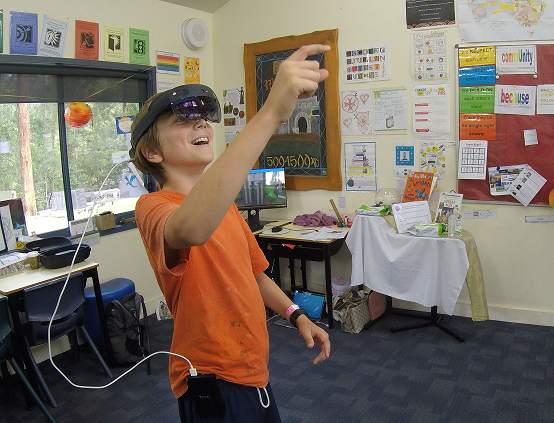 Bringing stories to life
As part of the study, 27 Year 6 students used holograms to make their written and illustrated stories more interesting by turning them into digital versions with pictures, videos, and sound.
As part of the study, published in the journal Learning, Media and Technology, the students, aged 10-11 years, first produced traditional 2D written and illustrated narratives set in different biomes.
Next, they used Microsoft HoloLens 2 smart glasses to bring their stories to life by using a range of hologram images superimposed over the real classroom to illustrate the setting, characters, and events of their texts.
The students used voice activated video recording to tell their stories supported by the 3D imagery. Researchers were able to monitor their work by livestreaming the students' view through their 3D glasses to a computer.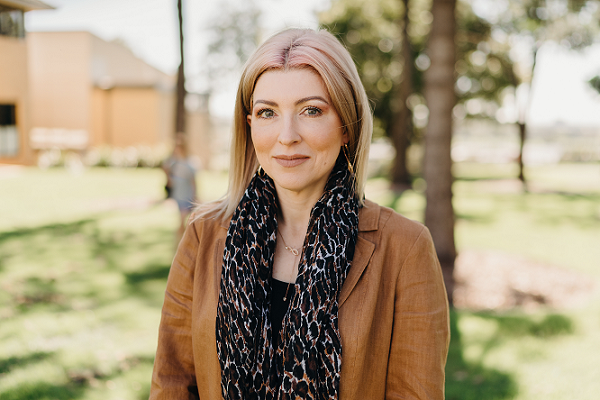 Professor Mills, who led the study, said the smart glasses were found to offer some "radically different" features than other digital technologies to communicate with audiences.
"Most students had never imagined this form of storytelling as it was previously inconceivable. Students were highly engaged and even mesmerised," Professor Mills told The Educator.
"One of the biggest differences in communicating ideas was that the holographic illustrations could be viewed from multiple perspectives. Students could walk around the objects, unlike 2D images and other screen-based texts."
Minor hurdles
Professor Mills said an initial challenge was the unusual sensory affordances of holograms responsive to the students' physical movements, but most students found the touchless input interface of the smart glasses effortless compared to game controllers in other apps.
Another limitation was that the touchless interface required initial instruction and practice for precision and efficiency, while still presenting only moderate frustration, such as when manipulating virtual objects that were intersecting, she noted.
"The voice commands worked more smoothly when the teachers and researchers spoke, compared to when the children's voices gave instruction. The holograms looked incredible, but as the technology develops, we anticipate that the graphics will look even more realistic," she said.
As this technology advances further, Professor Mills sees some interesting future applications for using mixed reality technology like 3D smart glasses beyond transmedia storytelling, particularly in relation to student engagement and digital literacy.
"There will be many opportunities for learning using 3D imagery and spatial skills. Forms of learning that require high interactivity – hands on will be usefully learned using Smart Glasses," she said.
"Learning that is enhanced by having 3D models to show how things work will also be particularly useful with regards to STEM and problem-solving."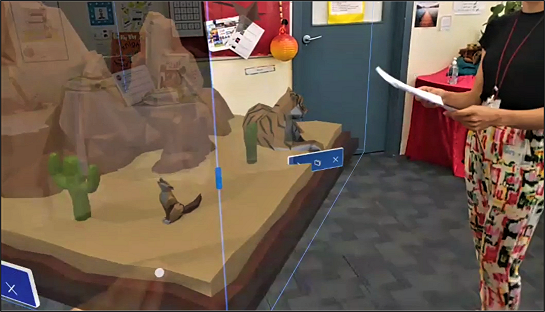 Key takeaways for principals
Professor Mills said the research has some important takeaways for school leaders and educators who are interested in implementing 3D smart glasses and mixed reality technology in their schools to enhance student learning and engagement.
"When asked about smart glasses, most teachers said they would use them in their classroom if given the opportunity," she said, also noting an important practical benefit. "Smart glasses don't require wiring the headset to a computer, which makes it easy for teachers to set up and for students to use in a classroom or outside compared to other technologies, such as some VR headsets."
However, Professor Mills noted that teachers would need some workshops and technical support to show them how to use the technology to support the learning outcomes in the curriculum.
"The technology is fast growing, so more may more educational applications will become available in the next few years. It is a high growth technology. Kids will need the skills they develop using smart glasses and other XR technologies [VR, MR and AR] for the future world of work."
As far as equity of access concerning these technologies goes, Professor Mills is hopeful.
"This technology will have a significant impact on education in the future, particular as the cost of these resources drops," Professor Mills said. "But it is not at the expense of traditional forms of literacy, rather it's complementary and gives students the best of the material and virtual reality worlds."