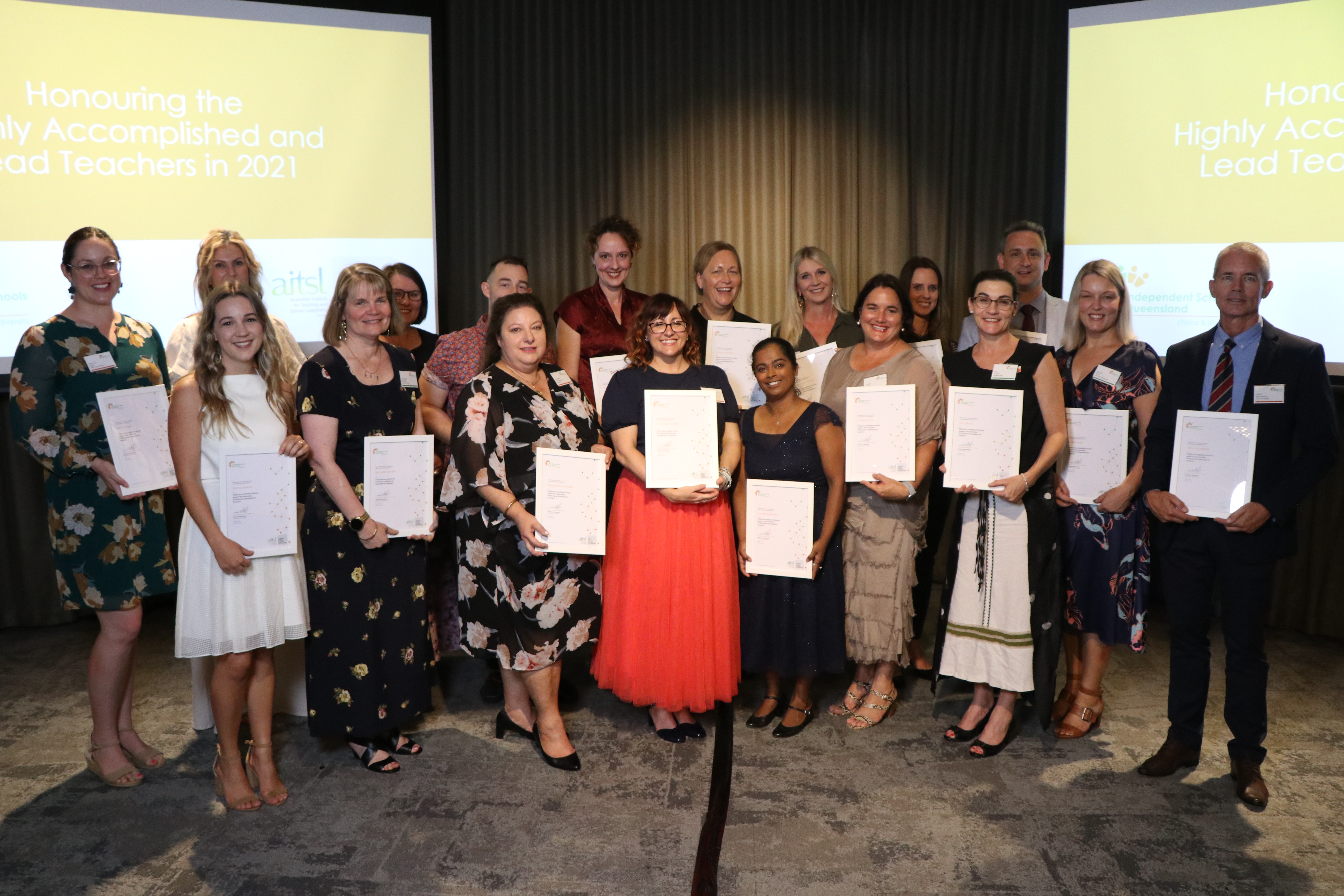 Twenty-three Queensland private school teachers have become the latest to join a growing club of top-performing educators driving best practice and student outcomes across the nation.
The teachers, who completed the national Highly Accomplished and Lead Teachers (HALT) certification, were formally recognised at a ceremony at Customs House in Brisbane last Thursday, bringing the total number of HALTs working in Queensland's private schools to 109, joining a further 891 certified teachers nationwide.
HALT certification is overseen nationally by the Australian Institute for Teaching and School Leadership (AITSL) and undertaken locally by certifying authorities including ISQ. Teachers applying for certification undergo a rigorous evaluation process that involves gathering evidence of their teaching practices, classroom observations and peer and student reviews.
ISQ CEO, Christopher Mountford, said research and school experience has shown that HALTs are important pedagogical leaders in their schools.
"They often act as the bridge between school leadership teams and classroom teachers - translating the strategic direction and education mission of their school into impactful classroom teaching practice," Mountford told The Educator.
"Quality teaching that enhances student outcomes is the ultimate goal all schools and their leaders strive for."
Mountford said HALT certification also allows principals to put forward teachers working at the top of their profession for a nationally recognised credential that recognises and values their vital role in the classroom.
AITSL Chief Executive Officer Mark Grant said national teacher certification requires teachers to demonstrate their impact on students and colleagues through a rigorous process, evaluated by trained assessors.
"These teachers are at the very top of their game, and this is a tremendous achievement. I thank the colleagues, principals, families and friends of these outstanding individuals, who have no doubt drawn on the support and encouragement of those around them in their pursuit of excellence," he said.
"I also acknowledge the momentum that Independent Schools Queensland is building around teacher certification, partnering with their schools to recognise and build teacher expertise so all students benefit."
A full list of the four Lead Teacher (highest level) and 19 Highly Accomplished (second highest level) recipients is below.
Lead Teachers
Amy Mackay – Moreton Bay College
Paul Hemphill – Saint Stephen's College
Ronnelle Sanders – St Johns Anglican College
Amanda Waddell – John Paul College
Highly Accomplished
Callum Brown – Cannon Hill Anglican College
Dominique Pather – Cannon Hill Anglican College
Lachlan Libke – The Rockhampton Grammar School
Maree Ram – Matthew Flinders Anglican College
Rebecca Simpson – Matthew Flinders Anglican College
Jenny Webb – Matthew Flinders Anglican College
Brienna Bullock – Mueller College
Namali Holwerda – Mueller College
Jessica Templeton – Mueller College
Kirby-Jo Egan – St Aidan's Anglican Girls School
Athol Henderson – Hillcrest Christian College
Carol Herbert – All Saints Anglican School
Amanda Kuhnemann – John Paul College
Tjitske Linthorne – St Andrew's Anglican College
Lisa Littman – Saint Stephen's College
Nerine Mann – Carmichael College
Zac Milverton – John Paul College
Christa Stone – St Luke's Anglican School
Nicole Tate – Hillbrook Anglican School