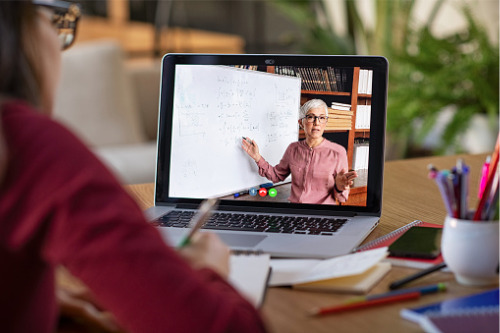 As COVID-19 continues to put a massive strain on the mental health of young people, keeping students engaged in the classroom is a challenge that just about every educator can relate to.
However, for all its negatives, the unprecedented disruption caused by the pandemic has allowed thousands of educators the unique opportunity to transform the way that teaching and learning happens in their classrooms.
Santa Sabina College Middle Years teacher Stella Azizian and Ormiston College principal, Brett Webster recently shared their own insights into this during The Educator's panel discussion: 'Improving student engagement during COVID-19'.
"There's no doubt it has been challenging to keep students engaged during COVID-19, but when students returned to school after lockdown, it was even more challenging because it was a change of routine again," Azizian told The Educator.
"Although our students are used to flipped classrooms and have good IT skills, they were still very dependent on teacher-directed instructions and feedback as well, and this has impacted on their motivation and engagement".
Azizian said the school identified these issues early on and worked hard on maintaining a sense of normality for students by putting in place a familiar routine for them.
"Our first goal was to encourage students to create a learning space in their homes away from distractions, to dress in a school and sports uniform and to adjust our timetables to ensure we had a balanced day," she said.
"We divided our day into two parts: during the first half of the day, we taught students interdisciplinary units; the second half of the day was dedicated to our holistic Santa Strong program".
The Santa Strong program involves weekly assemblies and community activities, music, wellness, spirituality, co-curricular activities, enrichment, physical and cultural activities to keep students energised, engaged and connected.
"This allows us to come together as a school and trust our co-curricular program to ensure that students have access to different opportunities," she said.
"It's also about bringing about a sense of normality so that students feel connected to their school and their peers".
Tackling adversity through innovation
Unlike many other schools, Ormiston College scrapped its timetable completely and tailored its learning environment to meet the challenges that the pandemic was presenting for its teaching and learning community.
Rather than retain all of their usual timetable responsibilities, teachers at the College became subject leaders, taking responsibility for a specific subject at a specific year level.
"What that allowed us to do was give our teachers time to develop quality resources we hoped would keep our students connected and engaged," Webster told The Educator.
"One of these was our teacher video resources, which ensured teachers were available for much of the week to check in with students and see that they were engaging with the learning activities and to provide quality feedback to students".
Webster said this allowed teachers to see that their students were not only completing the work that was assigned but that learning was actually occurring throughout the week.
"We think we've achieved a model – and it hasn't been without its issues – where we are able to focus on students actually connecting and hopefully in 2020 getting a year's worth of learning from this experience".
Learning curves
As the pandemic began to upend the regular school routine, Santa Sabina developed an interdisciplinary program to address many of the challenges the school's community was facing.
One of the most telling pitfalls during the remote learning experience was the lack of digital literacy skills.
To address this, the college developed an interdisciplinary program called 'Around the world in 60 days', which provides opportunities for students to further develop their skills in investigation, communication, self-management and critical thinking in an online environment.
The program lets students assume the role of a travel show host, aiming to visit a number of countries in sixty days to learn about the diversity of peoples, cultures, government systems around the world and explore Australia's global connections through trade, migration and tourism.
Using newly acquired knowledge, students then compose Blog and Vlog entries to inform and entertain their audience.
"The students then get to share these entries with their parents, siblings, teachers and peers," Azizian explained.
"The interactive and online College Veritas platform allowed students to receive instant feedback on their entries and to also give each other feedback, which kept them motivated during this time".
Azizian said that when students returned to face-to-face learning, they wanted to continue with the unit, prompting the school to expand the program further to give students the opportunity to share their work across multiple grades.
"We're hoping to one day invite parents and host a travel show," she said.
Subhead
After developing its model for remote learning, Ormiston College partnered with the Griffith University's School of Education and began working with Dr Sarah Prestridge and her team, who are leading authorities on remote learning.
"They worked with us throughout the process and co-authored some units or work at our College, working with some of our teams to build their capacity and deliver teaching and learning activities that would work well online," Webster explained.
"Along the way, Griffith University conducted research to ascertain exactly what elements of our model that students really connected with and wanted more of, and what perhaps they could live without".
Webster said some of these key learnings will inform how the College's programs work moving forward.
"One of them, for example, is that the time that teachers put into teacher-made videos was very much appreciated," he said.
"Students of various abilities loved the opportunity to have the video, watch the teacher, understand the work, press pause, rewind and absorb that as many times as they needed to in order to make sure they understood all of the concepts".
Webster said the College will be spending time looking at the research that has been conducted to better understand how students can thrive in the online learning environment.
"The fact that we delivered the week's learning plan on a Monday morning to students and gave them a bit more freedom to self-regulate was very much appreciated. So, we're thinking about how we change our practice on campus to retain that aspect of what we were doing," he said.
"We also found that our older students in particular preferred to spend some hours on a subject or task rather than to hear a bell after eighty minutes and have to move on to a different subject".
Webster said the remote learning experience amplified the fact that while some students cherished the opportunity to work alone in quiet spaces, others were feeling more isolated and missing the opportunity to work on group tasks.
"This is telling us that we need to put some thought about how we develop some collaborative online tasks for classroom-based learning on campus as we all move forward".