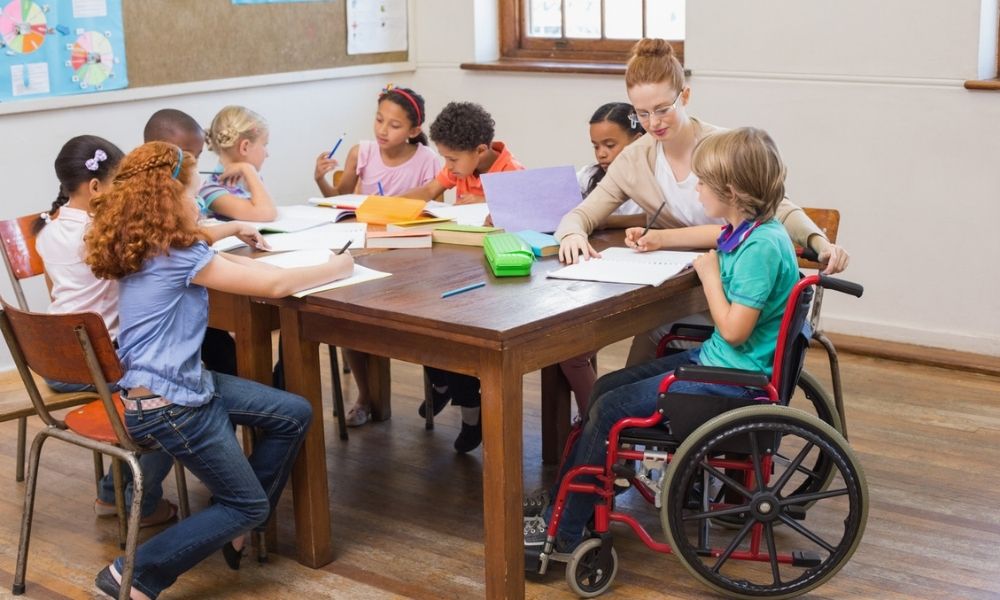 Today, 3 December, marks International Day of People with Disability, a United Nations observed day aimed at increasing public awareness, understanding and acceptance of people with disability.
Young people with a disability are the most vulnerable students, yet research shows that schools are struggling when it comes to supporting their needs.
According to the Australian Education Union's 2021 State of our Schools survey, 83% of all principals say they do not have sufficient resources to appropriately meet the needs of students with disability at their school.
The report also found that 89% of principals use funds from other budget areas to cover funding shortfalls for students with disability and that 87% of principals say teachers would benefit most from additional classroom support when teaching students with disability or learning difficulties with 100% of SRS.
"Almost nine in 10 principals surveyed told us that they ensure the students with disability enrolled in their school get the educational support they need by using funding required for other purposes," AEU federal president Correna Haythorpe said today.
"The situation is particularly urgent in very remote schools where 95 per cent of teachers have reported that the needs of students with disability at their school are not being appropriately met."
The union is calling on the Federal Government to immediately address the funding inequities for public students with disability by ensuring that a minimum of 100% of the School Resourcing Standard (SRS) is delivered for all schools.
'Unprecedented pressures'
The theme of this year's International Day of People with Disability is 'Leadership and participation of persons with disabilities towards an inclusive, accessible and sustainable post-COVID-19 world'.
For schools and their communities, the efforts to achieve this have been pushed back by a number of serious challenges across the education landscape.
Matthew Johnson, president of the Australian Special Education Principals Association, said rising demand, as well as an increasing shortage of staff with specialist training mean that all systems are facing "unprecedented pressures".
"With the introduction of new inclusive education initiatives and support roles in schools, which require specially trained and experienced staff, there is even more pressure on the extremely limited workforce," Johnson told The Educator.
"Research tells us that service provision differs from school to school across the nation and that family experiences are inconsistent. The efforts to address these issues are receiving further focus through a variety of parliamentary inquiries and reviews across Australia."
Johnson said the ability for schools to have the highest quality special educators is "paramount" to meeting the needs of complex learners and students with disability.
"There needs to be a renewed focus on the partnerships between university initial teacher education programs and schools. We also need to promote special education as a valuable career pathway to ensure we have the teacher supply we need now and into the future," he said.
"All of us across the disability and education sectors to build our shared commitment to improve the education outcomes of children and young people with disability."
Johnson said there must be a strong commitment to building a more inclusive education system in which all students feel welcomed and are learning to their fullest capability.
"Policy makes and system leaders need to work with educators, disability experts, students and families, to ensure all education systems do better by children and young people with disability and enhance support for those providing that education - our teachers and school staff."
'Radical system and attitude change needed'
Dr David Roy is a senior lecturer at the University of Newcastle and an advocate for families with children with a disability. He says that while additional funding is iportant, it will not change the systemic issues highlighted by the Royal Commission into the treatment of children with a disability.
"Children with a disability are being disproportionally suspended and excluded from schools, report after report demonstrates children with a disability's potentials being dismissed, attitudinal problems and a system that moves children into segregated settings," Dr Roy told The Educator.
"There are little to no consequences to staff for abuse of children with a disability and the fundamental issues remain. What is required, and this will take funding, is a system wide change, from the top down."
Dr Roy said education executives and Ministers need to recognise and lead by example changes to the system to support children, "rather than be defensive of a failing system".
"We need an integrated services provision with schools working with and being supported by health and social services. We need to see the assets of children with a disability rather than the deficits, and we need the most highly qualified and able teachers supporting learners with most needs, not just more teacher aides who lack the depth of pedagogical training," he said.
"We can throw more money at support, but the real challenge is attitude change. Children with a disability are more than a label, they are children and like all children they have individual learning needs. We need to make sure they know they are recognised, welcome and equal to other children. Funding isn't the answer, radical system and attitude change is."