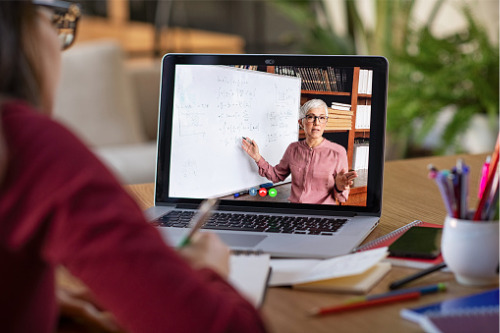 A new US study has offered some crucial insights into parents' experiences of their children's online learning during lockdown.
The study, published in the Journal of School Choice, looked at the experience of 1,700 American parents who had their children at home in Spring 2020.
According to the researchers' findings, just 44% of parents reported the online learning program asked too much of them, while 38% said it was difficult for them to manage the online provisions.
However, a majority (63%) of parents believed remote learning caused their child to fall behind. This is in line with an online study conducted by UniSA in May-June 2020, which found 53% of parents reported their children's learning was adversely affected.
The same study found that 21% reported no change and 23% indicated their child's learning was improved. Significantly, 71% of participants said they were not considering changing any aspect of their child's schooling after COVID restrictions lifted but 18% said they would consider continuing schooling from home.
Elspeth McInnes, Associate Professor of Sociology in Education at the University of South Australia, was the study's lead researcher. She says the data suggests that home-based learning online needs to remain one of several options post-pandemic and should be included in pre-service teacher education and in professional development learning."
"Positive experiences of children's home learning occurred when children were motivated and engaged by learning online, when children experienced relief from anxiety about school or bullying at school, when they could focus on tasks," Associate Professor McInnes told The Educator.
Associate Professor McInnes shared the responses of two parents surveyed, who said at-home learning had numerous benefits.
"My child has caught up on any outstanding work, material has been submitted in time, no school bullying and no bias teacher's influence – just focusing on doing the set tasks with no other external stresses involved. It has been wonderful".
"Home learning suited my child personally, and her teachers did a LOT of extra work to make it run smoothly. It went well BECAUSE of the school, not in spite of them. They deserve full credit".
Associate Professor McInnes said that while children need to attend school for both academic and social learning, online access can provide another option for engagement when attending comes with physical, psychological or learning difficulties.
"There are exclusion risks in simply directing children with difficulties to engage in remote learning, but there are inclusion gains when attending is not working for a child," she said.
"Rather than a universal approach either way, including learning from home as a strategy to support children according to their specific needs broadens options for assisting children's learning".
'It's the teacher that makes the greatest difference'
Professor Garry Falloon, an expert in educational technology at Macquarie University, says that while the US study may mirror the Australian situation, it is important to remember that remote learning experiences vary from region to region, and school to school.
"There's no doubt the COVID-19 experience and corresponding move to remote learning has been challenging for schools and parents," Professor Falloon told The Educator.
"Research in adult distance education indicates transitioning from physical classroom-based learning to online environments demands a complete rethink in the design of curriculum, and along with it, the role of teachers".
Professor Falloon said the ability – or inability – of teachers to make this transition greatly influences the quality of remote learning students receive.
"Certainly, technology barriers exist in many regions, such as access to suitable equipment and good quality broadband, that can affect remote learning quality," he said.
"But possibly even more influential is the knowledge, skills, creativity and willingness of teachers to harness to the maximum the potential of whatever digital and non-digital tools they have at their disposal, to deliver engaging and effective curriculum".
Professor Falloon said effective remote teaching is hard work, demanding much creatively and commitment.
"It is not simply a matter of 'front loading' content online, and assuming students will learn," he said.
"We can all remember the best teachers in our own schooling- those who were passionate about learning, and instilled that passion in their students. They were engaged, active and fantastic 'salespeople' for knowledge".
Professor Falloon said "a great teacher is a great teacher", irrespective of what mode they use to deliver curriculum.
"It is these people who make the greatest difference".