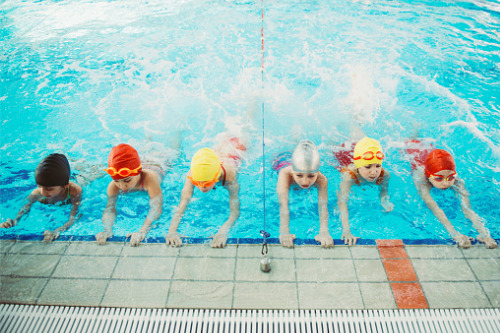 Making sports in schools compulsory has been a lingering topic as reports show that most Australian children and teenagers are not getting enough exercise.
To combat this, some state governments have introduced a number of programs aimed at improving the physical health of children.
In January, the Queensland Government announced it would be rolling out a tennis program for state schools to improve student health. The NSW government, for its part, provides two $100 vouchers for sport or other active recreational activities to parents or carers of children through its Active Kids program.
Victoria, which has invested in swimming programs over the past few years, is already reaping the rewards.
The state's Education Minister, James Merlino, said Victoria is leading other states when it comes to delivering swimming programs to schools after more than 26,000 Victoria Water Safety Certificates were awarded in 2019 – four times higher than the previous year's figures.
This comes as more than 98% of state schools offered swimming and water safety programs, a notch higher than in 2018.
"Not only are more schools offering swimming programs, but thousands more kids are getting Victorian Water Safety Certificates to show their competency in swimming," Minister Merlino said.
"Swimming is a skill that saves lives, and that is why we want Victorian children know how to swim and stay safe in the water before they finish primary school".
Last year saw Victoria introduce swimming coordinators in schools to complement the $19m swimming programs and the $4m Life Saving Victoria initiative.
Victorian schools included swimming in their curriculum in November 2016, the same year Royal Life Saving ACT found that only one in seven children in ACT can swim 50 metres before leaving primary school.
Since then, Victorian students were expected to be able to swim 50 metres continuously before moving up to secondary school.
"Providing children with swimming capabilities and water safety knowledge is a high priority for Life Saving Victoria. Accessing the school system to enable this activity ensures all Victorian students will have the opportunity to acquire these skills for life," Dr Nigel Taylor, Live Saving Victoria CEO, said.
Keeping kids afloat – literally
In an article published in The Conversation, experts wrote that getting babies as young as six months acquainted in aquatic environment is encouraged to hone their survival skills, such as floating on their backs.
Western Sydney University sport management senior lecturer Michelle O'Shea, University of Tasmania senior lecturer-health Hazel Maxwell and University of Technology Sydney post-doctoral research fellow Megan Stronach said swimming can also help develop both cognitive and physical development for infants.
From five-to-12-years-old, children should develop the basic swimming skills to keep them safe. Children in primary school should also be able to tread water for two minutes, throw a flotation aid at five metres away, and swim regardless of what they are wearing in case of accidents.
Citing a study conducted by Deakin University and Peninsula Leisure, the authors said that children also need weekly swimming lessons on top of the lessons offered in intensive swimming programs to maintain their skills.
The authors also said that secondary school students should also have access to these swimming programs to promote lifelong skills which now lean toward lifesaving and survival rather than simply covering the basics.