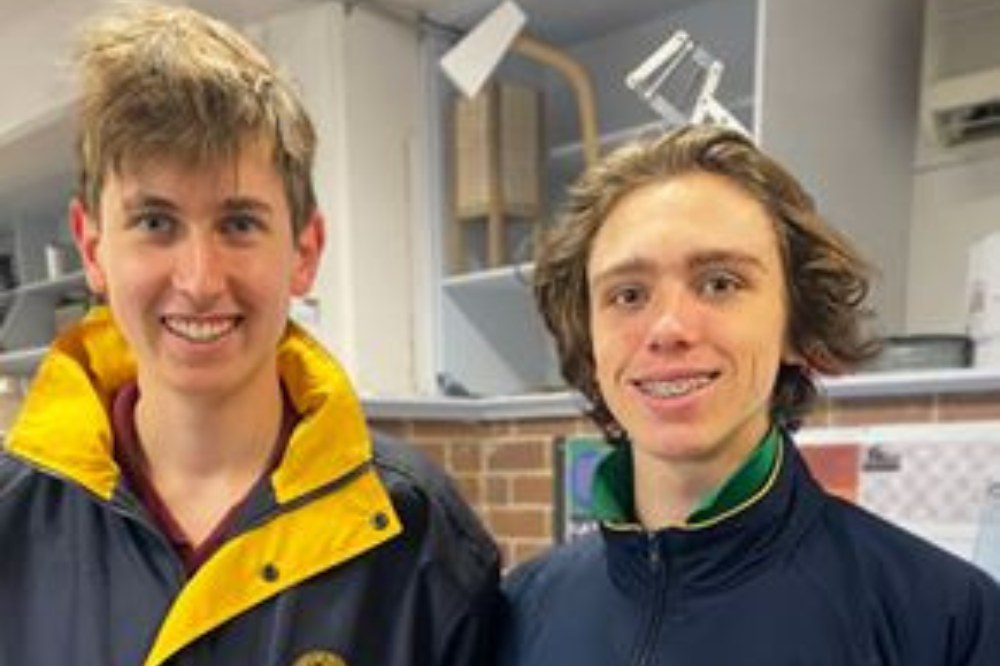 Blue Mountains Grammar School (BMGS) students, Charlie Burgess and Bill Klein, will represent Australia in the 2022 World Finals of F1 in Schools STEM Challenge in July. The competition attracts more than 17,000 schools globally and is billed as the world's most competitive STEM competition.
The BMGS Year 11 students have been involved in the F1 in Schools program for three years as part of the school's Design and Technology coursework and Co-Curricular program. Competing as Team PerPetrol, the BMGS team were victorious in the National Finals in 2021, taking first place in the competition's "Development Class".
The rules of the competition require the team to partner with another school to compete in the 2022 F1 in Schools World Finals, which led to the Team AQUEOUS collaboration with National runners-up, Aeolus Racing, from Newington College.
Team AQUEOUS will compete against more than 50 schools in the world's foremost student competition for Science, Technology, Engineering and Mathematics. The competition requires students to design and make a miniature F1 car capable of 0-80 km/h in under 1 second with each student taking on a specific engineering and manufacturing roles using real-world technology.
Klein is the Manufacturing Engineer who manages the construction of the final race car using 3D printing, CNC milling and Computer-Aided Manufacturing. Burgess is the Testing Engineer, performing physical tests on prototypes, as well as utilising virtual testing through Computational Fluid Dynamics and Finite Element Analysis. Rounding out BMGS cohort of Team AQUEOUS is BMGS alumnus, Nick Hayes who has taken on the role of Team AQUEOUS Brand Manager. Hayes represented BMGS at the F1 in Schools 2019 World Finals and is now studying Mechanical Engineering at UNSW.
"We are so proud of our students who have shown tremendous resilience and determination in the face of Covid-19 to produce such outstanding results in the state, regional and national finals over the last three years," Brendan O'Keeffe, Design and Technology teacher at Blue Mountains Grammar School, said.
"Participating in the F1 in Schools has been an incredibly rewarding experience," said Klein. "Our aim has always been to not just succeed in the F1 in Schools, but also to help each other develop skills that enhance both our career opportunities, and us as people. We've had so much fun working together in Team Aqueous and are very proud to represent Australia and Blue Mountains Grammar School at the World Finals."
This article originally appeared as a media release from the Re-Engineering Australia Foundation.