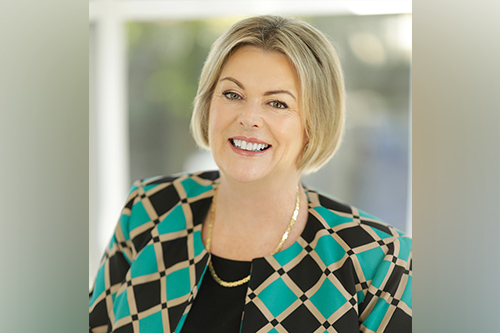 Bringing a school's culture to full fruition, as any principal knows, requires the kind of leadership that empowers – rather than simply instructs – a team. This is a concept that John Paul College (JPC) principal Karen Spiller knows well.
Just 18 months into her principalship, Spiller has been able to transform JPC into one of Australia's most improved schools.
The College's 2018 NAPLAN results saw it top the entire Logan region for Year 7 reading, writing and numeracy. There were also significant improvements seen across JPC's other year levels.
Spiller and her executive team at JPC achieved this feat through instilling and incubating a strong culture of "quality intentional teaching", rigorous feedback and "warm, professional relationships".
As the principal overseeing the sweeping, but methodically executed, changes to her school's teaching and learning environment, Spiller drew from her years of experience in prominent leadership roles within major educational bodies.
In May last year, Spiller was awarded the Medal of the Order of Australia for her contributions to the education field, and more recently, recognised as a winner in The Educator's Hot List 2019.
Below, The Educator speaks to Spiller to find out how she helped to build the College's culture, the inspiring outcomes it has produced and what lies in store for JPC in 2020.
TE: Can you tell us about the kind of culture you set out to create at John Paul College, and how you've been able to successfully sustain this culture?
KS: At JPC, we are creating and entrenching a culture of learning for both the students and staff. In all we do, this is our focus; and the endgame is ensuring that each student at the College has as many options as possible open to them at the end of their schooling. To do this, we are building a culture of feedback. Teachers are providing students with very specific feedback about their course progress and on specific tasks. Teachers too are receiving feedback on their lessons and pedagogy through our Deans of Pedagogy, who act as Instructional Coaches. We are building on the strengths and pillars of our foundation and past achievements, to ensure a focus on each individual student. As well as Deans of Pedagogy and Studies, in both the Primary and the Secondary Schools, we have introduced Deans of Academic Welfare. Their role is to support the Year Level Supervisors and Academic Mentors, in ensuring that each student has several adults supporting and tracking their academic and all-round progress at school.
TE: During your time as principal, what are the most inspiring teaching and learning initiatives, and outcomes, you have observed at JPC?
KS: I think one of the keys to good leadership is knowing which initiatives or changes to adopt. The most exciting in my years as a leader has been the introduction of Instructional Rounds. Pioneered by Robert Marzano and modelled upon the rounds practiced by Doctors, these give the opportunity for a small group of teachers to visit other teachers' classes, not to assess their teaching but rather to consider the various pedagogies they see practised and then to withdraw and consider each of these and their impact on student learning. I believe that this is the very best professional learning possible and have received such positive feedback from all our teachers who have completed these rounds so far this year. I love the way this practice 'breaks down the walls and silos' that can exist between each teacher's classroom and the next. We learn so much from each other. The other is a greater understanding of the neuroscience of learning and this includes how warm and professional relationships between students and staff, assist in students' learning. They must know that we care about them as individuals, then they will learn.
TE: JPC is one of the most improved schools in Australia. As principal, what factors, at both an executive and whole-of-school level, have helped you deliver this transformation?
KS: An absolute focus on the quality of teaching in every class, every day. Our Deans of Pedagogy and Studies work closely with other senior and middle leaders and all our teachers, to ensure that we maximise instructional quality and quantity. We have explicit and intentional teaching embedded in every class. Students know the learning goals of every lesson and can articulate what they are learning, why they are learning it and what comes next in the learning program. Our teachers are consummate professionals who want to do the best by each student. They have embraced this whole-school approach and our revised Pedagogical Framework. We also introduced Daily Writing for each year level from Years One to Twelve. This regular ten-minute writing practice has encouraged fluency and a focus on grammar, punctuation and spelling. What remains unchanged, is that teachers must know and care for each of their students. Warm, professional relationships are at the centre of all we do.
TE: Looking ahead into 2020, what practices and initiatives will JPC be maintaining, or implementing, to ensure it remains competitive and successful?
KS: There are three clear areas of focus for us: our ongoing focus on improving student learning through quality explicit teaching and the use of data to inform practice is the first. There is still much that we want to do in this area including increasing the 1-1 focus with the relationship of the academic mentor with each student and the introduction of continuous reporting i.e. more feedback. The second is a review of the work we are doing in the Design, Innovation and Entrepreneurial Studies area. Now, there are many great practices that teachers are employing, and we want to synthesise these into one coherent K-12 curriculum. The third area and the one that the other two relies on; is ongoing support for our teachers. We have new programs to support beginning teachers and aspirant leaders. We are keen to encourage all our teachers to become accredited as Highly Accomplished or Lead Teachers and are putting a lot of effort into that. We know that it is the individual teacher in the classroom who makes the greatest difference to student learning and achievement. I am excited about our Middle Leaders Development Program that will see a 15-month extensive program of development opportunities.