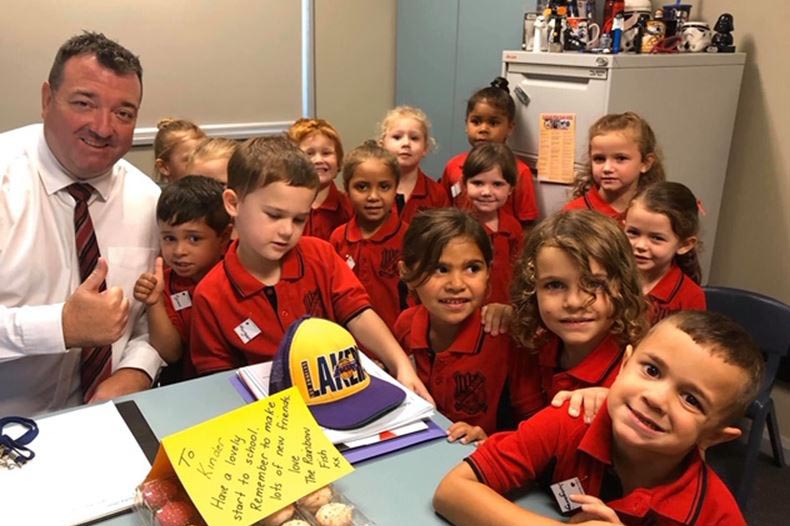 When the COVID-19 lockdown was first announced, Kempsey South Public School principal, Paul Byrne, could see that it would be no ordinary school term.
As the virus spread, school assemblies, presentation nights, excursions, travel, sports carnivals and other public events were being cancelled, and lesson plans were quickly being shifted online.
But while many aspects of his school's daily operations began to see unprecedented disruptions, Byrne and his leadership team were not going to let the health and wellbeing of its student community fall by the wayside.
In addition to providing families with breakfast and fruit supplies, the school remained in constant contact with families via phone calls, SMS and online meetings by Class Teachers, Aboriginal Education Officers and Student Learning Support Officers.
"This ensured that we could maintain a strong presence of support throughout," Byrne told The Educator.
"We sourced additional technology, including internet access, and delivered it to our families, along with remote learning packs, during regular home visits from all staff".
The school's bus was also utilised to take multiple staff on home visits and trips around the community to show the school's support during this difficult and challenging time.
"We continued to be highly visible in order to keep the spirits of our children and their families high," Byrne said.
Byrne said his staff were "extraordinary" in the way they took on the challenge to check in on the wellbeing of all concerned, but also extremely proactive in wanting to upgrade, update and improve our school facilities in order to surprise the school's students when they eventually returned.
This included painting staircases in the theme of childrens' books, creating serpent and cultural gardens, building a fabulous new sandpit, constructing a 'bus' for infants to play on and redecorating classrooms in amazing themes.
"These were just some of the ways our staff jumped in 'boots and all' and worked tirelessly to make sure that children re-entering our school grounds after the break felt special and loved".
No student left behind
A closer look at how the school has been supporting student wellbeing explains why it was recently named a finalist for Best Student Wellbeing Program ahead of the Australian Education Awards 2020.
The school's 'Be Well' strategy incorporates several fun, thoughtful and engaging activities and programs which ensure that all students are included, and their needs are catered for.
These include a gardening and cooking program, a Learning Centre which provides a life and social skills program for at risk students, an art program for girls, drumming sessions, a Breakfast Club, a Yarning Circle with a "chill out zone" and The Shed, where students can participate in hands-on construction activities.
"All kids have the chance to find something that is the right fit for them," Byrne said.
"Combine all of that with the purchase of a new school bus which our Support Classes primarily access for day trips and incursions to the Hickeys Creek Campus and the heavily subsidised camps and excursions we offer across all Stages, no child ever misses out because of financial hardship or lack of resources".
The school also uses its Resource Allocation Model (RAM) equity money to fund an additional Aboriginal Education Officer (AEO) position to assist the school in providing support to the community during times of Sorry Business, monitor and assist in supporting each child's welfare and attendance and work in partnership with families to ensure all students have their basic needs met.
"That then gives them the greatest opportunity to successfully engage in their learning," Byrne explained.
"Our school provides them with the environment that they can always rely on as a safe, caring and nurturing space.
Byrne said that each young person who walks through the school's gates knows that every person is there for them and will make certain that their basic needs are met.
"If needed, we provide the facility for them to wash. We feed them. We clothe them. We will pick them up in the morning and bring them to school and we will drive them home in the afternoon if they require transportation," he said.
The school also seeks medical attention for students and liaise with external agencies so that they receive the health support they need.
"We do this in partnership with their families and the community and it is always done in a non-judgmental manner. They are amazing children who, in some cases, have been dealt a pretty tough hand in life," Byrne said.
"Our job is to make sure that all of these needs are met so that they can have the best opportunity to enjoy their schooling, develop their social and emotional coping skills and learn everything they need to know to lead long and successful lives".