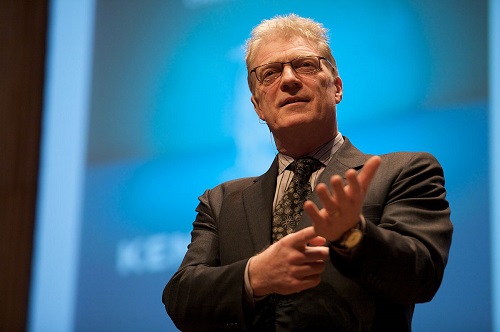 Sir Ken Robinson, a visionary who has inspired teachers and leaders around the world to challenge the status quo and bring about meaningful change in education, passed away on Friday August 21 after a short battle with cancer.
In addition to being one of the world's elite thinkers on creativity, Robinson was a celebrated author, speaker and international advisor on education in the arts to government, non-profits, education and arts bodies.
In 2003, Robinson received a Knighthood from Queen Elizabeth II for his services to the Arts and, just a few years later, shook up the education world with his inspiring TED talk, 'Do schools kill creativity?', which has since been viewed more than 66 million times and seen by an estimated 350 million people in 160 countries.
The talk called for a radical rethink of schooling and reasons that it is incumbent upon educators to prepare children for the unpredictability of future events by putting a stronger focus on creativity and learning through failure rather than being afraid of it.
"If you are not prepared to be wrong, you will never come up with something original. By the time children get to be adults, they have lost that capacity…they have become frightened of being wrong," Robinson reasons in the TED talk.
"We run our companies like this, by the way – we stigmatise mistakes, and we're now running national education systems where mistakes are the worst thing you can make.
The result, said Robinson, is that we are educating people out of their creative capacities.
"Picasso once said that all children are born artists. The problem is to remain an artist as we grow up," he said.
"I believe passionately that we don't grow into creativity – we grow out of it, or rather, we are educated out of it".
'An extraordinary and thought-provoking contribution'
Australian Education Union federal president Correna Haythorpe said Sir Ken Robinson made "an extraordinary and thought-provoking contribution to education and to our society".
"In his words: 'education doesn't need to be reformed - it needs to be transformed'," Haythorpe told The Educator.
"The key is not to standardise education but to personalise it, to build achievement on discovering the individual talents of each child, to put students in an environment where they want to learn and where they can naturally discover their true passions.
"Vale, Sir Ken Robinson".
'His influence will have a lasting impact on education'
Angelo Gavrielatos, president of the NSW Teachers Federation, said Sir Ken Robinson's energy and enthusiasm were contagious.
"His capacity to distil complex theories into easily accessible lessons has informed teachers and parents around the world," Gavrielatos said.
Gavrielatos said Robinson's influence was profound and will have a lasting impact on education policy for many years to come.
"I feel deeply honoured and privileged to have shared a stage with Sir Ken Robinson delivering a special class to post graduate students in 2016 at Harvard at the request of our friend, Pasi Sahlberg".
'Principals have taken comfort and direction from Sir Ken'
Andrew Pierpoint, president of the Australian Secondary Principals' Association, said Sir Ken's appeal for the importance of creativity, innovation and the soft skills that "are so seldom measured and therefore seldom valued by the neoliberal education machine" provided clarity for many teachers, leaders and students.
"This will continue for many years to come," he said.
Pierpoint said that over the years, many school leaders have "taken comfort and direction" from Sir Ken's championing of this creativity and innovation.
"His identification of something so simple, and yet so complex, somehow mainstreamed and made it ok to question the machine".
'He challenged our assumptions about education'
Australian Institute for Teaching and School Leadership (AITSL) CEO, Mark Grant, said Sir Ken Robinson challenged our assumptions about teaching and learning.
"Sir Ken prompted the global education community to re-evaluate how we nurture and grow creativity in children," Grant told The Educator.
"More broadly, he encouraged us to think differently about the role of education within our society, and how schools can nurture the unique talents of every child".
Grant said it is no surprise that this message of nurturing individuality and assuming the limitless potential of every student connected with all of us.
"It especially connected with those working in classrooms across the world including here in Australia," he said.
"Sir Ken will be greatly missed by many; our thoughts go to his family, friends and colleagues".
'A loss to educators around the world'
Dr David Roy, a lecturer in education and creative arts at the University of Newcastle, said Robinson was an "innovative, creative polymath" with a "genuine passion for education and reform that had meaning".
"He saw beyond the confines of educational silos to how all children (and adults) could grow both academically and emotionally," Dr Roy said.
"His radical ideas scared many, but he was personally influential to me – seeing a goal worthy to achieve in reform and being true to yourself and it in all you do".
Dr Roy said Robinson's legacy is "As Sir Ken stated, 'find your element'. Let's not forget the depth of his achievements beyond 'that' Ted talk," he said.
"His passing is a loss to educators around the world".
It is with heavy hearts that we announce Sir Ken Robinson died peacefully yesterday, 21st August 2020, surrounded by family after a short battle with cancer.

We will be following up with a further update as we begin to follow Sir Ken's wishes and honour his legacy. pic.twitter.com/IS3HsgeSXl

— Sir Ken Robinson (@SirKenRobinson) August 22, 2020
"What you do for yourself dies with you when you leave this world. What you do for others lives on forever." – Sir Ken Robinson