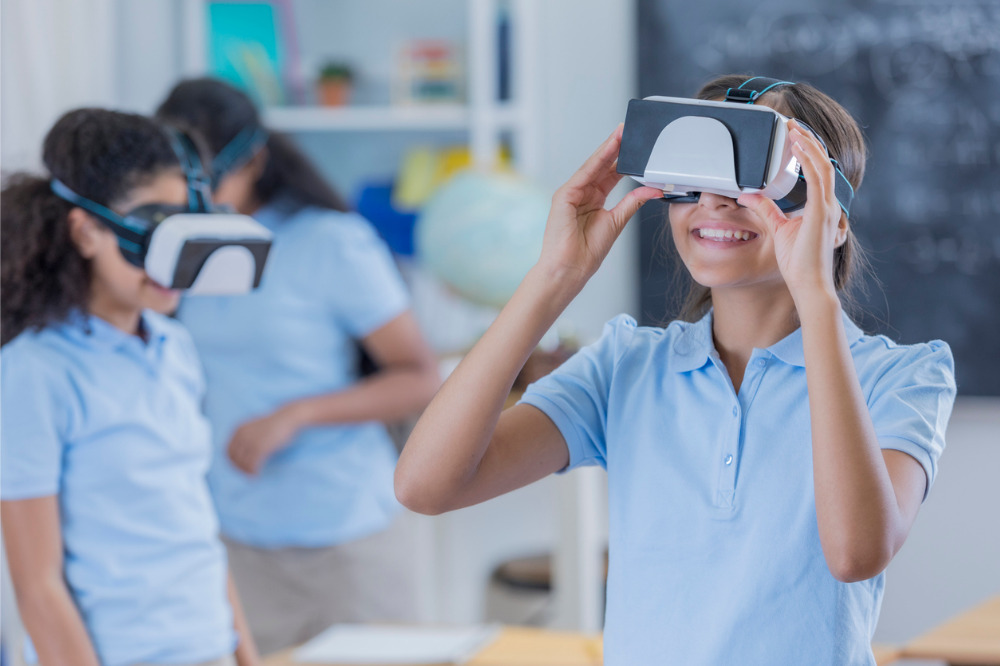 Studies have shown that Virtual reality (VR) and Augmented Reality (AR) technologies can be used to improve the design of learning spaces, allowing students to learn without distraction, as well as simulate the classroom experience for pre-service teachers, who can test out their teaching skills to support learning, engaging their learners, and managing behaviours.
The Educause Horizon Report has been claiming that Extended Reality (XR) technologies, which incorporate Virtual Reality, Augmented Reality and Mixed Reality (MR), are going to become more and more prominent in schools for at least a decade.
"While widespread adoption is still some way off in most schools, XR technologies, especially in the form of mobile devices and head mounted display units are likely to become more common in schools, most probably in extra-curricular or elective settings, to begin with," Dr Keith Heggart, a Lecturer in Learning Design at the University of Technology Sydney, told The Educator.
"The pace of adoption will increase, as factors such as cost, and the availability of VR assets designed for education make it more accessible for all schools."
Dr Heggart said even for those educators that are early adopters, there are significant hurdles still to be overcome to effectively and efficiently integrate XR technologies within schools and classrooms.
"The most notable of these is the cost: while there are some low-cost options, such as Google Cardboard, most head mounted units are still expensive [at least $500] – especially if schools are buying class sets," he said.
"This can be navigated through AR approaches and using mobile devices, but these lack the important aspect of presence which is crucial to learning with XR."
Another consideration, said Dr Heggart, is the availability of assets, such as interactive environments.
"Not many teachers are likely to have the time to develop their own 3D learning assets, and this means that they must rely on other companies to produce environments and materials," he said.
"This industry is rapidly increasing in pace, and there are already some excellent open source resources available."
However, the biggest challenge facing educators wishing to make use of XR in their classroom lies in convincing leaders about the effectiveness of XR in terms of learning outcomes, said Dr Heggart.
"This area is still very much a live issue in educational research, although researchers like Associate Professor Erica Southgate are producing interesting insights about the use of VR in education."
Dr Heggart said XR, while at this early stage, offers some real opportunities for educators.
"Importantly, VR, according to some researchers, works more like a real-world experience, rather than a mediated experience," he said.
This means it's more like actually 'being there' than, for example, a film where you watch through a screen. This is often described as the illusion of presence."
Dr Heggart says this is potentially very powerful for educators.
"Rather than watching a film about the pyramids, for example, students could experience actually going to Egypt and walking into a pyramid [well, almost]," he said.
"This has the potential to significantly affect a student's learning experience."