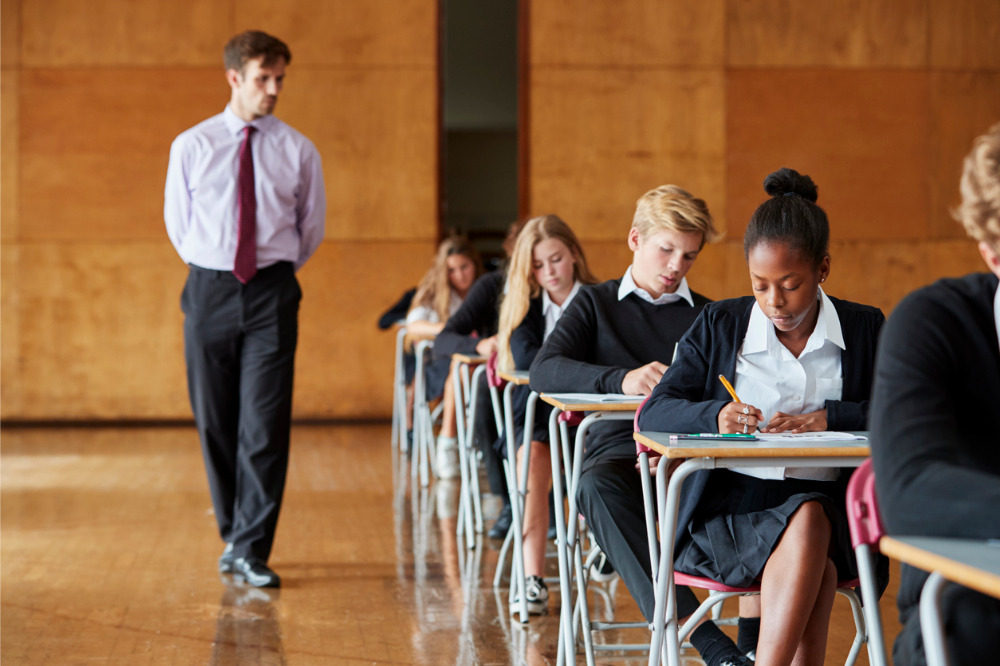 'Challenging but fair', was the verdict of 161 Year 12 students from Homebush Boys High School who finished their first 2022 HSC English exam on Wednesday.
The students were part of around 67,000 NSW students who started the first HSC written exams with English Paper 1, including 200 students sitting exams overseas. The written exams follow practical, performance and language oral exams which have already been taken by students.
In total, 75,493 students will sit the 2022 HSC exams, which involve than 400,000 exam sessions.
In an interview published on the NSW Education Department's website, Homebush Boys High School co-captain, Anargyros Kallos, said the English exam was a "big challenge but it was also a reflection of what we learnt in the syllabus".
Principal, Kevin Elgood, said he was proud of the Year 12 cohort, who had done "exceptionally well".
"We are all part of a community that works together and helps each other and that shows in their comments [after the exam]," he said, adding that the HSC is "not the be all and end all" when it comes to forging a career and fulfilling life.
"We try to reduce stress of that one exam; there are many pathways to where they want to go, not just the HSC."
NSW Education Minister, Sarah Mitchell, said the Class of 2022 "should be proud of their accomplishments".
"My message to HSC students is to celebrate all that you have already achieved as you approach the finish line of your schooling," Mitchell said.
'Students must remember there is always a Plan B'
Professor John Fischetti from the University of Newcastle's College of Human and Social Futures said that as the exams progress, it is crucial that our students do their best to manage their health.
"This means eating well, resting, exercising and finding time to breathe. The stress of the examinations can be overwhelming," Professor Fischetti told The Educator.
He said students must remember that every option is available to them the day after the exams wrap up.
"If the results turn out well, the resulting ATAR score will unlock access to TAFE and University degrees of their choice. If not, then Plan 'B" options include starting in a different degree, such as Biomedical Sciences on the way to transferring into Medicine," he said.
"Or for those whose results turn out poorly for whatever reason can start with an enabling program to boost their skills to transfer into a degree program in six months or a year."
Professor Fischetti said there is very little that 'cramming' at the end does to improve retention.
"It makes sense the night before an exam after a short review, to go to the cinema, take a walk in the bush or on the beach or spend some time with friends enjoying a distraction. Go into the exams fresh, not worn out. A marathon runner wouldn't run a marathon the day before a marathon," he said.
"Families have an obligation to support their young people with kindness, love and patience. The stress of the exams can be debilitating, and we need to comfort them and promote them that no matter what, they will have an amazing life. Everything is still on the table. We just may need Plan B."
Andrew Pierpoint, president of the Australian Secondary Principals' Association (ASPA), said his advice to students preparing for their next assessment is to allow plenty of time to review and practice problem solving.
"This cannot be done a couple of nights before the assessment. Second is to seek technical advice and support around subject specific challenges you may have [i.e. ask your teacher for help]," Pierpoint told The Educator.
"A very under sold element of successful study is looking after yourself – eating well, resting/sleeping well and maintaining your friendships during this period. Good luck!"
The HSC written exams will end on 4 November 2022, with students set to receive their results and ATARs on 15 December 2022.