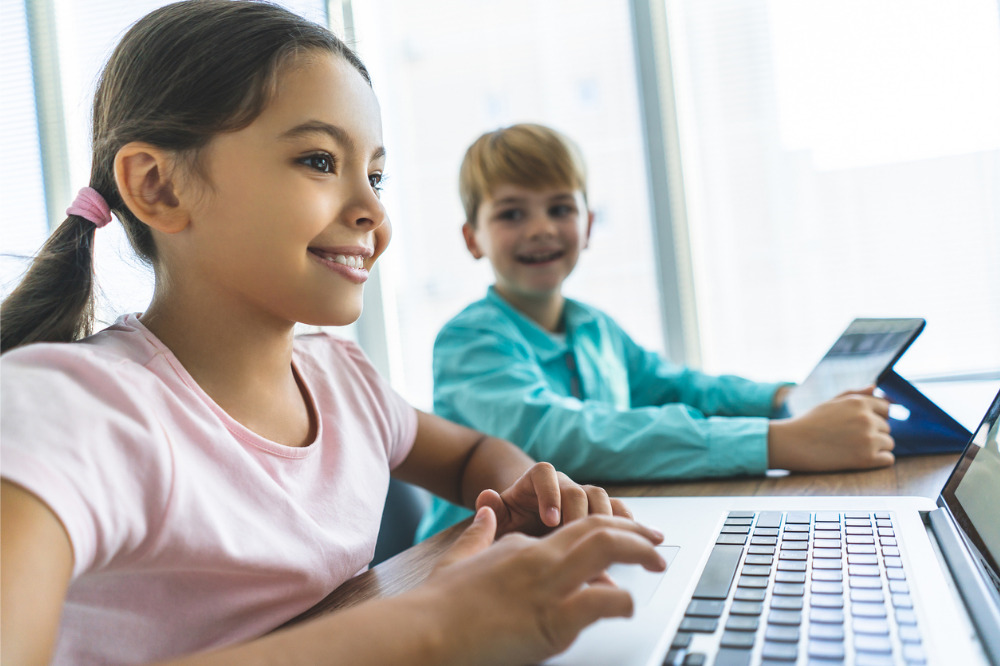 A successful game-based program that teaches social skills to neurodiverse children and teenagers has been secured the University of Melbourne's backing to drive its expansion.
Next Level Collaboration – co-founded by Melbourne Graduate School of Education senior lecturer Dr Matthew Harrison and speech pathologist and researcher Jess Rowlings – piloted its world-leading social capacity building workshops throughout 2021 but will now expand from one to five sites over the coming months, including a new program at the University aimed at tertiary students.
The program's workshops employ evidence-based teaching methods – such as explicit instruction, modelling, and feedback – alongside carefully selected cooperative video games to teach a set of targeted social skills to groups of eight- to 15-year-olds.
Dr Harrison said feedback from parents includes children who are better able to manage their emotions, who feel more confident in their abilities during social interactions, and some are making friends for the first time, which probably explains the program's high retention rate.
"Next Level Collaboration is the first social enterprise to be spun off and supported by the University of Melbourne and we see this as a strong endorsement of the potential of the program," Dr Harrison told The Educator.
"Despite the growth in popularity of digital games-based learning, it is still a relatively new frontier and there's not a lot of research around that speaks to its impact, particularly for students with additional needs and in a classroom setting."
Dr Harrison said that in addition to expanding to new sites, the company will be looking at conducting further research and evaluations of the intervention and further contributing to the research literature in this exciting space.
"We have had a large number of schools from across Australia, both specialist and mainstream, reach out to ask if and when we will begin running teacher training programs. We are aiming to begin this in early 2023," Dr Harrison said.
"We know that some participants have come to us following recommendations from their teachers and health professionals, such as paediatric psychologists, who are aware of the value of the workshops."
Next Level Collaboration CEO, Jess Rowlings, who is autistic, said the value of a program for autistic and neurodiverse people that is designed and led by those with lived experience cannot be overstated.
"For many years, autism was misunderstood and misrepresented, both by the medical profession and broader community," Rowlings told The Educator.
"As a result, programs designed to support autistic people with social skills for example were instead set up with an objective of 'fixing' them."
Rowlings said this sort of approach is not only demoralising but counterproductive, because it can actually spur chronic anxiety.
"We have deliberately opted to take a strengths-based approach to our workshops because we know that the young people who come through our door have their own unique strengths as well as areas where they need additional support," Rowlings told The Educator.
"We can help them overcome any challenges, but we are not here to change anyone."
The Dean of the Melbourne Graduate School of Education at the University of Melbourne, Professor Jim Watterston, said Next Level Collaboration is a "unique example of innovative research merging with entrepreneurial thinking for social impact".
"There are more than 205,000 Australians with a diagnosis of autism, and we know many do struggle with social skills that are needed to lead productive lives," Professor Watterston said.
"The growing popularity of video games in recent years has understandably sparked interest in gaming as an educational tool.
However, Professor Watterston pointed out that until now, little research has been conducted into the use of video games for developing social competencies for students with neurological differences, particularly in a classroom-like setting.
"This enterprise is at the forefront of important cutting-edge work and we're looking forward to its continued contribution to the evidence base while changing lives in the process."