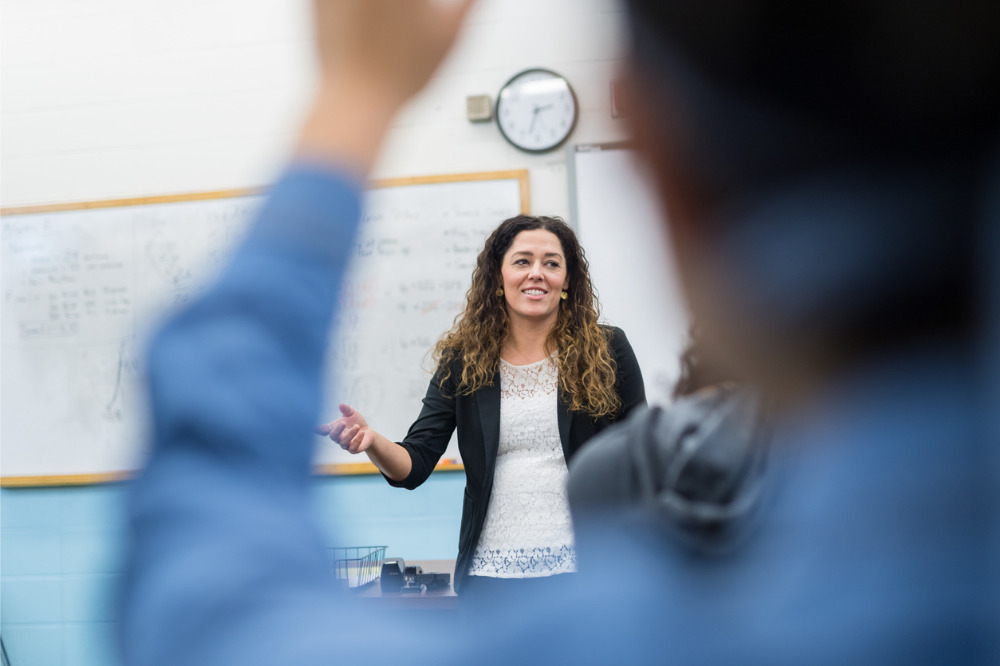 Reports show almost half of serving teachers have considered leaving the job due to stress, burnout and other mental health issues brought on by ever-increasing workloads.
And this worrying trend has implications beyond just teacher health, with the Australian Council of Deans of Education predicting a huge shortage of teachers within three or four years, as more teachers abandon the profession.
A new report by the Melbourne Graduate School of Education report has shed light on the most important challenges facing teacher retention, and how they should be addressed.
The report, titled: 'Career Changers: Keeping career-change teachers in the profession', presents a review of international research alongside the findings from an Australian study involving 17 career-change teachers currently in the process of obtaining teacher qualifications in the state of Victoria.
It found that between 2019 and 2021, the Australian Federal Government and the Victorian State Government made significant financial investments to recruit career-change individuals to secondary schools facing teacher shortages.
This included funding for alternative initial teacher education pathways that combine paid professional practice in a school with tertiary study to achieve a post-graduate teaching qualification.
However, the report cautioned that despite these investments, "critical questions about teacher retention have not been sufficiently addressed".
"Increasing recruitment through special entry pathways and incentives without a sustained retention strategy will lead to greater teacher shortages due to the revolving door of teacher recruitment and teacher attrition," the report stated.
"Our findings highlight the significance of close university-school partnerships in supporting career-change teachers during their transition into the profession."
The report added that Initial Teacher Education (ITE) programs need to provide a range of tailored supports to career-change teachers.
"This includes providing university-based mentors who are familiar with career-change teachers' personal-professional needs and expectations, and adjustments to study requirements during placement and professional practice," the report said.
"Importantly, they need to assist to create communities of practice among previous and/or current cohorts of early career teachers to share experiences and offer peer support."
The report also pointed out that it is crucial that schools who host career-change teachers during their professional practice (placement in schools) and beyond, provide tailored forms of social-professional support.
"School-based teacher mentors who assist in the transfer of knowledge and skills relating to curriculum, pedagogy and classroom management are essential. The social-professional networks of support that facilitate the transition of career-change teachers in the organisational cultures of schools are also key," the report said.
"It is also imperative that school leaders play a role in helping to integrate new teachers into the collegial context of schools and that they provide necessary adjustments to work in the early years of their new careers, which are crucial for the career-change teachers' long-term sustainability within the profession."
Across Australia, there are many promising initiatives aimed at addressing the issues laid out in the report.
One example of this is a new first-of-its-kind course, launched by the Australian Catholic University, which provides teachers with a foundational knowledge of the factors that surround, impact, and influence mental health and wellbeing over the many different stages of their teaching career.
The course also offers online, weekly self-paced academically rigorous activities that develop and build knowledge, understanding and skills about these components and the psychosocial factors surrounding teacher-specific mental health and burnout.
Dr Debra Phillips, who developed the course, said the activities require cognitive engagement with deep thinking, reflecting and conjecturing for other possibilities.
"Becoming knowledgeable about psycho-social triggers and environmental stressors enables teachers to identify and articulate what is happening to their selves and their colleagues," she told The Educator.
"While there have been national and international courses for teachers to respond to students' mental health issues at school level, and either one-off full day courses for teachers on their own mental health there is limited information about national or international post graduate courses that are specifically designed for teachers to respond to their specific school/education situation and their particular needs."