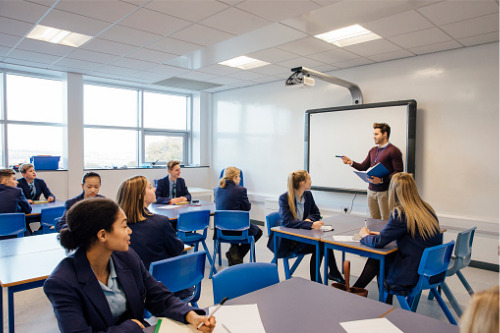 In February, an independent inquiry into the work of teachers, headed by former WA Premier, Geoff Gallop, warned that uncompetitive salaries and unsustainable workloads were leading to significant teacher shortages across NSW.
However, this problem is not just one for NSW.
Almost half of school principals experienced teacher shortages in 2020, and this number is increasing as class sizes grow. Data has found that Australia's student population is set to rise 21% by 2030. Early childhood is facing the squeeze acutely requiring an estimated 49,000 more teachers by 2023.
The recent Quality Initial Teacher Education Review 2021 Discussion Paper highlighted that teachers finding full-time employment within four months of graduating ranges from over 90% in some courses to less than 60% in others. Literacy and numeracy of students has also been identified as an ongoing concern.
Federal Education Minister Alan Tudge says we must do better at recruiting and training our future teachers and that evidence-based practices must be taught in our publicly funded universities. After all, quality teaching has been shown to be the single largest in-school influence on student achievement.
Fortunately, serious work is underway to improve the recruitment and retention of teachers across Australia.
In September, two prominent education providers teamed up to provide on-the-job training to a new generation of trainee teachers. Christian Education Ministries (CEM) and Alphacrucis College recently announced they are teaming up for the teacher training initiative, which is due to launch in January 2022.
Aspiring and eligible candidates from across Australia will be able to study fully online to become a teacher, through diploma, undergraduate or postgraduate degree courses through Alphacrucis, whilst working as Teacher Assistants at one of ten CEM operated schools situated in NSW, Queensland, Victoria, Western Australia and Tasmania.
Upon graduation from the CEM/Alphacrucis Teacher Training School, a student will transition from Teacher Assistant to Teacher having gained depth and insight into exceptional teaching practice by working alongside an excellent mentor teacher.
NSW looks interstate and abroad for quality teachers
NSW Education Minister, Sarah Mitchell, recently announced a plan to recruit 'standout' international and interstate teachers as part of a broader strategy to boost and sustain a high-quality teaching workforce.
The initiative builds upon the NSW Government's recently announced new employment-based pathways into teaching and aims to further increase the state's supply of quality teachers.
Working alongside other agencies, including the Federal Government, the Department of Education will help successful recruits with relocation and other support including Australian border control measures, quarantine and visa requirements.
Weathering 'a perfect storm'
Ben Grozier is the co-founder of ClassCover, an app which allows schools and relief teachers to connect, set up booking requests based off real time availability, then book and get confirmation.
He says the teacher shortage is "a convergence of multiple factors that has created somewhat of a perfect storm".
"For years, perhaps decades, hopeful graduate teachers have been told at university that there would be plenty of employment opportunity for them once they hit the workforce due to an impending, en masse, baby boomer teacher retirement, and so on" Grozier told The Educator.
"This largely was a false promise until now. The pandemic was the catalyst for many to step away."
Grozier said the COVID-19 pandemic also sent many of Australia's migrant teachers back to their home countries, especially in the early stages.
"There has been much spoken about re pay and conditions not attracting or keeping teachers in the profession. Whether or not this is true, I do believe that the school shutdowns provided, especially casual relief teachers, an opportunity to 'shop around' their skills to other sectors," he said.
"In many cases, teachers underestimate just how valuable their skills are. I believe this mindset has shifted somewhat placing pressure on teacher supply."
The recruitment net must be widened
PeopleBench Chief Education Officer, Dr Vicki Cameron, says attracting leaders, not just early career teachers, from metropolitan areas to rural and remote regions is becoming increasingly important to implement change and refresh and diversify isolated communities.
"Some education systems have marketed this as a lifestyle change for principals and their families. Departments have offered incentives, such as a change of pace from a hectic city life to a healthy tropical lifestyle with funded trips back to metropolitan areas, to encourage leaders to make this change," Dr Cameron told The Educator.
Dr Cameron suggests that "if leaders make this move, it needs to be at least a couple of years and fit in with their family, so developing a strong sense of community is important here, too. This has indeed been mentioned in a lot of research about attracting and retaining people to rural and remote areas".
According to Tyson Wood, Company Manager at Smart Teachers Australia and Tes Australia, schools must take a national approach to recruitment if they are to tackle the teacher shortage.
"Schools and recruiters gain confidence from applications when they show local experience but criteria like subject knowledge, experience, diversity, faith and values are the most important components of a 'good fit' and can be found in teachers throughout Australia," Wood told The Educator.
"It is critical that schools highlight and promote their culture, values and location features when advertising".
Wood said it is also important to provide information about employment offerings like CPD and career progression.
"Promotional videos are increasingly appealing and attractive as well. Assisting these initiatives, new platforms like Tes.com enable schools to host more relevant information in order to build a more robust recruitment campaigns," he said.
"There is no single fix to the quality teacher shortage but if school recruitment efforts reach all Australian teachers and the sector continues to emphasis training, wellbeing and career progression we can attract and retain teachers in our schools at significantly higher levels than is currently the case".