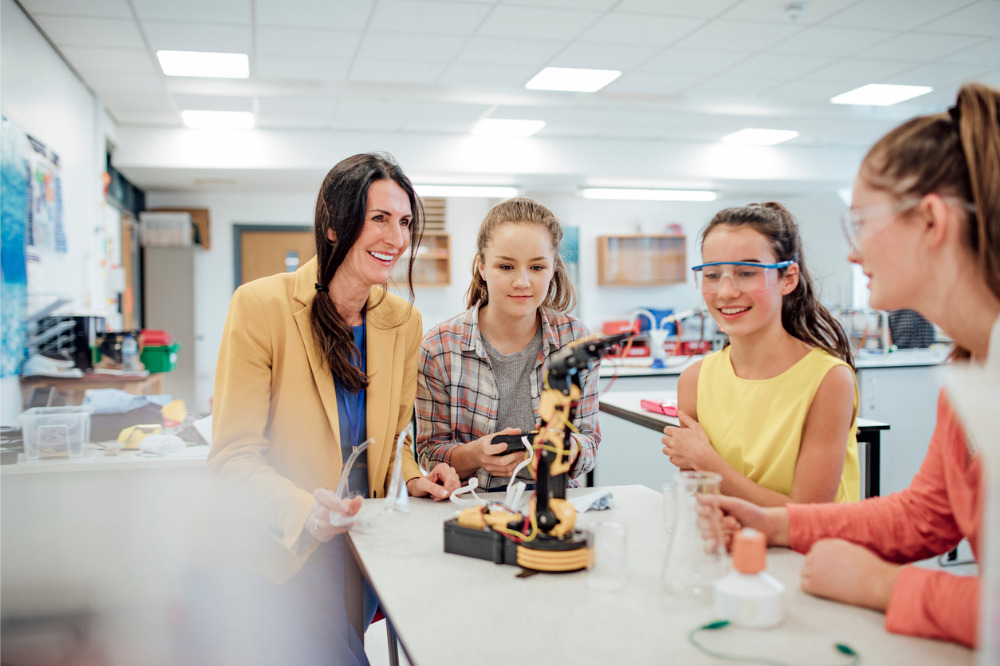 Declining enrolments in STEM subjects have been a concern in Australia for nearly thirty years, but according to a new study, a week is all it may take for Year 7 students to start to see maths and science as more enjoyable and more relevant.
The research, conducted by the University of South Australia, suggests that dedicated high-tech learning hubs carry the potential to strengthen student motivation and engagement, but their ultimate success depends on how these specialised spaces are used.
A research team, led by Sam Fowler, a PhD candidate at University of South Australia, followed two groups of Year 7 students as they took on special projects their teachers had designed, making use of the dedicated technology and innovation centre at their large Preschool-Year 12 college.
The students participated in five technologically themed activities over the course of a week: GPS in sport, webpage design, creative digital storytelling, 3D modelling and robotic engineering. The 3D modelling activity got students to design a spinning top that would spin for the longest possible time, such as weight distribution and asymmetries in the design.
Students experimented with sample tops and then got to design their own tops, print them with a 3D printer, and test them out.
In the robotic engineering lesson students used advanced coding to control 'mBots' – robots coded to move at various angles and use advanced sensors to measure distances and aspects of tilting.
After a week, the students developed new, more positive attitudes to mathematics, science and technology – and improved their spatial skills.
Co-author, Dr John Kennedy, said that while there are thousands of STEM outreach activities made available to students each year, relatively little is known about the long-term effects of these interventions on student attitudes.
"This is one of the main drivers of our research program," Dr Kennedy told The Educator.
"A primary output of our research program is our desire to upskill and empower school leaders and teachers to make effective use of the data that is available to them".
Dr Kennedy said that in doing this, the research team is able to capture attitudinal data in such a way that classroom teachers can see the effects of their programs on students' attitudes towards their subject, and towards school more generally.
"We look to partner with schools in such a way as to help school leadership teams evaluate their own innovative learning practices in their own context," he said.
Advice for principals using TELEs
Dr Kennedy said one of the responses to the student enrolment issue has been the development of Technology Enhanced Learning Environment [TELEs] by schools.
"Our research, although using a small sample size, is starting to show that these environments combined with targeted, well-designed learning activities can begin to have a positive effect on students after even a short period of time," he said.
Dr Kennedy said one of the key foci of the learning activities was 'spatial reasoning' – a concept that the UniSA research team is interested in looking into further due to it being both a transferrable and learnable skill.
"By tackling a problem that requires a good level of spatial reasoning using tools that allowed direct manipulation of the environment [i.e. 3D printing] we hoped that students could get around some of the mental hurdles that often arise when the concept is taught in the mathematics classroom," he said.
"My advice to school leaders who are looking to use TELEs to enhance student learning experiences is to identify a champion in their school who can be empowered to experiment and investigate different ways of engaging with the students' different, discrete subject areas and their specialist teachers".
Dr Kennedy said the use of a TELE should become "somewhat normalised", adding their use is likely to have a more pronounced impact on student attitudes towards STEM subjects if it is seen by them less as a novel one-off event and more as an ongoing shift in learning design.
"Appropriate data needs to be used to evaluate the impact of a program in the local context; not all programs will – nor indeed should – directly impact on test scores," he said.
"Some programs will have much more long-lasting effects on student attitudes and holistic academic outcomes".
'Further, careful study needed'
Dr Fowler said that while the study's implications are exciting, research on the impact of these dedicated high-tech spaces remains in its infancy.
"There is a sense that a narrative about 'twenty-first century change' vastly outweighs the empirical evidence as a basis for this investment," he said.
"The relationship between the learning space and any changes in learning is complex, and needs further, careful study. This study considers the learning space 'in the wild', looking at teaching as it is really practiced in these spaces".
Dr Fowler said that while his team's testing picked up improvements in spatial reasoning in general, the relationship between particular tasks and specific kinds of spatial reasoning was not clear.
"One reason for this discrepancy could be that the tasks, such as creating a spinning top using the findings from their experiments, required the students to use programs as a support for their creation of the object rather than engaging their inner mental processes".
Dr Fowler said spatial thinking is "thinking with the mind's eye".
"If this crucial skill-set, in STEM and in life, is to be really supported, learning tasks need to do more than just involve spatial reasoning," he said.
"They need to centre around authentic situations which compel the students to engage mental effort which improves the skill, rather than having technology partially do it for them".