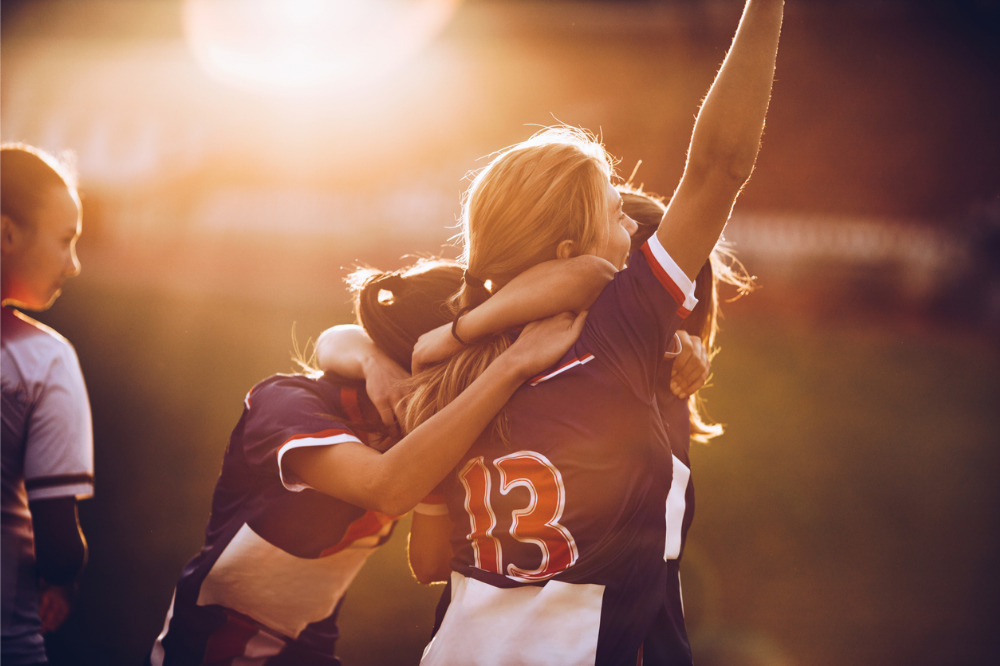 Recent studies on young people's attitudes and behaviours regarding physical activity paints a worrying picture of an increasingly inactive generation.
The Kids' Health and Wellbeing in Australia report by AIA found just 12% of children aged 5-12 and 1.9% of young people aged 13-17 meet both the physical activity and sedentary screen-based behaviour guidelines. This issue is most pronounced among girls, with almost 90% of those aged 11-17 not getting enough exercise.
An exacerbating factor is that many girls are choosing to drop out of sport.
New research published this week by Visa and digital youth engagement platform Year13 reveals the peak age for girls dropping out of sport is 15-years-old, with nearly half (48%) saying they did so because they needed more time to study, compared with 30% of boys.
Indeed, a growing body of evidence showing a strong link between sport and success both in school and later in adult life, yet just a quarter (25%) of young girls currently believe playing sports helps with skills for work. This is despite stating sport can help them with teamwork (91%), resilience (77%), collaboration (73%), discipline (71%), and leadership (70%).
In addition to these skills, young girls who did continue to play sports reported numerous benefits. These included the ability to clear their mind, lift their mood, give them energy, improve productivity, and aid in better sleep.
The research also revealed the importance of visible role models as 60% of young female respondents said they didn't have a female sports star they looked up to.
Indeed, one in five (20%) girls said they've never (or can't remember) the last time they saw women's sport highlights in media. Real and relatable role models were shown to be more important than ever, with almost a third (31%) of young girls who do not play sport dropping out due to bodily insecurities.
The importance of family influencing participation in sport and providing exposure to role models was also highlighted, with parents the second most influential group on the decision to play (behind only "friends").
However, nearly 70% of girls have no parents who currently play sport and almost two thirds (62%) of Australian girls say their family rarely or never watch women's sport.
What schools can do to help
To help girls engage more actively with sport, and realise its far-reaching benefits, Visa and Year13 have launched Year13 & Visa PlayOn, which connects girls to role models like young footballers Ellie Carpenter and Claudia Bunge, and Olympic gold medallist shot putter Dame Valerie Adams.
Visa's Head of Marketing for Australia, New Zealand and South Pacific, Natalie Lockwood says this initiative builds on Visa's long history of championing women in sport.
"We know from previous Visa and third-party research that the skills women and girls develop through sport can set them up for success later in life, including in their careers and in business, but that girls are dropping out of sport at a far higher rate than boys," Lockwood told The Educator.
"This means young girls are missing out on a range of benefits that sport delivers. Through this new research conducted in partnership with Year13, we wanted to uncover the key factors behind this trend in Australia, use these insights to respond with a program that helps tackle the core issues and provide relevant content and access to role models to uplift and inspire girls to stay in sport."
Year13 Co-Founder and Co-CEO Saxon Phipps says the research can help principals and teachers reframe the way they talk to young girls about sport.
"Our research found having more time to study is the number one reason why teenage girls drop out of playing sport and that just a quarter of girls think sport helps develop work skills despite most actually saying it helps develop soft skills like teamwork, resilience, collaboration, discipline and leadership," Phipps told The Educator.
"So, we have a situation where girls can see the benefits of sport but aren't actually linking these skills to how they can benefit them in life beyond school. School leaders can drive a message that sport and study/work aren't opposing forces and that sport can actually have a huge benefit in setting you up for life after school."
A big opportunity for principals to drive meaningful change
Lockwood agrees, saying principals can play a very meaningful role in helping female students better understand the value of sport and the transferable skills it provides them, not just for managing study and school pressures but in setting them up for success in their careers and business.
"What was surprising in the research was that while so many female students recognised that sport helps develop skills like leadership, resilience, collaboration, discipline and teamwork, only a quarter could recognise that it helps with skills for work," she said.
"There is a big opportunity here for school principals to help their female students understand that these skills are essential for success in the workplace and in business, and that playing sport of any kind is an incredible way to hone them."
Lockwood said the research also showed that girls need greater access to real and relatable role models.
"So, in addition to sharing the Year13 & Visa PlayOn platform with students, I'd also encourage school principals to consider opportunities to showcase female sporting talent in the local community and have them connect with the girls, whether that's a skills session or an organised talk as part of a school event."